Coutts Memorial Museum of Art
Introduction
This historic El Dorado building was home to Butler State Bank upon its completion in 1917 and is now home to the Coutts Memorial Museum of Art. Warren Hall Coutts Jr. acquired the building in 1964 to house his law office. In 1970, Coutts converted the building to an art museum as a memorial to his son. The museum is open to all free of charge and features Midwestern artists, and art from around the world. The Coutts houses over 1,500 objects of art, including original paintings, sculptures, prints and drawings. The collection includes works from Russia, China, France, Holland, England, America, and South America.
Images
Museum exterior. Credit: The Coutts Museum of Art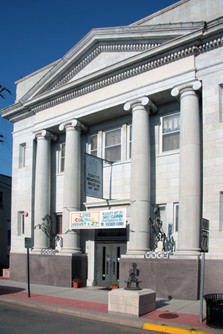 Hallway gallery. Credit: The Coutts Museum of Art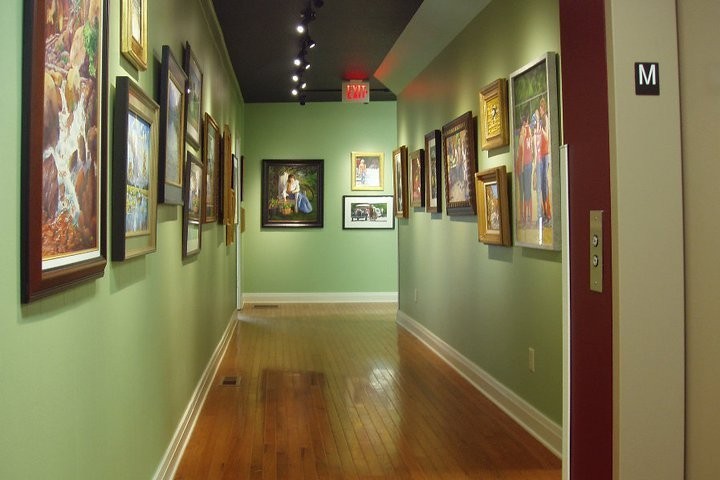 Metal horse sculptures in front of the museum. Credit: Mapio.net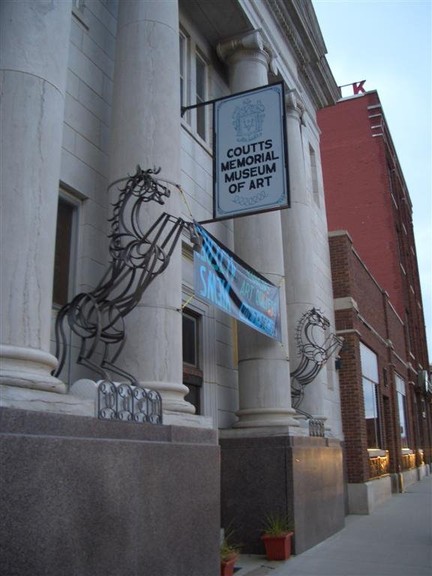 A gallery with some memorabilia and facts about the founder and his son. Credit: The Coutts Museum of Art

Backstory and Context
The museum was established in 1970 by Warren Hall Coutts, Jr., an El Dorado attorney, in honor of his son and law partner Warren Hall "Bud" Coutts III who died tragically in a plane crash in 1965. The elder Coutts died in 1988 at the age of 88. Provisions in his will allowed for the continuation of the museum, including new acquisitions and a vision of expanding in the future.
The museum's artistic focus is to collect, preserve, and exhibit fine art. The museum's collection boasts more than 1,500 pieces of art, including: Makk, Renoir, Thomas Hart Benton, Picasso, Degas, and Frederic Remington. Art works for the museum were purchased primarily by Warren Hall Coutts, Jr. who traveled extensively and purchased works from art auctions all over the world. The collection includes works from Russia, China, France, Holland, England and South America. The current artistic focus of the collection is American Art and Art of the American West, with an emphasis on Midwestern artists.


The contemporary collection offers a wide range of twentieth century American art starting with the second largest collection of Prairie Printmakers' works in the country; including Seward, Foltz, Capps, Hotvedt, N.B. Hall, A.W. Hall, Thomas Hart Benton and Birger Sandzen. The gallery is proud to house the largest Makk collection in the United States. Americo and Eva Makk and son A.B. are a world-renowned family of painters whose achievements include numerous international awards, four presidential portrait commissions and exhibitions in the rotunda of the U.S. Senate and for the Carnegie Endowment. Kansas contemporary artists such as Robert Carver, Charles Sanderson, Frederic James, J.R. Hamil, Charles Rogers, and many others are also well represented.


The traditional collection includes Rococo style. Prized possessions include Empress Josephine, a painting with a possibly very interesting history, by an unknown French artist and a still life by Georges Jeannin titled Floral Study. Both paintings were purchased by Mr. Coutts in Paris. The western collection boasts one of the largest collection of Frederic Remington bronzes in the Midwest. The local collection is the work of local artists and includes the artwork of area artists Jim Clements, Hugh Greer, Peter Johnson, Bill Walton, Dana Hassett, Phil Epp, Cally Krallman and many others.
Sources
About. The Coutts Museum of Art. Accessed April 17, 2018. https://www.facebook.com/pg/couttsmuseum/about/?ref=page_internal.

About the Coutts Museum. The Coutts Museum. Accessed April 17, 2018. http://couttsmuseum.org/.

Coutts Museum of Art. Travel Kansas. . Accessed April 18, 2018. https://www.travelks.com/listing/coutts-museum-of-art/633/.

Coutts Museum. Smithsonian Magazine. Accessed April 18, 2018. https://www.smithsonianmag.com/museumday/venues/museum/coutts-museum-of-art/.

Additional Information