University of Michigan Stadium
Introduction
The University of Michigan football stadium was the largest collegiate stadium in the United States when it opened in 1927. In that year, a crowd of 84,401 witnessed a victory over Ohio State. The stadium was expanded throughout the decades and remains the largest university stadium in the nation. In fact, with the exception of two years following the 1996 expansion of Neyland Stadium in Knoxville, the "Big House" as the stadium is affectionately been known has been the largest stadium in college sports. The current capacity of the stadium is 109,901- larger than all but 185 US cities.
Images
The stadium was completed in 1927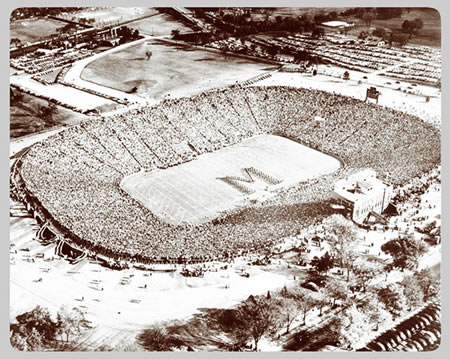 The stadium remains the largest in the nation and has held over 115,000 fans for games.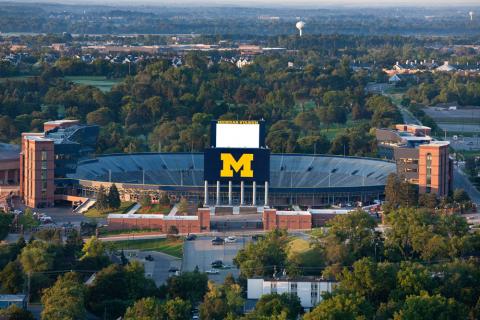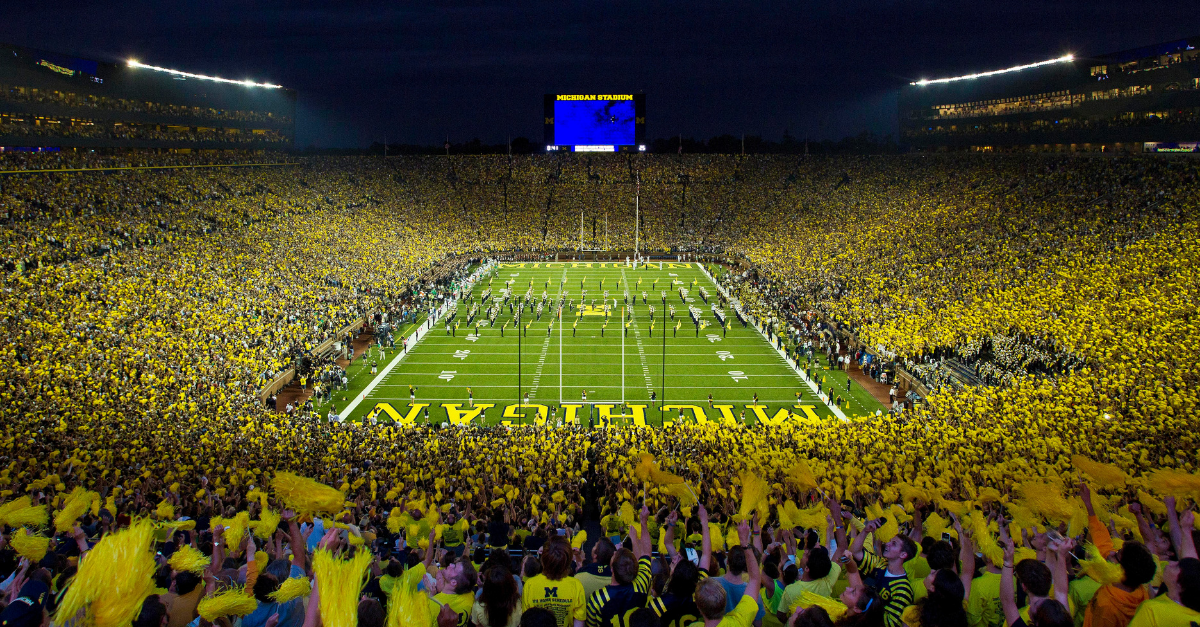 Backstory and Context
The University of Michigan's football stadium, known colloquially as "The Big House," was the vision of coach Fielding Yost. Construction of the stadium began in the early 1920s and despite a $950,000 price tag and plan to accommodate 72,000 fans, these plans were deemed too modest and the capacity was increased throughout the years. In 1998, 5,000 seats where added bringing the capacity to 107,501. 
In May 2006, the Michigan Board of Regents voted to construct new luxury boxes and renovate Michigan Stadium. This $226 million renovation project was completed by the 2010 season and includes 83 suites, 3,200 club seats, widens seats and isles increasing the seating capacity to 109,901. Before the start of the 2011 season a new 47 feet tall by 85 feet wide HD video/scoreboard was installed at the stadium. 
"The Big House" held its first game on October 1, 1927 against Ohio Wesleyan. Michigan own that game by the score of 33-0 and the official dedication ceremony for the massive stadium was held three weeks later when the home team defeated arch-rival Ohio State.
Sources
Michigan Stadium Story. University of Michigan Libraries. Accessed September 11, 2017. http://bentley.umich.edu/athdept/stadium/index.html.
Additional Information