Buck Leonard Park in Rocky Mount, NC
Introduction
Often referred to as "the Black Lou Gehrig," Walter Fenner "Buck" Leonard was, along with long-time teammate, Josh Gibson, and Satchel Paige, one of the three greatest players in the Negro Leagues, so much so that he was inducted into the Major League Hall of Fame in 1972. And that was, of course, not the only honor he received in the course his long life, though it was a good thing that Buck did indeed live a long life, because many of his honors were rather slow in coming. Born in Rocky Mount, North Carolina, Leonard would return to his hometown upon his retirement from baseball, and after some delay in being recognized for his indubitable greatness, the town did come to honor their native son, as memorialized in this city park that bears his name.
Images
Buck Leonard, Homestead Gray/Iron Man
Buck Leonard Induction into the Baseball Hall of Fame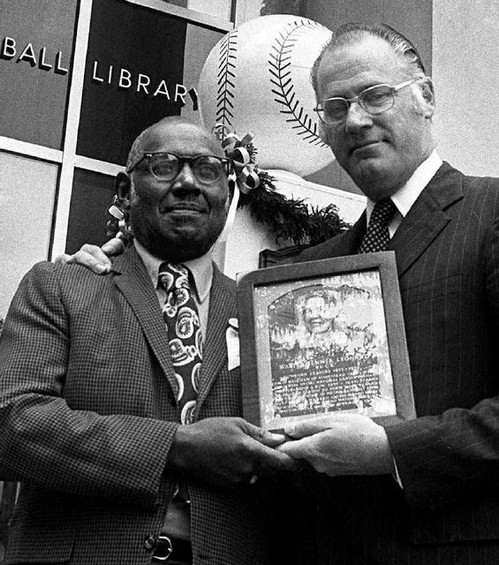 Backstory and Context
In 1933, "Buck" Leonard began his career in the Negro National League with the Brooklyn Royal Giants. But it was when he moved to the Homestead Grays, in 1934, that his (and their) legend grew. Smooth-fielding, with the sweetest swing, Leonard had the longest continuous career playing for one team in Negro Leagues history, retiring from the Grays in 1950 (though he would subsequently play in Mexico, and rather well, until 1955). His Homestead Grays are regarded as one of the greatest teams ever put on the field, regardless of league, time period or race. Buck batted clean-up, behind Josh Gibson, who many consider to be the greatest power hitter of his day. Since Gibson was known as the "Black Babe Ruth," Leonard—a first baseman, to boot—was, naturally enough, called the "Black Lou Gehrig." From 1937 to 1945, either Leonard or Gibson led the NNL in home runs, with the other teammate invariably finishing second. During that span, their Homestead Grays won nine Negro National League championships in a row. And though a power hitter himself, Leonard also managed, in 1948, to lead the league in batting, with an average of .395. As Monte Irvin, who played in both the Negro and Major Leagues, described it: Trying to sneak a fastball past him was like trying to sneak a sunrise past a rooster.1
But Buck Leonard's road to recognition and honor, in his home state and his hometown, was a long time coming, as described by a local newspaper in 2012, nearly a decade and a half after his death at age 90:
In August 1997, the North Carolina Assembly adopted a resolution honoring Walter Fenner "Buck" Leonard, a Negro Leagues baseball star from Rocky Mount, who was just a month short of his 90th birthday. The resolution praised Leonard "for his outstanding contributions to the sport of baseball," and was timed to coincide with the 50th anniversary of Jackie Robinson's integration of the Major Leagues. The Assembly bill came 25 years after Leonard, who is widely considered the greatest first baseman in Negro Leagues history and was coined "the Black Lou Gehrig," was elected to the Baseball Hall of Fame. Leonard died in November of the same year.
But even though it took his home state a quarter-century to honor Leonard's entry into the Hall of Fame – the 40th anniversary of which comes this weekend during the Hall's annual Induction Weekend – those who were close to Leonard say the modest, unassuming player always loved his North Carolina home and remained committed to his hometown of Rocky Mount. "Buck was proud of his hometown and felt comfortable there," said James Riley, who co-authored Leonard's biography. "He chose to make Rocky Mount his permanent home and was active in helping make conditions better for its citizens, especially its younger Black populace." Leonard's passion for Rocky Mount remained steady despite the indignities he and his fellow African-Americans suffered growing up in a segregated city. Leonard was keenly aware of the legally enforced racial divide in his hometown. "We didn't expect anything else," he once told Baseball America. "You had to continue to realize you were Black. It stayed on your mind all the time. There were certain places you couldn't go and things you couldn't do."
Leonard's hometown gradually returned that love. While the state government refrained from honoring him for decades, Rocky Mount began recognizing him after Leonard retired in 1950 after 17 years, most with the Homestead Grays, the Pittsburgh-based powerhouse that dominated the Negro National League for a dozen years. Today, there is a special exhibit at the city's Imperial Centre for the Arts and Sciences, and Rocky Mount's leaders gush about Leonard's contributions to both baseball and his hometown.2
As a young man, Leonard had worked first at a hosiery mill and then on the railroad, but the Great Depression put an end to his train gig, and somewhat surprisingly he found he could only support himself playing ball. After retiring as one of the all-time greats in sport, Leonard returned to Rocky Mount to open a realty agency, work as a truant officer and physical education teacher, and ultimately became an integral part of the founding and operation of a local minor-league team, the Rocky Mount Leafs of the Carolina League. Therefore, it was perhaps his work in his community that, as much as anything, garnered the honors from his town, as opposed to his greatness on the diamond. It would certainly be one of the rare times that such a thing has happened.3
Sources
1. National Baseball Hall of Fame and Museum, "Buck Leonard" (http://baseballhall.org/hof/leonard-buck); MLB.com, "Buck Leonard" (http://mlb.mlb.com/mlb/history/mlb_negro_leagues_profile.jsp?player=leonard_buck). 2. Ryan Whirty, (Raleigh) News and Observer, "Baseball star Buck Leonard still remembered in Rocky Mount" (http://www.newsobserver.com/2012/07/21/2211143/baseball-star-buck-leonard-still.html#storylink=cpy). 3. Ibid.
Additional Information