McKinley Square Theater; King Theatre (Demolished 2002)
Introduction
Prior to its closure in 1953, the 1500-seat McKinley Square Theater was a center of the Yiddish-speaking Bronx community and place of entertainment for many residents. The theater opened in 1916 and was renamed the King Theatre in the 1930s. Made of classic red brick with the vintage theater signs stating "McKinley Square Theater" in bright yellow, rounded lights, the theater was never a place of residence, but many actors and performers, as well as Bronx residents, once called this place a home away from home.
Images
Mckinley Square Theater, 1920.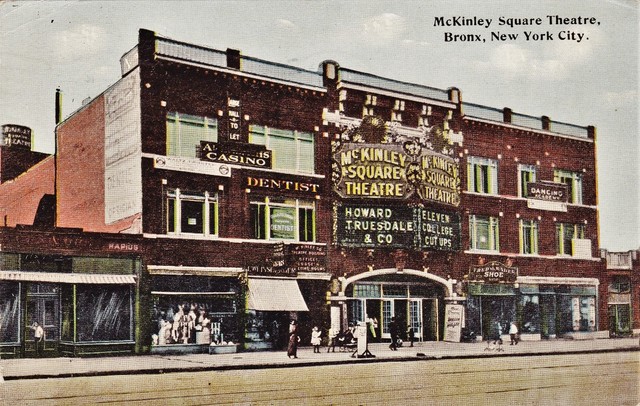 Mckinley Square during one of its many renovations, 1940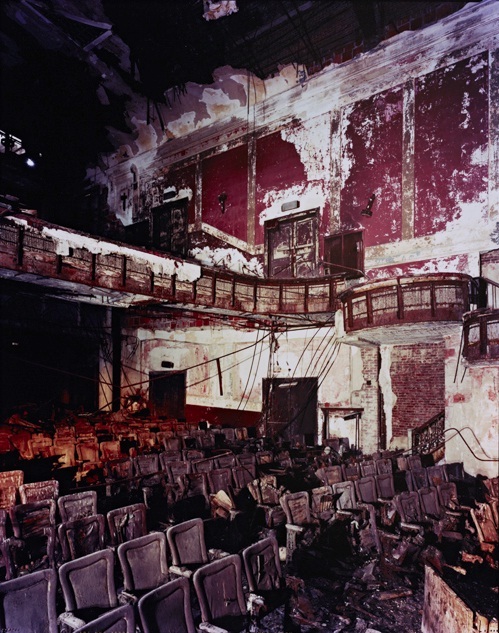 Backstory and Context
Today, as you walk down Boston Road in the Bronx to number 1319, you will see a three-story building featuring a dollar store spread across the first floor with apartments above. If you were here more than seventy-five years ago, though, you would find a thriving, beautiful Yiddish-language theatre containing 1,500 seats and serving as a hub of entertainment for the Bronx's large, Yiddish-speaking population. Although what you see today is not as beautiful nor elegant nor culturally significant, it is still possible to remember the beauty that once towered over the sidewalk of Boston Rd. Once a staple for entertainment in the Bronx, the original McKinley Square Theater was built in 1916. It was renovated by an investor named Michael J Garvin in 1921, expanding the infrastructure to include a grand theater inside the three-story, five-part building, along with three ballrooms and two stores, for a whopping $150,000. (Today, that would be about $2 million.) This space provided a predominantly vaudeville theatre, a place that was able to allow many local Yiddish stars to find their voice including Flora Freiman, Meyer Schwartz, and the notoriously known diva Joseph Kessler.
Vaudeville was one of the most popular genres of entertainment when the McKinley Square Theatre opened. A mix-up of different types of theatrical acts, including music, comedy and other quirky performances, "vaudeville was the most popular form of American entertainment from its rise in the 1880s through its demise in the 1930s." Historians for the web site The Virtual Vaudeville Project explain, "It played much the same a role in people's lives that radio and later television would for later generations. Indeed, many early radio, television and film stars began as vaudeville performers: Bob Hope, Edgar Bergen, Abbott and Costello, the Marx Brothers." There are many narratives following the specific actors that frequented McKinley Square Theater during the height of vaudeville. Many personal biographies documented the lives that surrounded the theatre, most notably that of Pesach'ke Burstein in his memoir, What a Life!: The Autobiography of Pesach'ke Burstein, Yiddish Matinee Idol. Burstein recalls, "I was engaged in the Mckinley Square Theater in the Bronx." Another performer, Flora Freiman, recalled acting in a play in 1936 at the theatre called, "Darf a mame dertseyln" written by her father. Another woman also described her work in a play called "Gasn fun nyu-york," explaining how she traveled from theater to theater in New York, including McKinley Square Theater.
For decades, the McKinley Square Theater has provided a cultural space for its community, even as that community has continued to change dramatically since the building was originally constructed. At the turn of the twentieth century, the community was predominantly Irish ("by 1890 there were Irish parishes in Mott Haven and Melrose, as well as other neighborhoods to the north") and German, but by the time the theatre was built the population was increasingly Eastern European and Jewish. Alongside the communal establishments in the area, Mckinley Square Theater provided a safe place for the Jewish community and truly created a legacy for itself in the Bronx, considering Yiddish theater was more popular in Manhattan Lower East Side.

Mckinley Square Theater experienced many renovations and changes of ownership over the twentieth century, though not all documented. The theatre itself, which shifted from vaudeville to mostly showing films sometime in the 1940s, was closed by 1953. The building was torn down in 2002 and replaced with a mixed-use residential and commercial building that is presntly home to a Dollar Store.
Sources
Seigel, Amanda. "The Yiddish Broadway and Beyond." Nypl.org, Jewish Division, Stephen A. Schwarzman Building, 18 Mar. 2014, www.nypl.org/blog/2014/03/18/yiddish-broadway-and-beyond.


Singer, Roberta. "A South Bronx Latin Music Tale." Place Matters, www.bing.com/cr?IG=E5D70A85A9794D75A4E476B5FEEDA430&CID=26365B25224E69403C7450FD23E168A5&rd=1&h=UsN2....

"Flora Freeman." Freiman/Flora, www.museumoffamilyhistory.com/yt/lex/F/freiman-flora.htm.

"INVESTOR ACQUIRES OLD BRONX HOLDING; Gets Building on Boston Road Containing McKinley Square Theatre and Ballrooms." The New York Times, The New York Times, 29 Jan. 1953, www.nytimes.com/1953/01/29/archives/investor-acquires-old-bronx-holding-gets-building-on-boston-road....