Fort White
Introduction
Fort White is a small town in Columbia county in the state of Florida. Fort White is loacted at the intersection of U.S Route 27 and Florida State Road 47. Most of the land is owned by family farms and forest. The town is named after an 1830s military fort. It is known as one of the closest towns to Ichetucknee Springs state park. Fort White Public school Historic District is located in the towns borders, the original school building was built in 1915.
Images
The over view of Fort White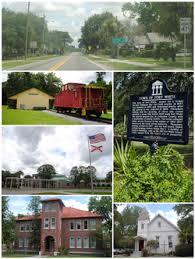 Backstory and Context
Fort White was originally constructed as a military fort during the Second Seminole War in 1836 to protect the Cow Creek settlement. Steamboats came on the Santa Fe River brought in supplies and gave the supplies out to other area forts. Sickness, flooding along the river and talk of the railroad coming to the area, the settlement was moved 4 miles east. In 1884 the town was incorporated. It grew steadily after the building of the railroads were established. Mining, turpentine and agriculture such as cotton and oranges were the foundation of the economy. When the boom hit it all turned everything upside down due to the severe freezes in the winter between 1896 and 1897 destroying the local citrus industry. 1910 the largest phosphate deposits were depleted and mining came to an end. Boll weevil ended cotton farming. The population began to shrank a few hundred people. It went from 2000 people to 365 in 1979.
Fort White High School was built in 1915 and the auditorium was added on in 1936. The last graduating class was in 1969 around the same time as desegregation and integration. The school was mostly of Black so it was shut down due to there not being enough students to justify they were then sent on a bus to go to school 20 miles away at Columbia High. Ichetucknee state park opened and the county began to grow in population. Itchetucknee River and Springs located about 5 miles from Fort White is best for it's crystal clear water. Before 1970 Itchetucknee wasnt very known to the world. The spring did not have a road it was not marked either because it was private property so very few knew about it's existence. Today this springs has became one of the most popular tubing areas in the world.
Sources
https://en.wikipedia.org/wiki/Fort_White,_Florida
https://www.tripadvisor.com/Tourism-g34235-Fort_White_Florida-Vacations.html
http://fortwhitefl.com/
https://factfinder.census.gov/faces/nav/jsf/pages/community_facts.xhtml