Durant Downtown Historic District
Introduction
This historic commercial district lies between 1st Avenue, 4th Avenue, Evergreen Street, and Lost Street. Durant was established in the 1870s, but its original wooden frame buildings no longer survive. Today, you'll find dozens of historic buildings dating to the early 20th century, ranging from around 1901 to 1957. They are built in a variety of styles, from Classical Revival to Mission Revival to Art Deco.
Images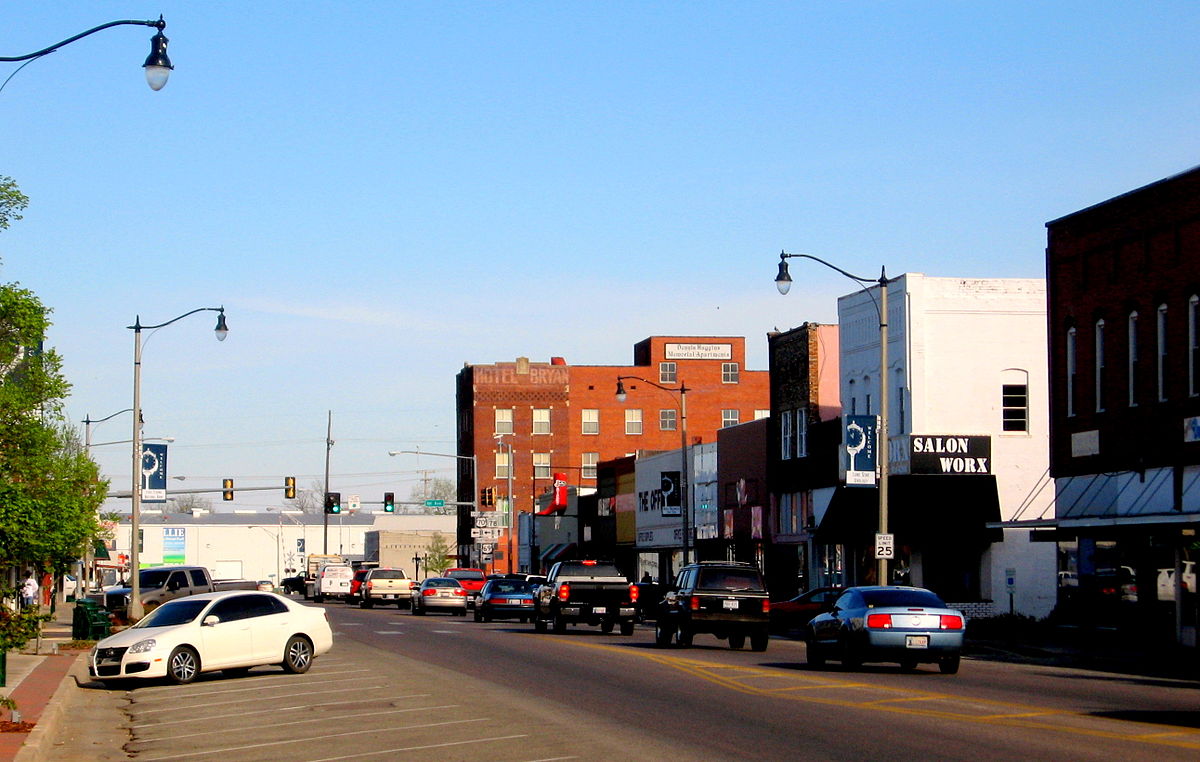 Backstory and Context
This downtown historic district is spread over roughly 10 blocks in Durant. Early settlers rapidly constructed wooden frame buildings during the 1870s. More permanent structures came later, the vast majority created between 1901 and 1957. Growth ebbed and flowed over the years, reaching a high point, for example, during the 1920s and waning after WWII. Durant's expansion and success is due to several factors: agriculture, location (close to transportation), status as the county seat, and its institutions of higher education.

Most of the 90+ historic structures you can see today are governmental and commercial buildings. Only one is religious in nature. Most of the buildings are flat-roofed, one-story, and made of brick. There is, however, some variety among the buildings, and a few are notable architectural outliers.

Selective list of properties:

401 W. Main: Built c. 1924, this Mission Revival stucco building with Spanish tile accents and a porte-cochère was once a gas station.

213 W. Main: This Romanesque Revival building features decorative brickwork and a parapet.

202 W. Main: The Durant National Bank was built c. 1917 in the Classical Revival style, featuring four Ionic columns and a portico.

300 W. Evergreen: This building, the Art Deco city hall, was built c. 1939 and designed by architect Brian Nolen.

210 W. Evergreen: Designed in the Late Victorian Commercial style, this single-story brick building was built c.1928.

For a more comprehensive list, see Kelli Gaston's write-up for the National Register (linked below).






Sources
Gaston, Kelli (Oklahoma State Historic Preservation Office). National Register of Historic Places Registration Form: Durant Downtown Historic District. U.S. Dept. of the Interior, NPS. February 14, 2007. Accessed April 19, 2018. https://npgallery.nps.gov/pdfhost/docs/NRHP/Text/07000517.pdf.

Image credit: Kerwin Moore, https://commons.wikimedia.org/wiki/File:Main_street_durant_ok.jpg.