Castle Tower Apartments
Introduction
One of the many courtyard-style apartments that arose during the 1920s in the Chicago metro region, the 1928-built Castle Tower Apartments point to a desire to create multi-family dwellings that appealed to middle-class values. Rather than build bland, non-descriptive and crowded apartments, many architects played on ancient Roman and Medieval European designs, including the courtyards which also drew inspiration from U.S. Progressives that promoted healthier living and outdoor spaces, differing from city slums and crowded spaces.
Images
Taken 1983 - Castle features, Tudor-style and the courtyard are prominent in this photo.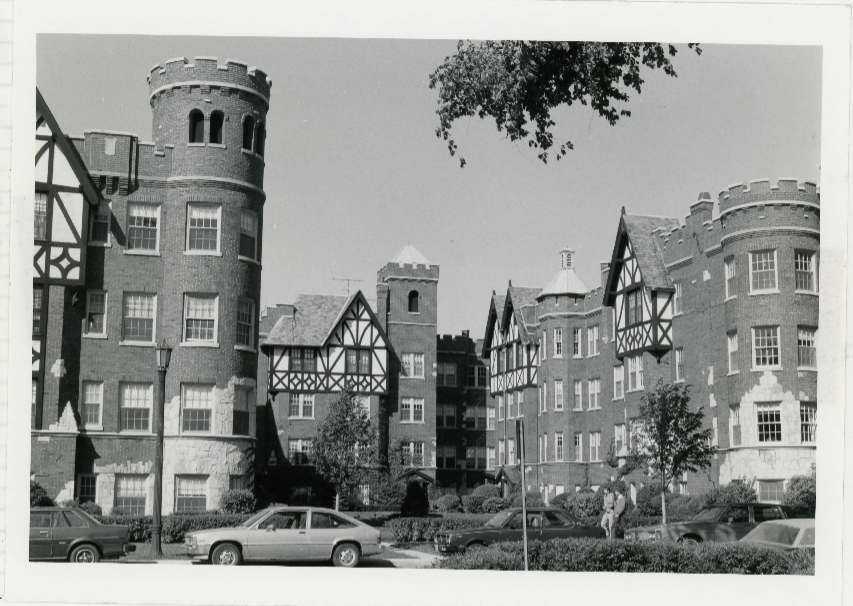 Ivy filled courtyard: Date Unknown.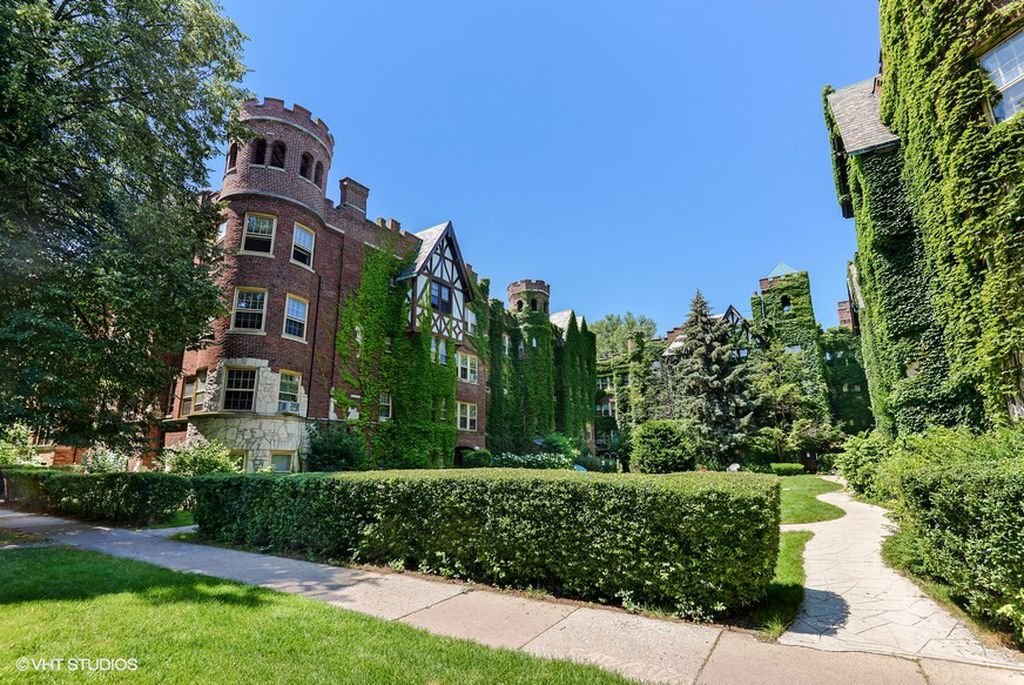 "This is a picture of the Castle Tower Apartments in Evanston, Illinois. This structure is an example of the Tudor Revival Architectural Style and was built in 1928. The apartment building was added to the National Register of Historic Places on March 15,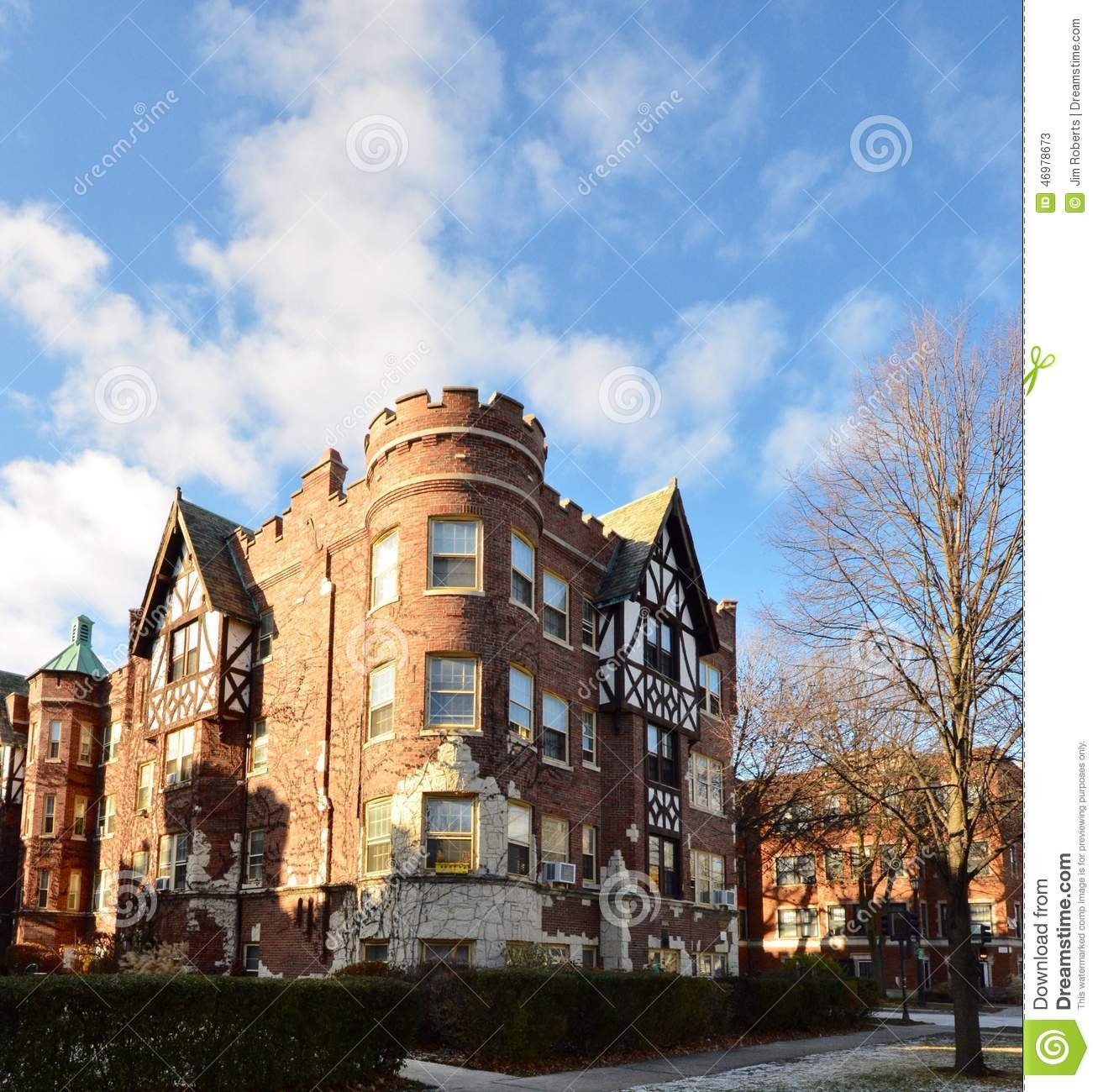 Backstory and Context
Several variables factor into the castle-style design of many apartments built in Chicago and nearby suburbs such as Oak Park and Evanston, including the aptly named 1928-built Castle Tower located on Sherman Ave. Apartment living gained respectability during the 1920s, but just as theaters and hotels enjoyed lavish features, apartments often included ornate features and unique designs to separate them from the bland designs of the late 19th century, notably in slums. Appealing to middle-class values, apartments with courtyards proved necessary to improve upon the unhealthy conditions associated with urban living. Lastly, the castle designs and Tudor-style features (and, again, the yards), harken back to the Middle Ages and times of antiquity, alluding to an elevated standard of living.
Coinciding with the age of U.S. progressivism, courtyard apartments enjoyed heightened popularity in Chicago and its near suburbs from the turn of the century until the Great Depression. In fact, The strong U.S. economy not only helped Chicago enjoy its "Bungalow Boom" during the 1920s when the city produced 100,000 single-dwelling cottages but also led the tremendous growth in apartment construction nationwide; an average of 226,000 multiple-family dwelling units arose each year from 1924-1928.
The courtyard design fundamentally served to improve upon the dark, crowded -- often dilapidated, apartments associated with the Industrial Revolution. However, in truth, courtyard design dates back to the Roman Empire; both single- and multifamily homes, as well as government buildings and markets, were built around courtyards.
Meanwhile, during the Middle Ages and Renaissance, nobles enjoyed courtyards enclosed by castle walls, and monks often took advantage of central, outdoors spaces within monasteries.
In contrast, the castle design of Chicago-area 1920s apartments, including the Castle Tower Apartments in Evanston, did not include a fully enclosed courtyard. Instead, open space rather than crowded spaces stemmed from a societal shift associated with Progressive Era ideals, and the apartments built in the suburbs arose from Chicago's rapid population rise and concurrent urban crowding.
The explosive population growth in Chicago from the mid-nineteenth century to the 1920s included tremendous crowding and congestion. Hence, many people sought refuge by moving to the suburbs, such as Evanston, IL, an option that evolved due to a rapid transit system that connected Evanston to Chicago's downtown, created during the first two decades of the twentieth century.
While moving away from the crowded city was one thing, living in an apartment would only be deemed acceptable if the apartments showed no resemblance to their city counterparts. So, rather than bland designs and crowded spaces, the prevalence of courtyard and castle-style appearances emerged.
Sources
Babcock, Richard F., and Fred P. Bosselman. "Suburban Zoning and the Apartment Boom."
University of Pennsylvania Law Review
111, no. 8 (1963): 1040-091. doi:10.2307/3310792.
Brown, Victoria Bissell. "Jane Addams," in
Women Building Chicago 1790-1990: A Biographical Dictionary.
edited by Rima Lunin Schultz and Adele Hast. Bloomington: Indiana University Press, 2001.
Duis, Perry R.
Challenging Chicago: Coping with Everyday Life, 1837-1920.
Urbana, IL: University of Illinois Press, 1998.
Hansmann, Della. "Chicago Building Types: The Courtyard Apartment."
Moss Architectural Design.
September 30, 2014. http://moss-design.com/courtyard-apartment/.
Hoffmann, John, editor.
A Guide to the History of Illinois.
New York: Greenwood Press, 1991.
"Nomination Form: Suburban Apartment Buildings in Evanston Thematic Resource: Castle Tower Apartments"
National Register of Historic Places.
January 30, 1984. Digitized form currently found at the National Archive Catalog at https://catalog.archives.gov/id/28890902
Prosser, Daniel J. "Chicago and the Bungalow Boom of the 1920s."
Chicago History
10.2 (1981): 86–95.
Little, Anne. "Courtyard Buildings A Piece Of History These Friendly Gems Dot The Area."
Chicago Tribune
(Chicago)August 04, 1987. . http://articles.chicagotribune.com/1987-08-14/news/8703020874_1_building-s-architecture-courtyard-ta...
Magida, Phyllis. "Fairy Tales Can Come True - When Your Home Is A Castle."
Chicago Tribune
(Chicago)June 18, 1988. . http://articles.chicagotribune.com/1988-06-18/news/8801080777_1_heating-kings-and-queens-wooden
Quinn, Patrick. "Evanston."
Encyclopedia of Chicago
. . Accessed April 11, 2018. http://www.encyclopedia.chicagohistory.org/pages/438.html
Wilson, Mark R.. "Construction."
Encyclopedia of Chicago
. . Accessed April 11, 2018. http://www.encyclopedia.chicagohistory.org/pages/331.html.
Photo Sources
Ivy Filled Courtyard: VHT Studios via Zillow Reality, Zillow.com: https://www.zillow.com/b/2212.dash.26-sherman-ave.-evanston-il-5XjMLb/
Taken 1983: From the National Archives (via National Register of Historic Places): https://catalog.archives.gov/id/28890902

"This is a picture of Castle Tower Apartments..." : D 46978673 © Jim Roberts | Dreamstime.com, https://www.dreamstime.com/editorial-stock-photo-evanston-castle-picture-tower-apartments-illinois-s...
Additional Information