Meeker Home Museum
Introduction
The Meeker Home Museum occupies a two-story adobe brick house which was originally built for Greeley city founder Nathaniel Cook Meeker and his family in 1870. Converted to a museum in 1929, the interior of the building has been restored to its original state and houses artifacts and furniture owned by the Meeker family. The museum offers information on the life and career of Meeker and his family, as well as the history of the surrounding area. It is listed on the National Register of Historic Places.
Images
Meeker home with addition from 1884 which was later removed.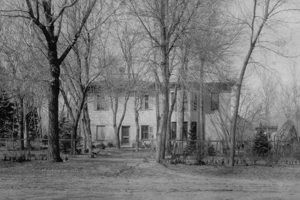 Backstory and Context
Nathaniel Meeker first traveled to Colorado territory in 1869 as the agricultural editor for the New York Tribune. He had previously worked for the Tribune's editor, Horace Greeley, as a war correspondent during the Civil War. With financial backing from Greeley, Meeker founded the Union Colony, a communal economic venture which would later become the city of Greeley, Colorado. The Colony attracted new settlers to the area, but was never able to become self-sufficient.
In 1878, Meeker became an Indian agent for the White River Ute Agency in Colorado. During his time there, he attempted to impose both Christianity and an agricultural lifestyle on the seminomadic Ute. This quickly led to a war between Meeker and Ute, and Meeker was killed in a Ute ambush on September 20, 1879. By 1881, the Ute were forced to leave their land and settle on a reservation in Utah.
Meeker's home became the city of Greeley's first museum in 1929. During restoration in 1958-59, an addition was removed to return the house to its original state. The museum now offers visitors a view of the home as it would have appeared in Meeker's time, including original furniture and decor. Prized pieces consist of a 10-foot tall diamond dust mirror and Meeker's cherry-wood desk. Guided tours inform visitors about Meeker's career as a journalist and Federal agent, as well as the ultimate fate of him and his family. The grounds of the museum also contain interpretative panels on the history of Meeker and the area.
Sources
Meeker Home Museum. City of Greeley Museums. . Accessed April 18, 2018. https://greeleymuseums.com/locations/meeker-home/.

Historic Meeker Home Museum in Greeley Opens Saturday for 2015 Season. The Tribune. April 14, 2015. Accessed April 18, 2018. https://www.greeleytribune.com/news/news-briefs/historic-meeker-home-museum-in-greeley-opens-saturday-for-2015-season/.

Pierpaoli, Jr., Paul G. The Encyclopedia of North American Indian Wars, 1607-1890: A Political, Social, and Military History. Vol. 1. Santa Barbara, CA. ABC-CLIO, LLC, 2011.

Nathan Meeker. Wikipedia. September 03, 2017. Accessed April 18, 2018. https://en.wikipedia.org/wiki/Nathan_Meeker.


Additional Information