Friendship Firehouse Museum
Introduction
The Friendship Fire Company was the first volunteer fire-fighting company in Alexandria, VA, and the Friendship Firehouse Museum is dedicated to preserving its memory. The Museum also houses historical fire-fighting equipment and memorabilia, including a 19th century suction engine and hose carriage.
Images
Friendship Firehouse Museum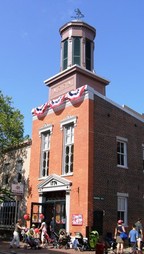 Engine Room of the Friendship Firehouse Museum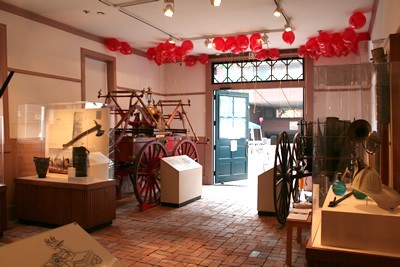 Backstory and Context
The Friendship Fire Company was the first volunteer fire-fighting company organized in Alexandria, VA, in 1774, and counted George Washington among its founding members. In 1775, Washington purchased one of the first engines for the Fire Company and had it shipped from Philadelphia to Alexandria by ox cart. The Company moved to the current building in 1855. The building has undergone multiple renovations, the first of which occurred in 1871. In 1992, the City of Alexandria further restored the building, and in 2009, restoration of the cupola was completed.
The Friendship Firehouse Museum now occupies the building and is dedicated to preserving the building and exhibits, and educating the community. Open from 1:00 to 4:00 Saturday and Sunday, the museum contains examples of early fire-fighting equipment. The Engine Room houses fire engines, leather water buckets, locally-made hoses, axes, and other fire-fighting gear. It houses information and exhibits on the development of fire-fighting technology over time, as well as displays about other historic fire companies in Alexandria. The Meeting Room on the second floor has been decorated in the late 19th century style, when the Friendship Fire Company was in its prime. This includes original furniture, as well as uniforms and banners used by the Company.
The museum also displays a suction engine built in Baltimore and purchased by the Friendship Fire Company in 1851. This engine is highly ornamented and includes a set of clasped hands, the symbol of the Fire Company. The suction engine was a labor-intensive machine and required between sixteen and twenty men to operate. A locally-made hose carriage used by the Fire Company is on display, as well. Before the installation of city-wide water pipes, water was drawn from nearby wells and rivers in order to extinguish fires. The carriage was necessary to transport the long lengths of hoses needed for this method of fire-fighting.
Sources
Friendship Firehouse Museum. Tourism Website of the Commonwealth of Virginia. March 12, 2013. Accessed April 14, 2018. https://www.Virginia.org/listings/Museums/FriendshipFirehouseMuseum/.

Friendship Firehouse Museum. City of Alexandria Virginia. . Accessed April 14, 2018. https://www.alexandriava.gov/FriendshipFirehouse#FriendshipFirehouseMuseum.

Voges, Nettie Allen. Old Alexandria. McLean, VA. EPM Publications, Inc., 1975.

Lloyd, Kris. "The Friendship Pumper." Antiques in Alexandria. Antiques in Alexandria. , 28-30.

Carter, T. Michael. "Forming a More Perfect Community: An Early History of the Friendship Fire Company." Historic Alexandria Quarterly. Historic Alexandria QuarterlyJune 01, 2002. , 1-9.


Additional Information