The Oviedo Bank
Introduction
The Oviedo bank was built in 1912 on what was previously the Bill Browning Celery Farm. Oviedo was a small town, so this was a big deal back in this time. It was originally located off Broadway and Division street, close to current downtown Oviedo area. Its most significant event in history is that in 1929, the bank was mysteriously bombed.
Images
This is a picture of the bank after it was bombed in 1929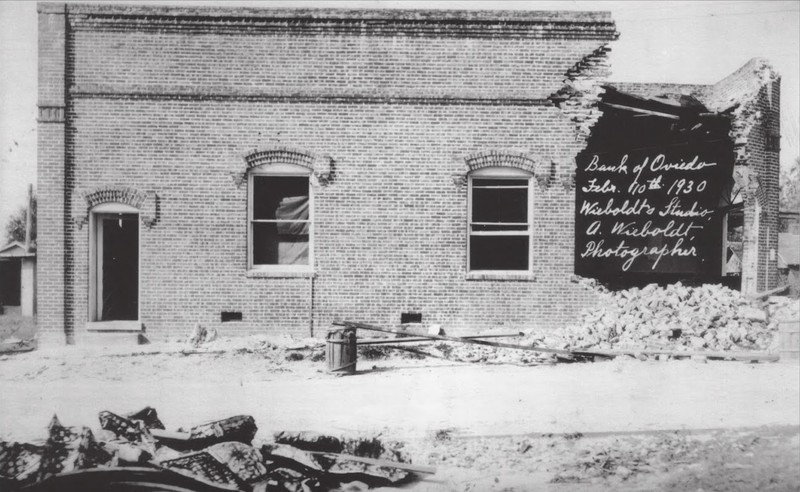 Backstory and Context
In 1929, the bank was bombed. The people of Oviedo do not know who was behind the bombing, but it caused outrage. After the bombing locals were "forced to bank in Orlando, Winter Park or Sanford. Company cash would then be transported by car from one of these cities, for the weekly payroll." (Citizens Bank of Florida). The motives of the bombing are suspected as an attempted robbery, an article describes the impact with" The entire town of Oviedo was awoken from their Sunday night slumber by a massive explosion. It was 2:20 in the morning on November 18, 1929 and the front face Oviedo's only bank had been blown clean off" (Byrne, Jason) It is also recorded that the bombing was heard 15 miles away in Sanford.


What is so striking about this case is that just three days after the bombing the home of the president of the bank was bombed. Sheriffs began to believe that this was the act of one person and it was under great investigation. Despite their efforts the crimes were never solved. A big influencing factor of these hard times was the Great Depression and on top of the only bank in Oviedo being out of commission, industries known to Oviedo were declining and doing very badly. Tensions were high in the banking industry. Ever since the epic stock market crash many people actually blamed the banks for this.


It is also important to note that it was the only bank in Oviedo during that time. Traveling was not as easy as it is today and having to travel to Winter Park or Sandford to manage money was extremely inconvenient for the people of Oviedo. There was also fear within the town in fear of robbers of which precautions were taken, this alone makes it an important day in Oviedo history.
This is important to Oviedo history because it was such a traumatic event. It was not the populated town that we know today. The main website for the city of Oviedo states, "Formally incorporated as a City in 1925 with a population of 800". When the bank first opened on July 1, 1912, The RICHES of Central Florida explain "The Citizens Bank of Oviedo took in over half a million dollars in deposits on its first day, with B. F. Wheeler as president, C. R. Clonts as vice president, and Charles Shaffer as the cashier". It is evident that this was needed in the city of Oviedo and was devastating when the only bank in the town was bombed.
Sadly, the bank is not in its original location. Citizens Bank of Florida informs," The bank eventually outgrew their small offices and needed to expand their building for future growth. In 1974, the bank moved to its present location on Geneva Drive." To add there were two more locations that were built, one in the Oviedo Mall and one on Alafaya. These two locations no longer exist but it shows the demand and growth of the small town of Oviedo.


The time period should also be mentioned, and the City of Oviedo website does a great job of painting a clear picture of who settled here in Oviedo in its early days and what it was like. They specify, "former slaves, and immigrants from Europe, primarily Sweden, the area that is now Oviedo was populated by the Timucua, a clan of native Americans who were a part of the Seminole tribe. No evidence of the early Timucuan settlements remains today".
To conclude, the Oviedo Bank has so much history. In just a forming town in need of a bank, started up by just 3 employees, over half a million dollars of deposits in its grand opening, then to be catastrophically bombed in 1929, it is an interesting bit of research. As The City of Oviedo website describes that "Oviedo in 2012 only vaguely resembles the Oviedo of 1925". And speaking that it is now 2018, and Oviedo is expanding and industrializing more than ever, this statement stands even stronger. Oviedo is a growing city and it is crucial that we do not forget its history of what made what we know of Oviedo today.
Sources
Francke Arthur E., Jr., Nancy Frye I Shirley C. Reilly. Early Days of Seminole County, Sandford Printing , 1995, http://www.seminole.wateratlas.usf.edu/upload/documents/317_earlydays.pdf. 3/20/2018.
Citizens Bank of Florida. 2018, https://www.mycbfl.com/about-history-citizens-bank-florida.htm. 3/20/2018
DeWolf, Henry , RICHES of Central Florida. Oviedo Historical Society Collection, https://richesmi.cah.ucf.edu/omeka/items/show/5202 3/20/2018
City of Oviedo Florida. http://www.cityofoviedo.net/495/History. 3/20/2018