Wheeling Island Racetrack ("Wheeling Downs")
Introduction
Wheeling Island Racetrack was established in 1930 and was owned by criminal kingpin, William "Big Bill" Lias for several years. Wheeling Island has a rich history and early racing predates to the Civil War. Today, the track has become one of the largest tourist attractions in West Virginia with a full-service hotel, banquet center, restaurant, video lottery terminals, table games and many other amenities.
Images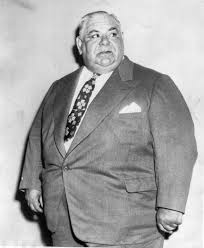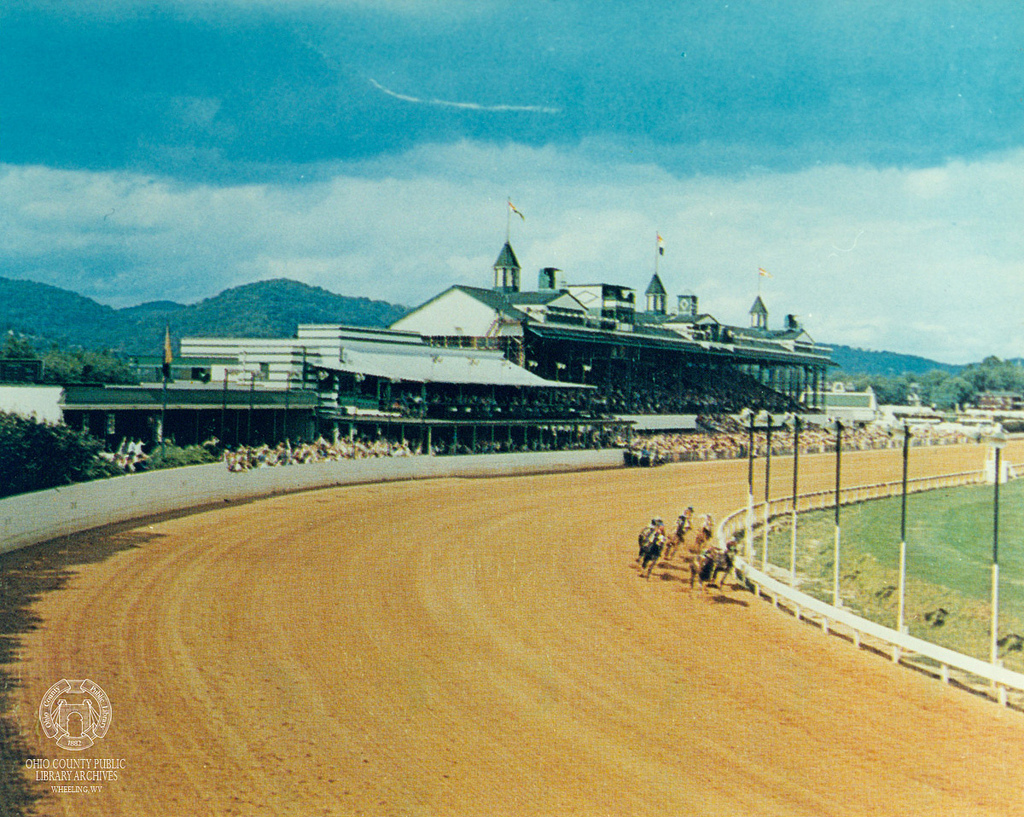 Racetrack and parking lot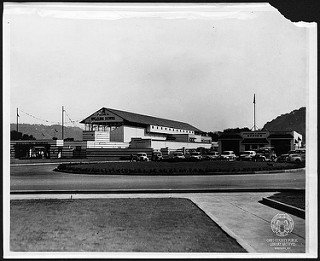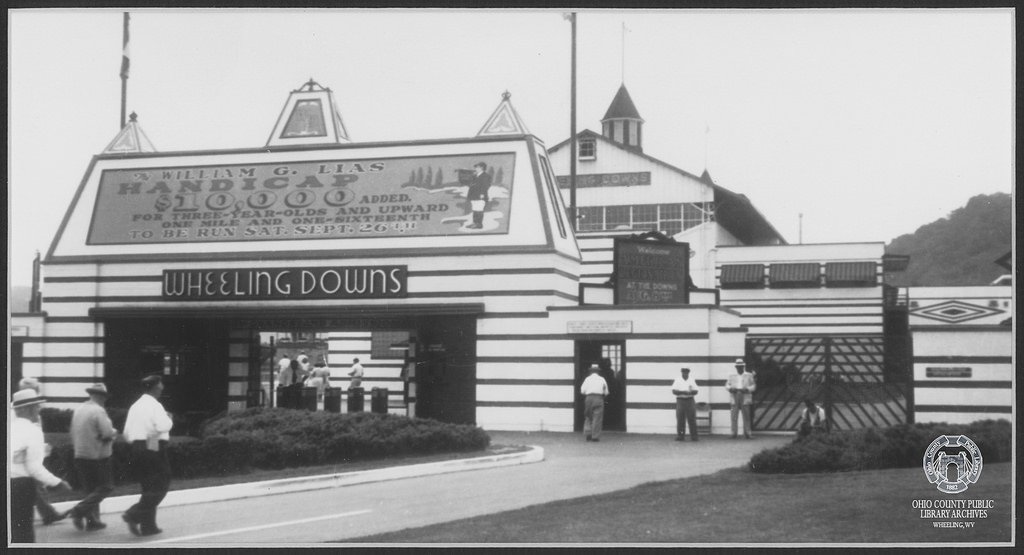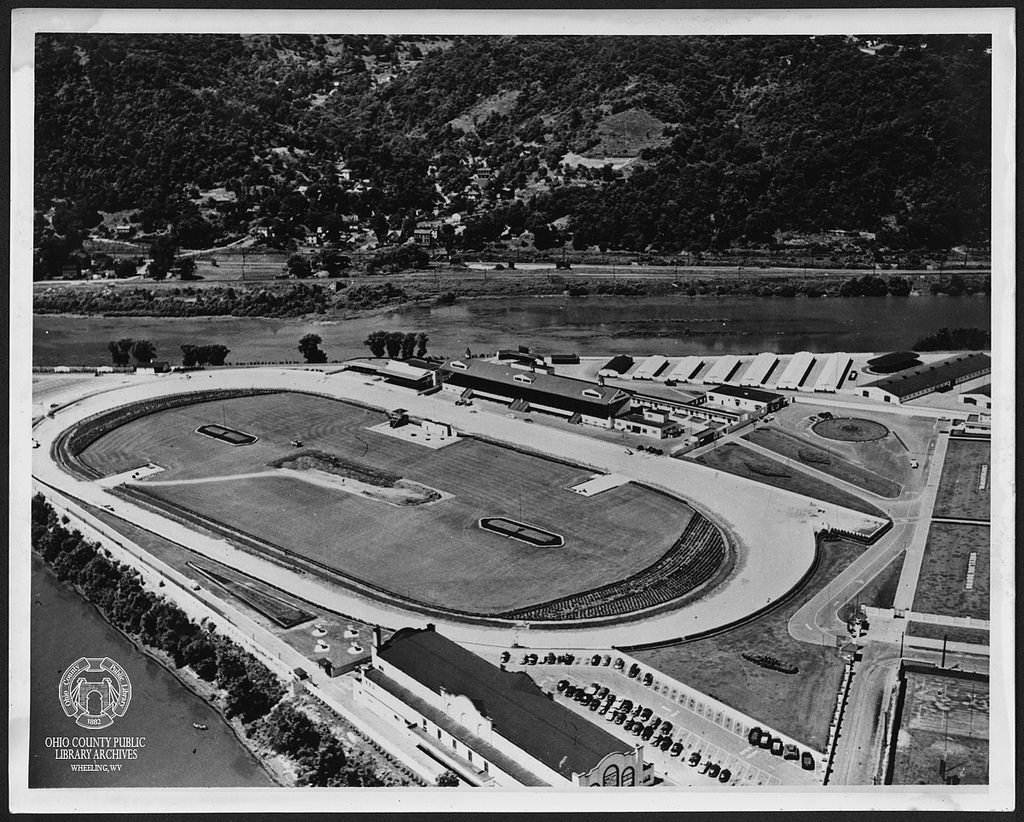 Backstory and Context
Wheeling Island Hotel, Casino & Racetrack is a gambling center located on Wheeling Island in Wheeling, West Virginia. The track has a rich history with the first West Virginia State Fair being held on the grounds on February 1, 1881. A racetrack was added in 1895. Although the fair ceased operations briefly due to the Great Depression, with the backing of the West Virginia Jockey Club, the facility was able to reopen in the late 1930s for harness racing. A half-mile horse track was built on the grounds of the State Fair Park. From late May to late June and from late August to late September, races were held using the pari-mutuel betting system, and the track became known as Wheeling Downs. The success continued until the outbreak of World War II.
After World War II, Wheeling Downs went bankrupt and was auctioned for $250,000. Wheeling Downs was never a big money maker; but once the facilities were purchased by William "Big Bill" Lias in 1945, the business escalated into a well-known establishment. With new shrubbery and steeps added, the track received the nickname "miniature Churchill Downs," and Lias began the endeavor to build an empire. Known as a leader of organized crime, Lias left the family grocery business during Prohibition to pursue a career in the illegal sale and distribution of liquor. "Big Bill" established himself by taking advantage of Prohibition, selling and running moonshine and served short sentence in the Atlanta Federal Penitentiary. He also had a list of mob ties in Detroit, Michigan. This prepared him for the new life of in the gambling industry with the opening of a line of casino-nightclubs on Market Street in Wheeling in 1939. Lias was a leader in the prostitution ring, and the political circle and through his leadership, violence and gang wars escalated in Wheeling. Many despised him, and he survived many assignation attempts. Lias was charged with income tax evasion in 1948, and by 1951, the government attempted to deport him back to his birthplace of Greece. In 1952, the federal government seized the track and most of his assets. "Big Bill" would be in and out of court on matters of tax evasion and deportation until his death in 1970.
In 1957 the Wheeling Downs was sold at a public auction, most of the money was used to pay back Lias's taxes. Wheeling Downs continued operation for years until a cold day in 1962, when a fire destroyed the property. The facility had to be rebuilt and postponed harness racing until 1969. The track continued to struggle financially. With the passage of the West Virginia State Legislature dog racing bill in 1975, a new door opened for Wheeling Downs. Beginning in 1976, $1 million was used to convert the horse racing track to a greyhound racing. Although greyhound racing remains year-round at Wheeling Downs, video lottery and table games maintain the revenue.
West Virginia began seeing the profits from the lottery, which allowed for new broaden gambling laws. In 1984 with the passage of the lottery amendment, and the first instant scratch off tickets were sold in 1986. Lottery and gambling became accepted throughout the state. A televised wheel spinning show promoted game sales, and profits from the lottery escalated. In 1994, the West Virginia Lottery Commission permitted the first 400 video slot machines to be installed at Wheeling Downs. This allowed for the establishment to compete with neighboring states and led to opportunities for expansion for the outdated facility.
With access to video lottery, the track completed a major expansion in 2003, which cost $68 million. This provided 30,000 more square feet for additional slot machines, and a luxury tropical themed hotel. Conference rooms and meeting spaces were added, along with restaurant facilities. Dining options now include a fine-dining restaurant, a casual restaurant, a buffet, a quick eats food court, and a bar and lounge. A 600-seat multipurpose theater was included in the renovations. The company added a new off-site kennel compound for the racing dogs as well as a new paddock.
Although the expansion and renovations created the new Wheeling Island Racetrack & Gaming Center with the addition of 2,183 slot machines, the major boost to the facility occurred in 2007. The West Virginia Legislature voted to approve the optional voting on casino gambling at the local level. Ohio County citizens voted in support of the proposal to allow table games at the track. In 2008, table games were added, and the name changed to Wheeling Island Hotel-Casino-Racetrack. Many casinos in neighboring Pennsylvania and Ohio opened after the citizens of Ohio County passed the proposal. Although many were fearful that Wheeling Island Racetrack & Gaming would lose business because of these out of state casinos, the West Virginia Lottery Commission reports that Wheeling Island collected about $97.1 million in total gross revenue for 2016, which is a slight increase from 2014, but is a decline from $190.3 million the track collect in 2009. Over the past century, the facility transformed from a small racetrack to a deluxe resort offering a vast number of amenities, but it must continue to evolve to compete in this growing business.
Sources
Wheeling Downs."
Wheeling History > Wheeling Downs | Ohio County Public Library
, www.ohiocountylibrary.org/wheeling-history/5543.

"William G. 'Big Bill' Lias."
Wheeling History > William G. "Big Bill" Lias | Ohio County Public Library
, www.ohiocountylibrary.org/wheeling-history/william-g.-lias/4995.
Platania, Platania. Wheeling Island Hotel, Casino & Racetrack. e-WV. March 06, 2013. Accessed April 29, 2018. https://www.wvencyclopedia.org/articles/1215.
Fetherling, George. Big Bill Lias. e-WV. . Accessed April 29, 2018. https://www.wvencyclopedia.org/articles/1373.
Bulla, Nancy. Lottery. e-WV. . Accessed April 29, 2018. https://www.wvencyclopedia.org/articles/1459.
Junkins, Casey. Pennsylvania, Ohio Casinos Hammer West Virginia Profits. The Intellingencer. January 17, 2017. Accessed April 29, 2018. http://www.theintelligencer.net/news/top-headlines/2017/01/pennsylvania-ohio-casinos-hammer-west-Virginia-profits/.
Additional Information