Marsh Fork High School
Introduction
Marsh Fork High School served the people living on the headwaters of the Coal River in Raleigh County for almost 80 years before permanently closing in 2003. Located in Montcoal, West Virginia, Marsh Fork was six miles from the town of Whitesville, West Virginia in neighboring Boone County.
Images
The first seven to graduate from Montcoal
Top- Old School before the fire Bottom- New School after the fire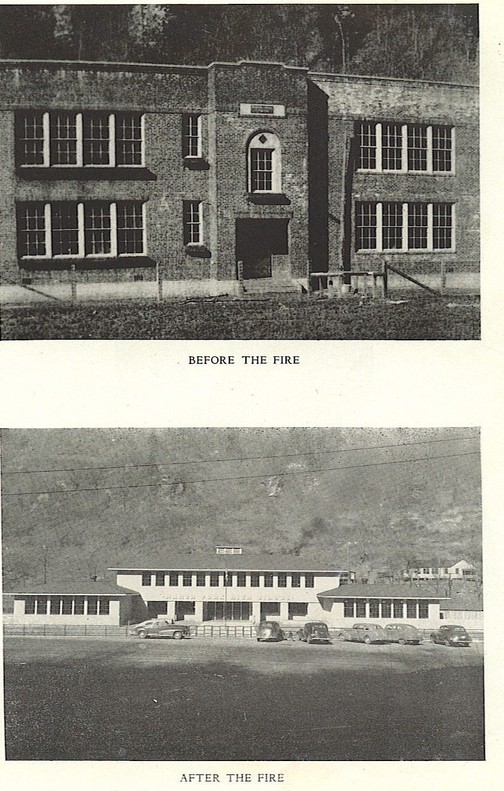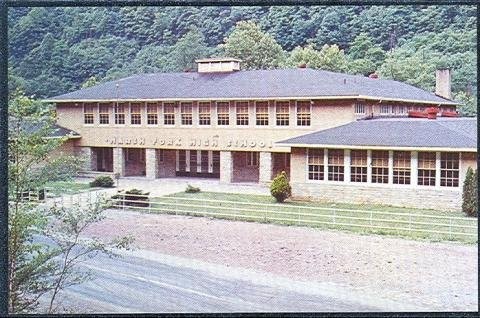 Last class to graduate from Marsh Fork High School in 2003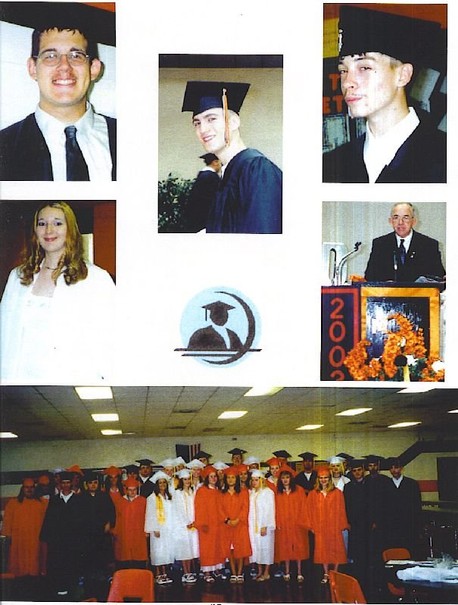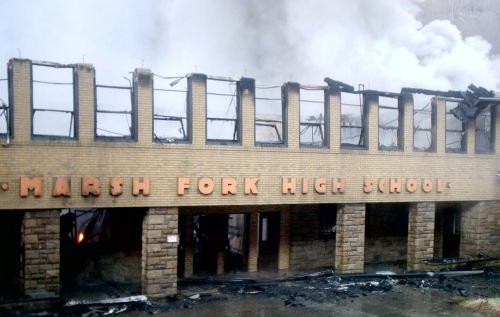 Backstory and Context
As coal production in West Virginia was growing, coal camps or coal towns were popping up everywhere. The Coal River, as the name suggests, was at the center of this expansion. Flowing from western Raleigh County through Boone County and entering the Kanawha River at Saint Albans, West Virginia, this path through a coal rich area makes it a perfect vehicle for extraction. Recognizing the potential for profit, people moved there for work. With the increase in population came the need for more schools and in 1925 Montcoal High School was opened.
Montcoal High School was a small school with its first graduating class of seven people in 1930. The school itself consisted of only two rooms when built but had six rooms by the time of its first graduation. Two years later, in 1932, the school would be combined with Mt. View and the name changed to Marsh Fork High School. By this time the school had grown again, now up to nine rooms, to include the addition of a gym.
In 1943 Marsh Fork High School would be completely destroyed by a fire. Students would have to be instructed at an alternate location temporarily while their new school was built. The Raleigh County Board of Education collected $36,247 after the school burnt down. Marsh Fork's new school would be designed by architect Walter F. Martens, a prominent architect in the state who had also designed the governor's home. Martens designed the project and it was built at a cost of $113,000. Considered to be one of the most modern schools in the state at its completion the school included 12 classrooms, a gym, and an auditorium.
In 1992 the Raleigh County Board of Education successfully voted to close Clear Fork High School, after decades of trying, and those students were split between Marsh Fork High School and Liberty High School in Glen Daniel, West Virginia. Unfortunately, this was just another victim of the shrinking population. Like Clear Fork High School, Marsh Fork would be permanently closed in 2003 sending remaining students to Liberty High School.
Sunday December 18th, 2005, two years after the school closed its doors it was once again destroyed by fire. This time the fire was ruled arson, but at the time of writing this no one had been charged. For the next few years the land sat unused, until work started on the Marsh Fork High School Memorial Park. The park was finished in August of 2015 and includes a walking trail, basketball courts, and picnic shelters.
Sources
Marsh Fork High School. . Accessed April 11, 2018. http://www.marshfork.com/.
"Marsh Fork High Grew From Two-Room School."
Beckley Herald Bicentennial Edition
August 26, 1950. .
Plummer, Sarah. Marsh Fork High School Memorial Park to be dedicated Saturday. The Register-Herald. August 06, 2015. Accessed April 16, 2018. http://www.register-herald.com/news/marsh-fork-high-school-memorial-park-to-be-dedicated-saturday/ar....
Agsten Jr., Carl "Walter Martens." e-WV: The West Virginia Encyclopedia. 15 March 2016. Web. 01 May 2018.
Additional Information