Silver Dollar Saloon
Introduction
Originally built in 1854 and then known as the Grand Hotel, the Silver Dollar Saloon is one of Marysville's oldest original buildings and is near the site of a trading post established in 1842 by settler Theodore Cordua. The establishment has been at the center of Marysville history as a hotel, bar, brothel, pizza restaurant, and even a cafe owned by the brother of famed serial killer Juan Corona, who before his arrest in 1972 was the deadliest murderer in American history. As of 2018, the new owners of the Silver Dollar frequently give historical tours of the building, the interior of which was remodeled with building materials from historic structures in the area.
Images
The two-story saloon is one of Marysville's oldest sites. Two plaques flanking the facade share additional moments in local history (photo Chris Kaufman/Appeal-Democrat).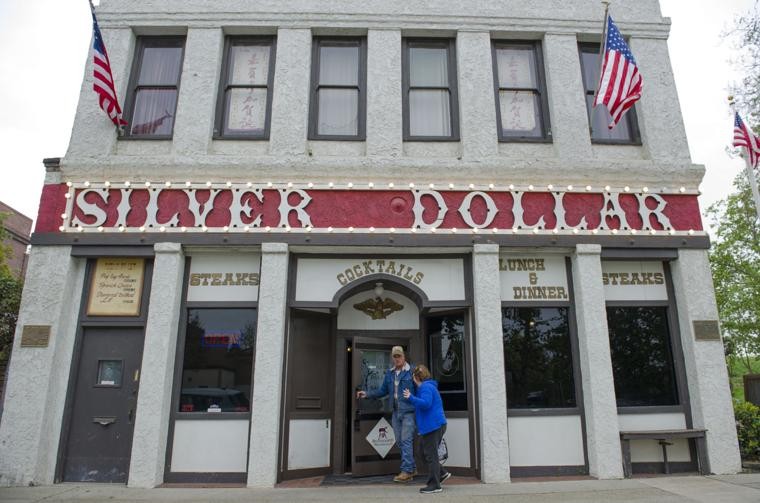 Owner Joe Ferrie speaks with a customer in April 2018. The building's history is an important part of the current business's identity (photo Chris Kaufman/Appeal-Democrat).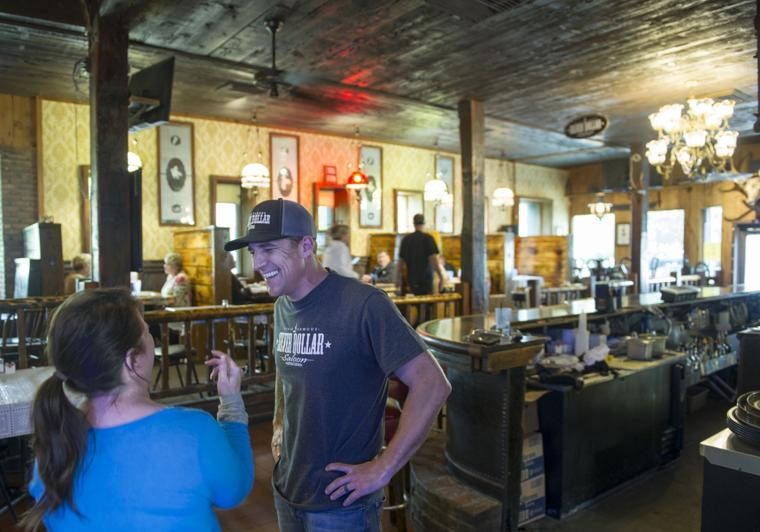 Convicted serial killer Juan Corona exits the Fairfield, CA courtroom in 1973 after being sentenced to 25 consecutive life-terms in prison for the murder of 23 migrant farm workers. Corona's brother Natividad briefly owned the Silver Dollar Saloon.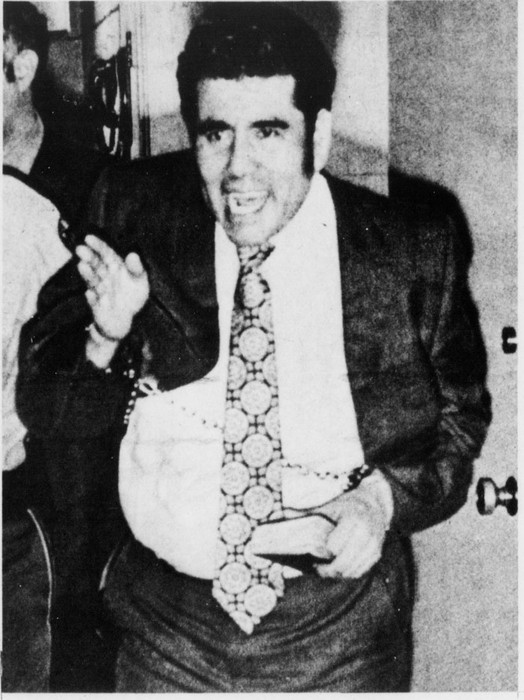 Serial killer Juan Corona in 2016, when he was denied parole. Corona's grisly murders, carried out within a few miles of his brother's tavern, are the reason for frequent rumors of ghosts at the Silver Dollar.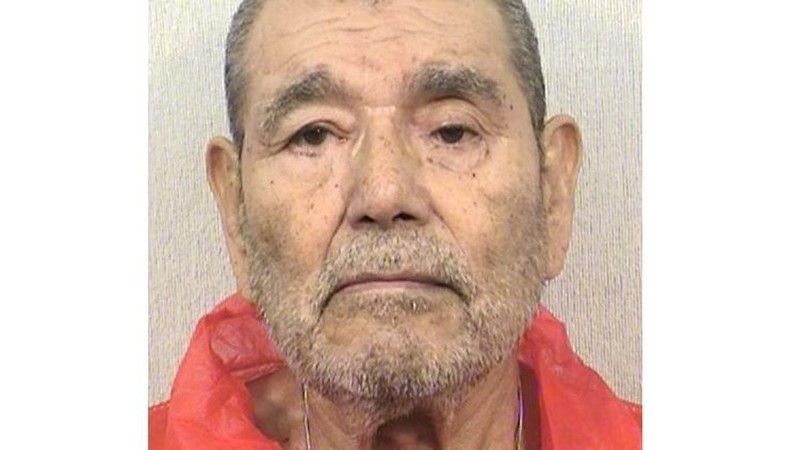 The cover to famed journalist Tracy Kidder's debut, published in 1974. Kidder was later ashamed of the text and bought the rights back from Doubleday in 1981. The book has since become highly regarded among fans of the non-fiction crime genre.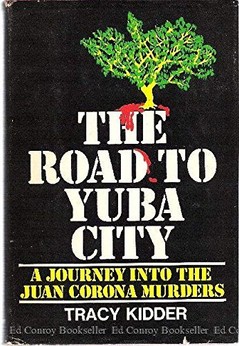 Bill Talbitzer's book is also a highly regarded but hard-to-find appraisal of the Corona murders and trial.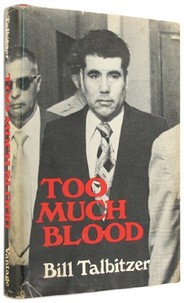 As the deadliest serial killer in American history at the time, Juan Corona was national news. Here, his verdict appears in West Virginia's Bluefield Daily Telegraph (19 Jan. 1973, p. 17).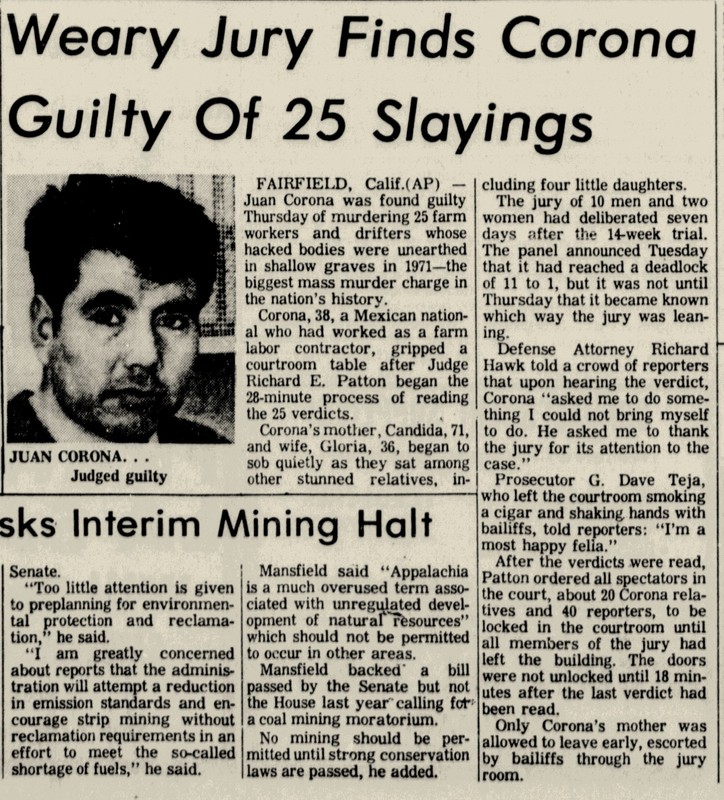 Backstory and Context
In 1842, Theodore Cordua settled near the confluence of the Yuba and Feather Rivers as a tenant of Johan Suter (John Sutter), the Swiss immigrant who had received a massive land grant near Sacramento from the Mexican government to buffer their northern California frontier against incursions from Native Americans and a Russian settlement at Fort Ross. Cordua's lease represented the northern edge of Sutter's holdings, and by 1844 he had obtained an additional adjacent 7 leagues of his own from the Mexican government. Where the Silver Dollar Saloon today stands, Cordua built his home and a trading post.
After gold was discovered in 1848, the area around Cordua's holdings developed rapidly, and he soon sold his land to four investors who would later lay the foundations for the future town of Marysville. The riverbanks near Cordua's old trading post were a common point of debarkation for miners headed toward the gold fields. By 1853, many of the town's temporary canvas and wood structures were being replaced by more permanent buildings, and in 1854 Marysville's Grand Hotel was erected. The establishment originally faced south toward the Yuba River, but as mining sediment raised river levels and necessitated the construction of Marysville's substantial levees, the Grand Hotel's configuration was flipped to face 1st Street.
For much of the hotel's history, however, it appears to have functioned more lucratively as a brothel. This business model served well through World War 2 and into the 1950s, when the U.S. Army's nearby Camp Beale provided a population of nearly 60,000 to patronize a booming downtown Marysville district that included 52 bars and 43 brothels, including next door's Davis Hotel, which was operated by notorious California madam Anne Davis. Later in the 1950s, however, Camp Beale was redesignated as an Air Force base. The number of personnel at the base was drastically reduced, and a crackdown on illicit businesses in the area at the same time sounded the death knell of Siver Dollar's century of prostitution.
In the 1960s the establishment was purchased by Natividad Corona, a Mexican immigrant whose brother, Juan, occasionally worked at the new tavern Natividad had opened in the building. In 1971, the tavern became the center of national attention as a series of grisly murders were uncovered, beginning with a man who was attacked with a machete in the men's restroom of the establishment. The victim later won a $250,000 settlement against Natividad, who fled to Mexico and avoided payment. A year later, however, 23 bodies were found similarly mutilated and buried in shallow graves on a nearby ranch (and two additional victims found on nearby properties), with evidence pointing to Juan Corona (who had previously been diagnosed with schizophrenia) as the primary suspect. The 1972 trial found Juan Corona guilty in what was then America's worst case of mass murder--he was sentenced to 25 life-terms in prison.
Tracy Kidder, later to become a Pulitzer Prize-winning journalist and non-fiction author, published his first book in 1974, entitled "The Road to Yuba City: A Journey Into the Juan Corona Murders." Considered a critical failure at the time, it is sometimes considered a collectors' item by modern readers, as Kidder repurchased the rights from publisher Doubleday in 1981 to prevent it from ever being reprinted. Of several books published on the Corona murders, Kidder's text and northern California author Bill Talbitzer's Too Much Blood (Vantage Press, 1978) are considered rare classics of the non-fiction crime genre.
In 1978, the building was purchased by the Nicoletti family during a period of urban renewal in downtown Marysville. With many of the nearby historic structures being torn down, the Nicolettis salvaged materials and refurbished the interior with these to retain its historic character. Later purchased by the Cumings family and now owned by a second generation, the Ferries, the Saloon continues to operate as a local bar and restaurant and is decorated an eclectic collection of historical items from the area. The second floor serves as an event space, and current owner Joe Ferrie frequently gives tours of the space to showcase its unique history.
Sources
About Marysville. The Mary Aaron Museum. . Accessed April 17, 2018. https://maryaaronmuseum.com/about-marysville-california/.

Hamilton, Matt. "Juan Corona, California serial killer convicted of killing 25 farmworkers, is again denied parole." Los Angeles Times(Los Angeles)November 11, 2016. . http://www.latimes.com/local/lanow/la-me-ln-corona-parole-20161111-story.html

Kaufman, Chris. "The Silver Dollar Saloon: Steeped in history." Appeal-Democrat(Yuba City)April 16, 2018. , 1-3.

Whittaker, Max. "Saloon has a colorful past Silver Dollar was once home to old Grand Hotel brothel." Appeal-Democrat(Yuba City)February 11, 2001. . http://www.appeal-democrat.com/saloon-has-a-colorful-past-silver-dollar-was-once-home/article_79ad1f...

"Hack Wounds Are Similar in Corona Case." San Bernardino Sun(San Bernardino)December 20, 1972. Accessed 4/17/2018 through California Digital Newspaper Collection.

"Corona Sentenced to 25 Consecutive Life Terms." Desert Sun(Fairfield)February 06, 1973. Accessed 4/17/2018 through California Digital Newspaper Collection

Bennett, David (1997). "Tracy Kidder". Dictionary of Literary Biography. Gale Research. pp. 127–137.


Additional Information