International Boxing Hall of Fame
Introduction
Established in 1989, the International Boxing Hall of Fame (IBHOF) offers exhibits that honor boxers, trainers, and contributors to the sport of boxing. One of two internationally recognized halls of fame, this New York institution offers a museum that showcases boxing's rich history and displays various memorabilia from around the world.
Images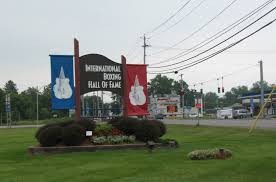 Backstory and Context
The International Boxing Hall of Fame dates back to 1982 when people in the town of Canastota, New York raised funds for a showcase to share the history of local boxers Carmen Basilio and Billy Backus. Carmen Basilio was the welterweight and middleweight champion of the latter part of the 1950s and his nephew, Billy Backus, won the world welterweight title in 1970.
The idea from the showcase project generated great interest and ultimately local residents decided to establish a boxing hall of fame and a small museum. This vision became reality in 1989 when nearly 24 former champions witnessed the ribbon-cutting ceremony. Exactly a year later, many champions such as Muhammad Ali received their induction.
The museum has expanded another portion to the museum and an event pavilion. Each year at the beginning of June, there is a 4-day event to induct new champions into the Hall of Fame. The inductees are broken up into categories; modern, old-timer, pioneer, non-participant, and observer. The members of the Boxing Writers Association and an international panel of boxing historians from all over the world cast votes. A separate panel then tabulates the votes and the results are presented to the hall of fame. 
Sources
Additional Information