Glendale Cemetery
Introduction
The Glendale Cemetery, also known as the Belgian Cemetery, is the final resting place for some of area's early settlers. In the early 1900s, a large contingent of Belgian immigrants became one of the largest single founding groups of South Charleston, drawn to the area by cheap land and resources with which to continue their traditional window glass industry. Many of the city's early Belgian family names can be found in this humble, century-old cemetery.
Images
Belgian immigrants Arthur and Gustave Dupierreux and their families in South Charleston, circa 1915.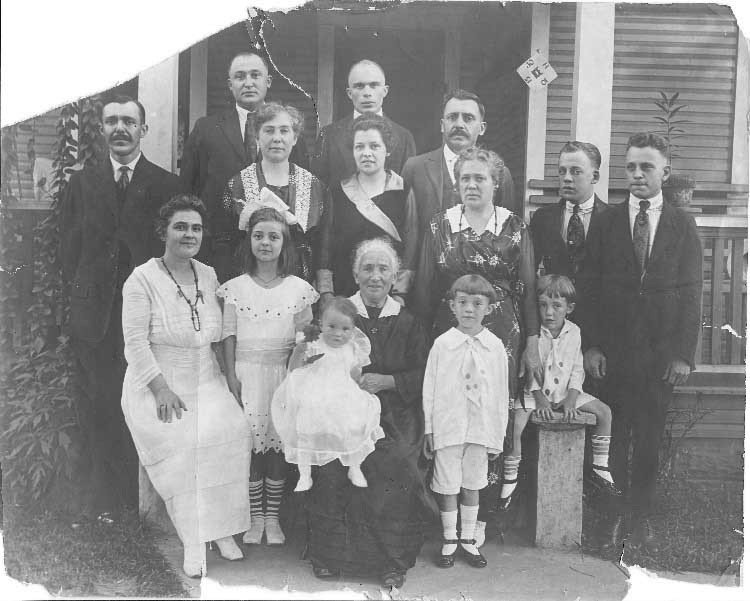 Taken circa 1914, South Charleston's first band was formed by Belgian immigrants who came to South Charleston and established the Banner Plate Window Factory.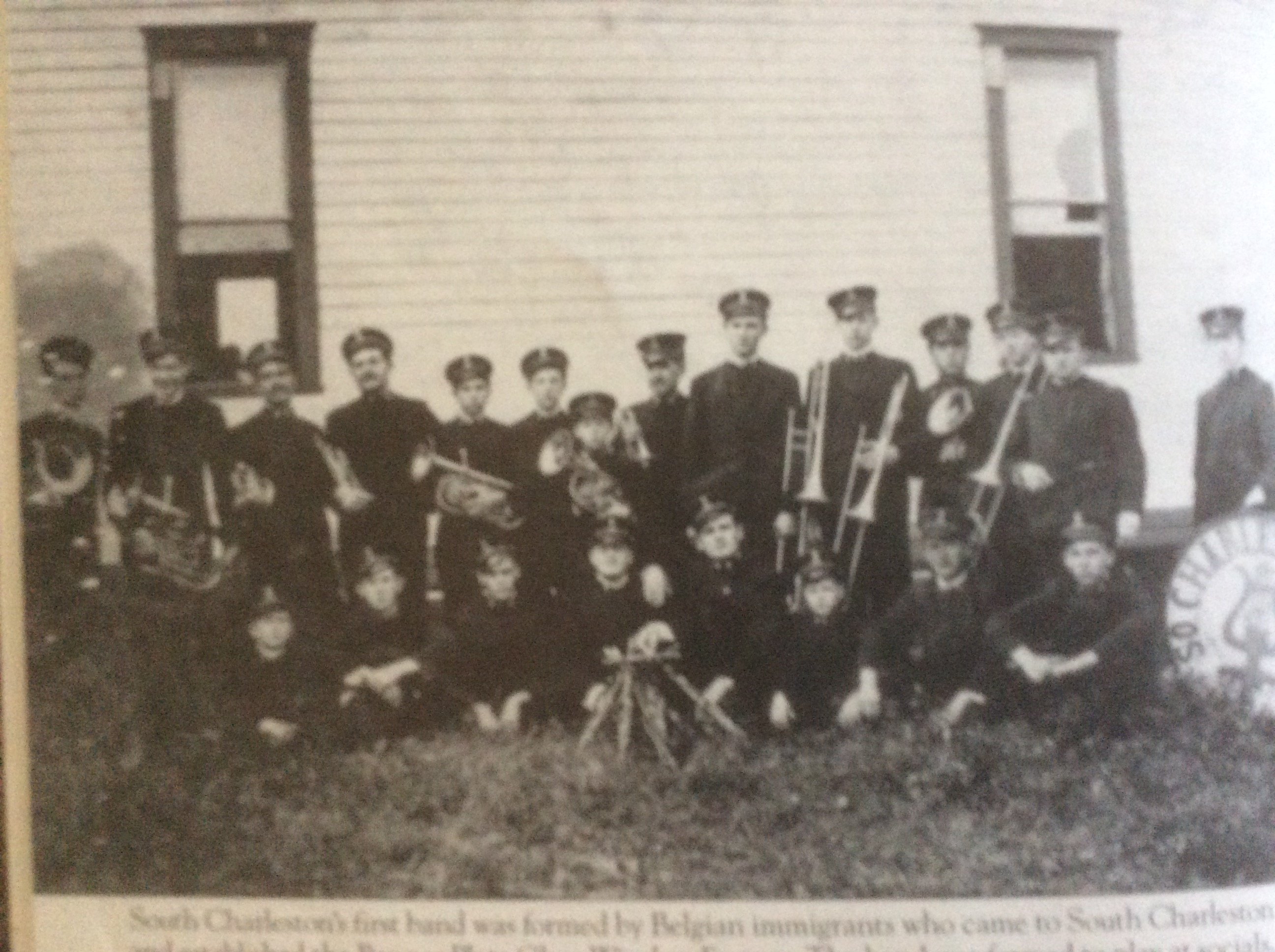 This 1914 photograph was most likely taken during a local Belgian carnival, where families gathered for music and socializing.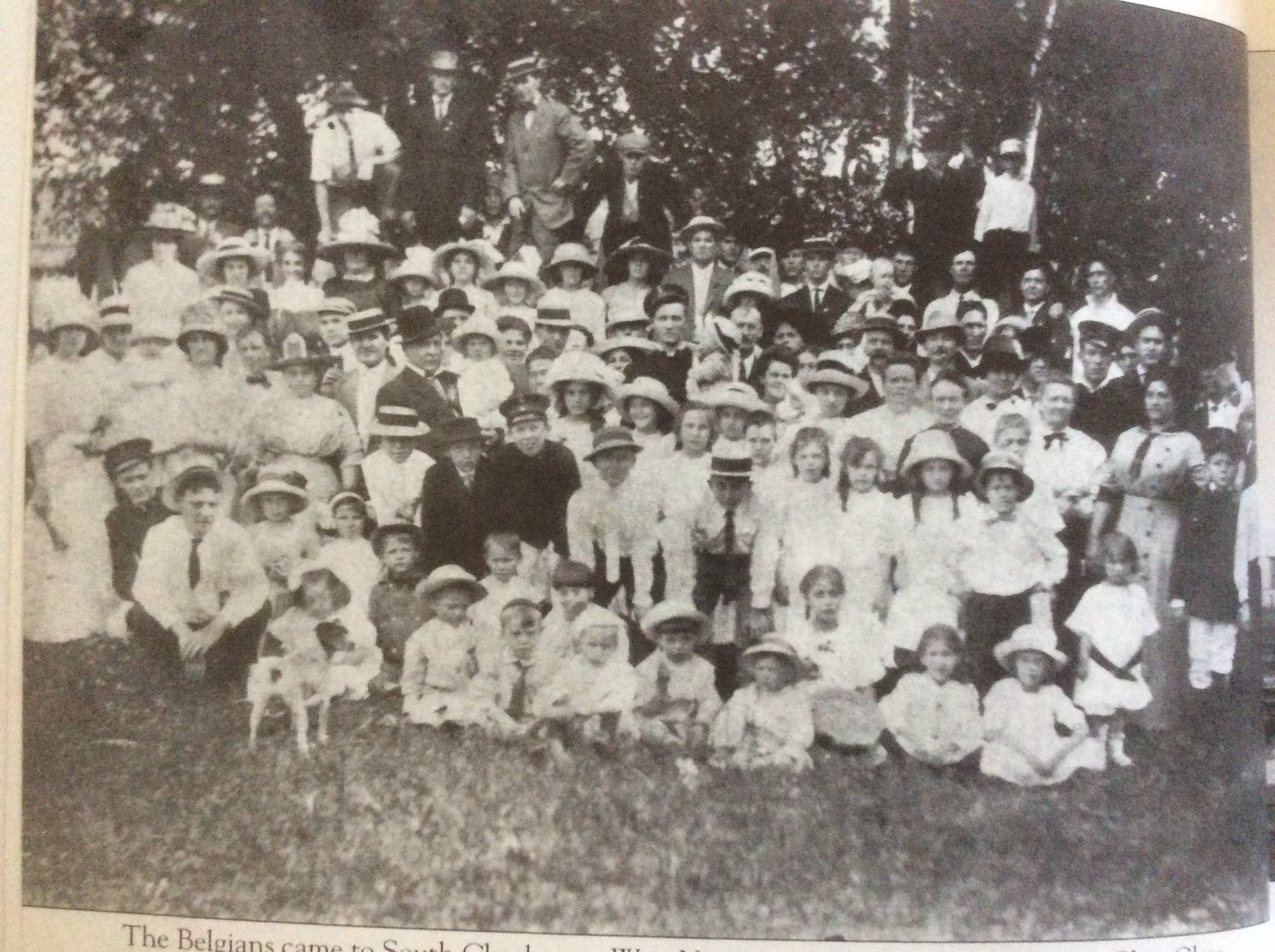 Around 1918, three Belgian girls pose in the Glendale Cemetery.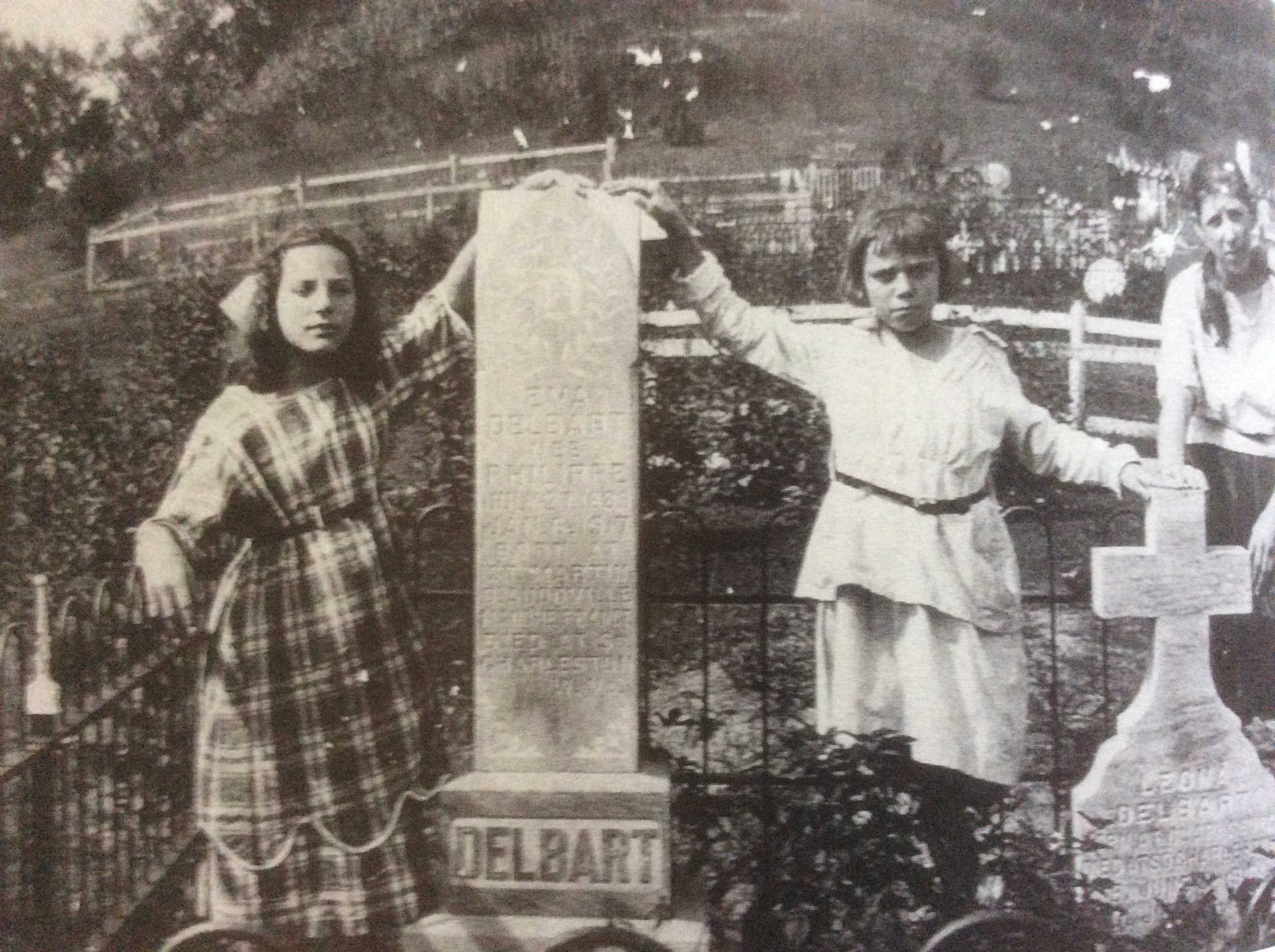 Tombstone of Eva Delbart, nee Philippe, who was born July 27, 1889, in France, and died January 6, 1917, in South Charleston.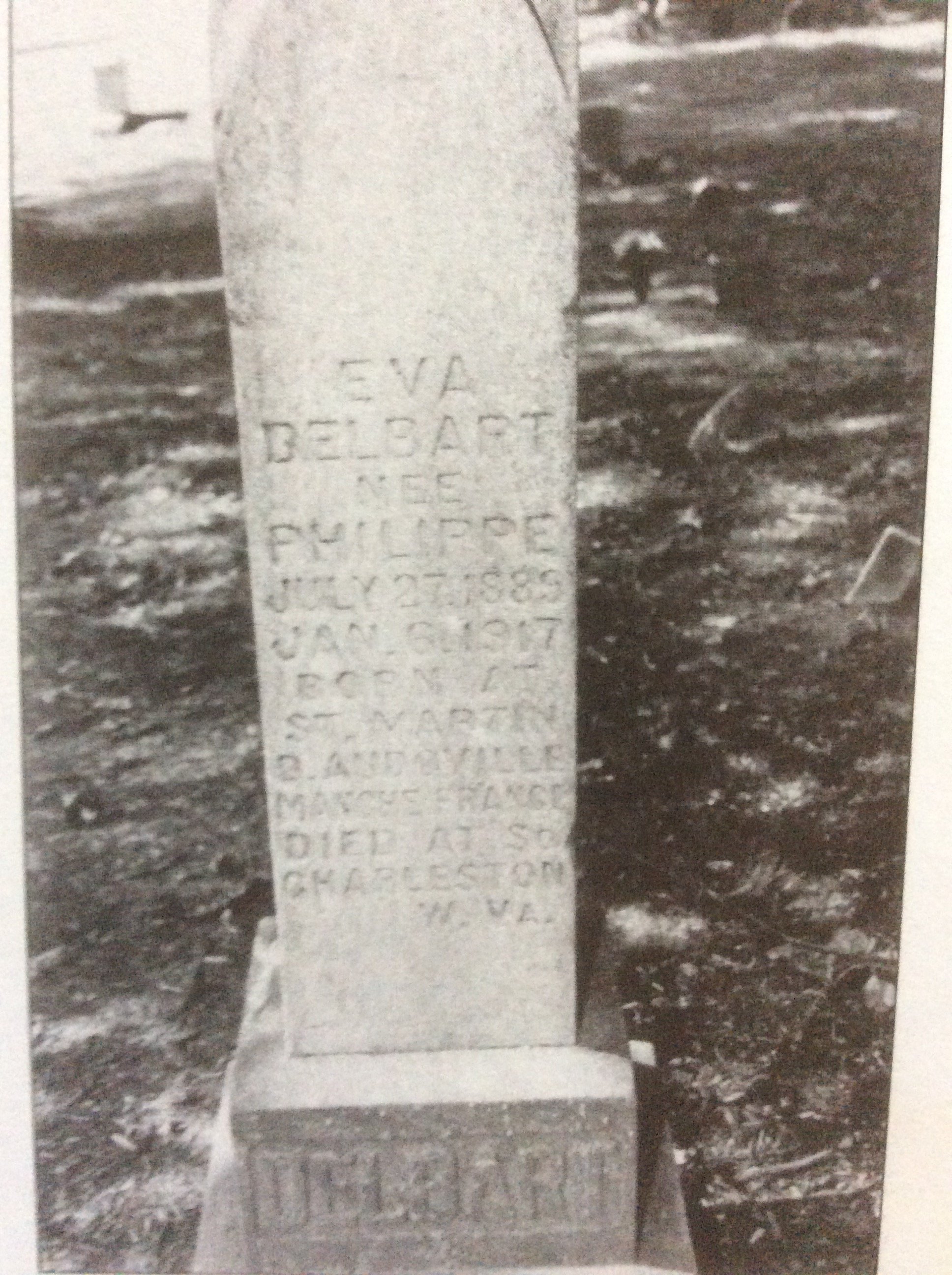 Grave site of Simon A. Aurand, who lived 1850-1923.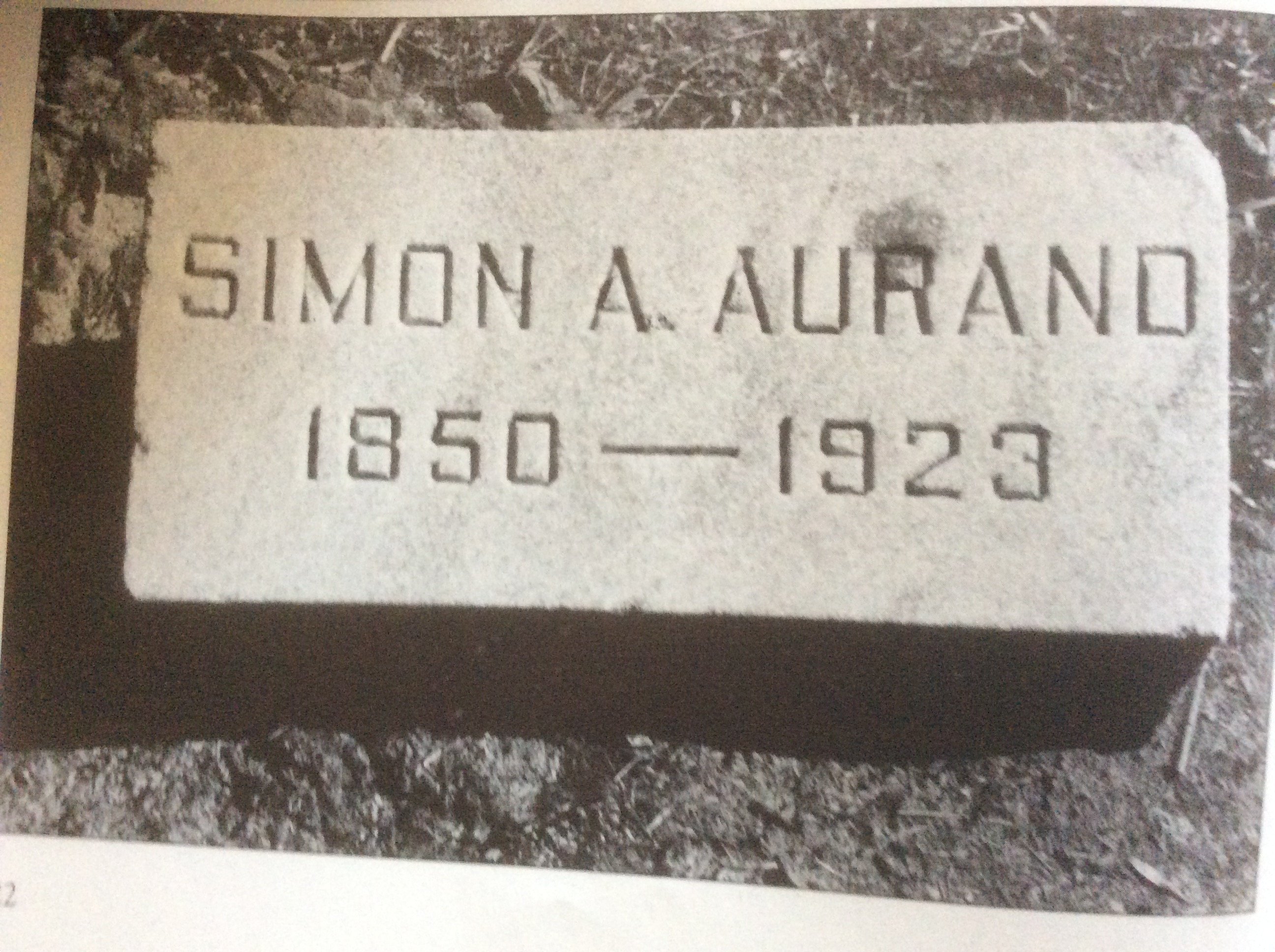 Backstory and Context
Belgian families began to migrate to the United States in the early 1900s, seeking relief from sociopolitical unrest in their homeland and jobs to support their families. In Indiana, Pennsylvania, and West Virginia the glass industry seemed promising to these immigrants, and many Belgian families were already familiar with the craft. When the supply of natural gas necessary for glass production shriveled up in Indiana, a group of Belgian immigrants was enticed to South Charleston, West Virginia around 1907 and started the Banner Plate Glass Window Factory, followed by the Dunkirk Glass Company in 1909 (though South Charleston itself did not incorporate until 1917). Banner Window Glass was a cooperative company owned by 50 Belgian immigrants, all of whom worked in the factory. This arrangement derived from the European guild system, where laborers controlled the means of production. This, in their view, produced a more cost-efficient product and generated greater pay for the workers.
"The Belgian glass craftsmen ate and dressed well and were often able to afford frills unknown to many sectors of the American work force. More than one surviving West Virginia glass worker recalled that their fathers even dressed up to go to work and would take off their starched collars and ties until they washed up after their shift. They would then don these marks of respectability for the walk back to their homes."1
Belgian residents built houses and churches all over the city and gathered together as a community to worship. Dances and celebrations were common, and this population of over 200 Belgians soon created the first band in the city of South Charleston. At local events, women wore ornate dresses and donned "Gibson girl" hairdos (drawn from the style of artist Charles Dana Gibson, an extremely popular artist of the day). Friends and family held festivals featuring music, dances, socializing, and traditional Belgian cooking. South Charleston became known as "the Belgian town" and French was often more commonly spoken than English.

Life was still far from ideal. The Kanawha Land Company, from which the Belgians of Banner Glass had purchased land for their homes and factory, was slow to deliver on promises of power, running water, and other modern amenities. Mrs. Jules Waterloo stated,
"...South Charleston was a real mess....[The Kanawha Land Company] promised us street cars, sewers, and so on. It was long time before we got many of the improvements...When we moved here, South Charleston was nothing but a mud hole. We lived in a little shack there and there wasn't any houses. Most of the Belgians built their own homes....The land company did build that railroad bridge across the Kanawha River but other than that, the only other way to get to Charleston was by boat."1
With the decline of handblown glass and the guilds of artisans that accompanied it in the 1920s and 1930s, the Belgian population declined in prominence. South Charleston continued to grow, spurred by the maturation of the chemical industry and Union Carbide in the 1930s, but many first- and second generation Belgian-Americans became "unskilled" workers in more automated plants (such as Libby Owens Ford glass of Kanawha City) throughout the Great Depression.
Glendale Cemetery, one of the earliest cemeteries in the city, includes markers from several of these early immigrants and the graveyard was once known as the Belgian Cemetery. Some tombstones, in fact, still read "Born in Belgium and died in South Charleston."
Sources
1. Barkey, Frederick. Cinderheads in the Hills: The Belgian Window Glass Workers of West Virginia. Charleston: West Virginia Humanities Council, 1988. p. 4, 30
2. Fenwick, Phyllis R. Evans, Don. The History of South Charleston. South Charleston, WV. South Charleston Museum Publications Committee, 1995.

3. Fones-Wolf, Ken "Belgians." e-WV: The West Virginia Encyclopedia. 21 December 2010. Web. 17 April 2018.

4. Romano, Judy Bowen. Images of America South Charleston. Charleston, SC. Arcadia Publishing, 2011.
Additional Information