Wilshire Boulevard Brown Derby Restaurant (1937-1985)
Introduction
Author-Uploaded Audio
This is the location of the iconic Beverly Hills Brown Derby Restaurant that opened its doors in 1937 and was a place where local residents, tourists, and Hollywood icons dined together. Herbert K. Somborn designed the Brown Derby restaurant to win a bet that he could sell food out of a hat. The original restaurant opened in 1926 and immediately became popular with celebrities. As a result, the restaurant was soon frequented by the press and the news soon made the restaurant a must-see for tourists. Three other Brown Derby locations opened from 1929 to 1940 in Hollywood, Beverly Hills, and the Los Feliz District. All four restaurants closed by the late 1980s.
Images
The original restaurant at 3427 Wilshire Boulevard closed in 1980 and was bulldozed before local residents and preservationists could prevent the destruction of the iconic LA establishment.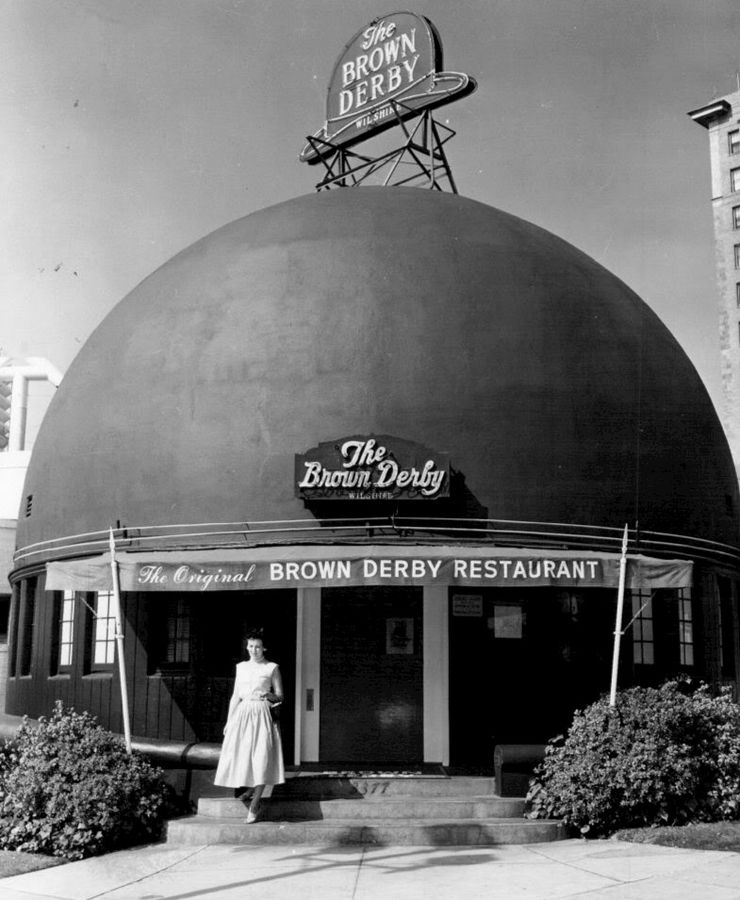 A postcard of the Brown Derby on Wilshire in 1952.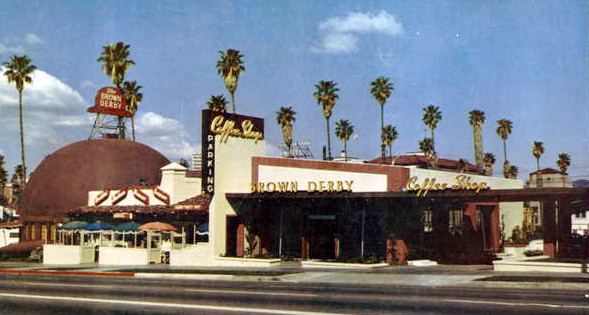 A postcard of the Beverly Hills Brown Derby in the 1930s.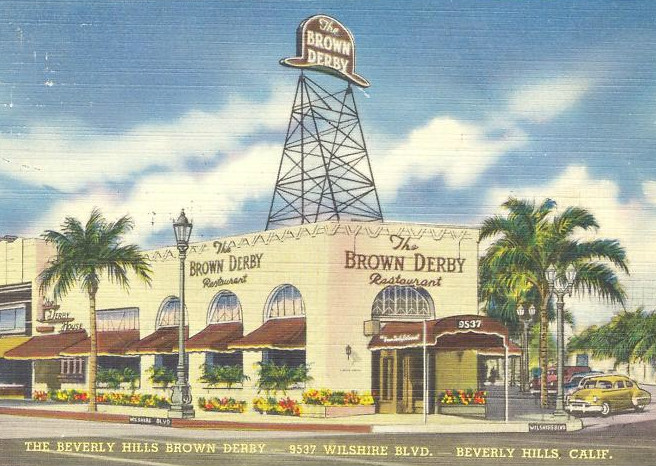 A postcard of the Los Feliz Brown Derby in the 1940s or 1950s. This building was featured on the TV show "Happy Days" as the new Arnold's restaurant.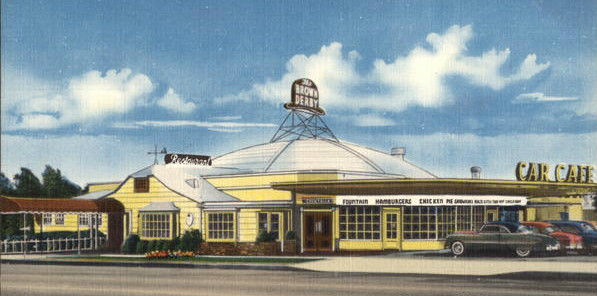 The Hollywood Brown Derby in the 1950s.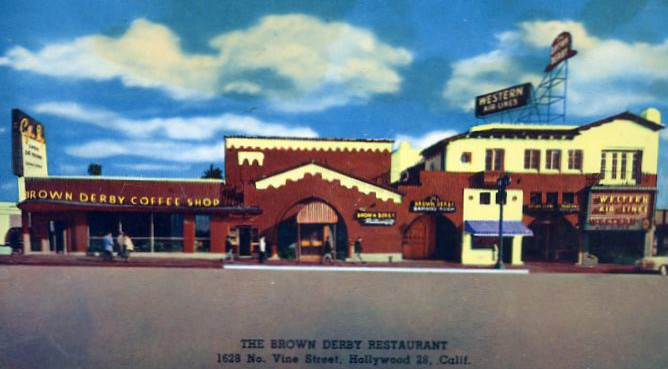 The iconic Beverly Hills Brown Derby was located on this corner from 1937 to the early 1980s.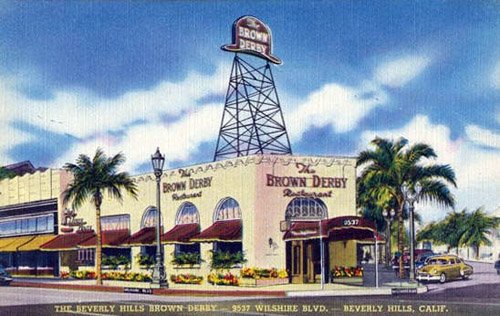 Backstory and Context
Author-Uploaded Audio
The idea for the Brown Derby was born when screenwriter Wilson Mizner bet his friend Herbert K. Somborn that if he knew anything about food, he could sell it out of a hat. Somborn took on the wager and what came to fruition was a derby-hat-shaped building on Wilshire Boulevard. Somborn then went on to build two other Brown Derby restaurants, one in Beverly Hills and one in Hollywood. On its opening night in 1926, a young artist simply called "Vitch" came in and offered to draw caricatures of that evening's guests in exchange for a meal. Caricatures then became a staple for each of the Brown Derby restaurants, and the tradition was continued by other artists such as Zel, Pancho, Lane, Bunn, and Woodruff.
Somborn died in 1934 after handpicking his successor, Robert Howard Cobb. Cobb had experience doing everything from waiting tables to bookkeeping and managed the chain. Cobb is best remembered as the creator of the Cobb salad, a late-night meal he made for some famished friends. Cobb also made the papers in 1933 when he refused to seat the actress Marlene Dietrich because she was wearing slacks. Comics Bert Wheeler and Robert Woolsey left the restaurant after the incident only to return wearing skirts. 
It was the hopes of seeing celebrity incidents such as this that kept tourists and the press piling into the Brown Derby in droves. Gossip columnists Hedda Hopper and Louella Parsons were regular fixtures there. The show This is Your Life, which involved taking an unsuspecting celebrity down memory lane, often began by surprising them while out for lunch at the Brown Derby. Other films and television shows, such as a famous episode of I Love Lucy, featured a restaurant in the likeness of the Brown Derby, cementing the restaurant's icon status in the eyes of many.
In 1937, the original Brown Derby moved a couple of blocks away to this location at 3377 Wilshire Boulevard. Three years later, another Brown Derby was built in the Los Feliz District of Los Angeles. None of these California restaurants are operating today, although the restaurants did inspire a chain of Brown Derbys in Ohio, five of which are still open. The original Brown Derby and the ones located in Beverly Hills and Hollywood closed in the 1980s. Customers even hosted a "funeral" for the Hollywood Brown Derby when it closed, wearing brown derby hats and red roses to say goodbye.
The Los Feliz Brown Derby was sold in 1960, but became a nightclub in 1992 called "The Derby" as a nod to its past. In 2006, The Derby was named a City Historical Cultural Monument of Los Angeles. But, after a shooting and other incidents, the club closed in 2009, leaving the building susceptible to destruction. Today, the closest one can get to seeing the Brown Derbys as they were is eating at an officially licensed Brown Derby, such as those at some Walt Disney resorts. Visitors to Wilshire Boulevard can also see the Brown Derby structure atop a shopping center.
Sources
Maher, Adrian. Broken Hearts as Brown Derby Is Demolished. Los Angeles Times. February 15, 1994. Accessed April 16, 2018. http://articles.latimes.com/1994-02-15/local/me-23178_1_brown-derby-restaurant.
Rasmussen, Cecilia. Once in Fashion, the Brown Derby Became Old Hat. Los Angeles Times. November 27, 2005. Accessed April 16, 2018. http://articles.latimes.com/2005/nov/27/local/me-then27.
Ryon, Ruth. Brown Derby to Crown New Shopping Plaza. Los Angeles Times. May 19, 1985. Accessed April 16, 2018. http://articles.latimes.com/1985-05-19/realestate/re-9531_1_brown-derby.
Baker, Bob. Last of the Brown Derbys Sadly Tips a Final Farewell. Los Angeles Times. April 04, 1985. Accessed April 16, 2018. http://articles.latimes.com/1985-04-04/local/me-19693_1_brown-derbys.
Amter, Charlie. The Derby in Los Feliz likely to close soon. Los Angeles Times. January 23, 2009. Accessed April 16, 2018. http://latimesblogs.latimes.com/music_blog/2009/01/the-derby-closi.html.
The Brown Derby. Weird California. July 27, 2016. Accessed April 16, 2018. http://www.weirdca.com/location.php?location=193.
Evanier, Mark. The Brown Derby. Old L.A. Restaurants. October 11, 2012. Accessed April 16, 2018. http://oldlarestaurants.com/the-brown-derby/.
About Us. Original Hollywood Brown Derby. . Accessed April 16, 2018. http://originalhollywoodbrownderby.com/about_us.html.
The 'GREAT WALL' of Hollywood - The Hollywood Brown Derby Caricatures. Original Hollywood Brown Derby. . Accessed April 16, 2018. http://originalhollywoodbrownderby.com/images.html.
Additional Information