Evanston History Center; Charles G Dawes House
Introduction
Home to the 30th U.S. Vice President (1925 - 1929) and recipient of the Nobel Peace Prize, this home now serves as the Evanston History Center. This local history museum includes archives open to researchers and genealogists as well as a permanent exhibit that traces the history of Evanston through a variety of artifacts and interpretive materials. The Center offers docent-led tours as well as special events and exhibits throughout the year. Charles Dawes is best known for the Dawes Plan, adopted in August 1924 to alleviate international tensions associated with Germany's inability to pay World War I reparations. The home was built in 1894 for the family of Robert Sheppard, treasurer and business manager of Northwestern University. Dawes lived in this Evanston house from 1909 to 1941. Designed in the French chateaux style by architect Henry Edwards-Ficken of New York, the three-and-a- half story mansion has twenty-five rooms, six bedrooms, seven bathrooms and eleven fireplaces.
Images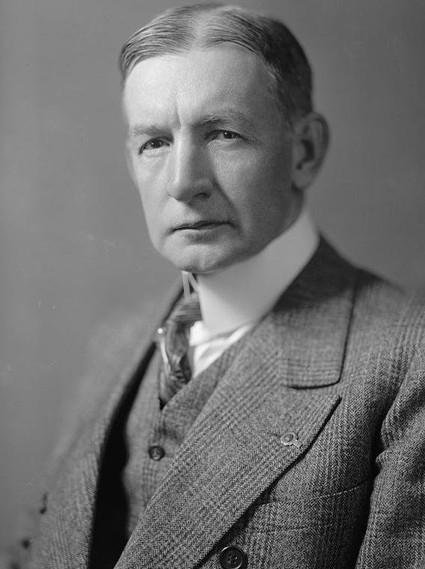 Dawes House: Front View from the Driveway, 225 Greenwood St., Evanston, IL. Built 1894 by Robert Sheppard - H. Edwards Ficken, architect.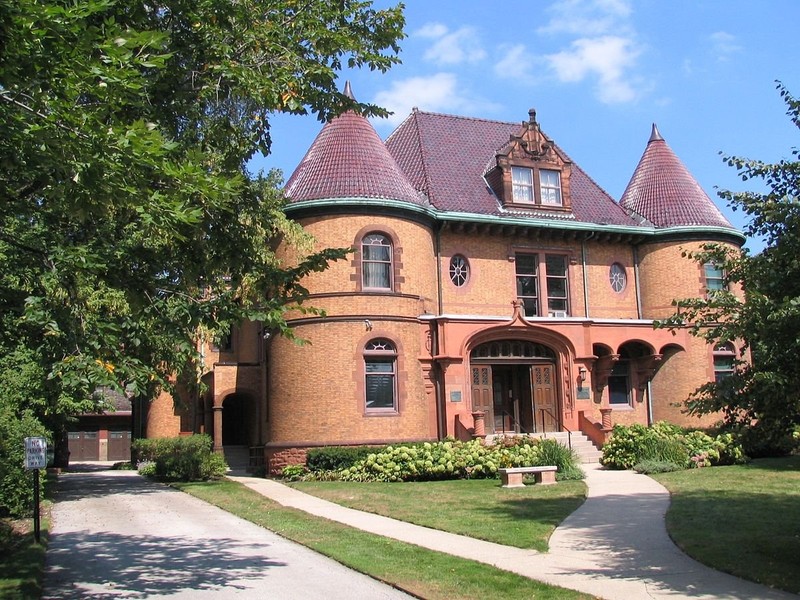 Backstory and Context
Charles Gates Dawes (August 27, 1865 – April 23, 1951) worked as a successful banker, general, diplomat and most notably as the 30th Vice President of the United States. Serving under President Calvin Coolidge from 1925 to 1929, he formulated the now-known Dawes Plan that eased international tensions by creating a detailed plan for which German could repay its World War I reparations. The Evanston house, built in 1894, served as his (and his family's) home from 1909 -1951.
The house was built in 1894 for Northwestern University treasurer and business manager, Robert Sheppard, and designed by H. Edwards Ficken (1844–1929), who lived in New York after immigrating in 1869 to the U.S.; he was born in London and went to Europe for his education. Designed in the French chateaux style by Ficken, the three-and-a-half story mansion has twenty-five rooms, six bedrooms, seven bathrooms, and eleven fireplaces.
Though the house owes much of its acclaim to Dawes' residency, Ficken's history is noteworthy, too. His career included numerous distinguished commissions, such as for the New York Athletic Club, Yale University, and the 1896 design of a 120-room Pepperidge Hall in New York. Indeed, many of his touches are found in skyscrapers adoring the New York City skyline.
Nonetheless, the house enjoys prestige because of Dawes. Born in Ohio (1865), he worked as a lawyer, financier, politician and statesmen. He graduated from Marietta College in 1884 followed by Cincinnati Law School where he graduated in 1886 and quickly thereafter was admitted to the bar. He moved to Lincoln, Nebraska, and worked as an attorney from 1887-1894. During that time, he met Caro Blymyer. The two married in 1889, and they had four children (two biological and two adopted).

Dawes transitioned his law career to that of public utilities and banking, which brought him to the Chicago area during the Panic of 1893. The following year, Dawes acquired interests in a number of Midwestern gas plants, and he became the president of both the La Crosse Gas Light Company in La Crosse, Wisconsin and the Northwestern Gas Light and Coke Company in Evanston, Illinois. Dawes also worked for the U.S. Department of Treasury as Comptroller of the Currency from 1898-1901.
He served in World War I, as the chief of supply procurement for the American Expeditionary Forces and as a member of the Liquidation Commission for the War Department. His success afforded him several promotions; he entered the war as a major and left as a brigadier general. His impressive work gained him an opportunity to work as the first director of the newly created Bureau of the Budget in 1921. By 1923, he served as chair of the Allied Reparations Commission, which eventually advanced the "Dawes Plan" as a means of stabilizing postwar German finances. One year later, Dawes was elected as the U.S. Vice President alongside President Calvin Coolidge.
At the time of the formulation of the Dawes Plan, Germany had been defaulting on its payments partially due to the country's refusal to raise taxes in January 1923, allowing for rampant inflation and subsequent devaluing of the Mark. Under the Dawes Plan, American and British bankers provided loans to Germany that allowed the country to expand its production, notably regarding coal, and enabled the nation to make payments to the Allies. Though the plan was replaced in 1929 by the Young Plan (and its effects later mitigated by the Great Depression and other powerful forces by the 1930s), the plan's effectiveness as a temporary stabilizing force gained him the Nobel Peace in 1925.
However, he only served one term. But, in 1929, newly elected President Herbert Hoover selected Dawes to serve as Ambassador to Great Britain, which he did from 1929-1932. Upon completion of his duty, he returned to his home in 1932 where he resumed his banking business; he served as chairman of the board of the City National Bank and Trust Co. in Chicago.
In 1942 Dawes donated the house and its contents to Northwestern University but continued to reside in the home with his wife until his death in 1951 (his wife also stayed until her death in 1957). Dawes had hoped that the Evanston Historical Society might have its headquarters in the structure. In 1960, the Society did, in fact, lease the building from Northwestern for $1 per year. Not long after, the city of Evanston leased the house's lakefront grounds from the university as a park and means of preserving the setting of the historic home. Today, it is the home to the Evanston History Center where people can tour the house and researchers can use its library facilities.
Sources
American Association of of State and Local History. "Nomination Form: Charles Gates Dawes House."
National Register of Historic Places,
March 1976. https://npgallery.nps.gov/pdfhost/docs/NHLS/Text/76000706.pdf.
"Charles Gates Dawes: A Brief Biography."
Evanston History Center.
Accessed April 16, 2018. http://evanstonhistorycenter.org/charles-gates-dawes-2/.
Korom, Joseph J.
Skyscraper Façades of the Gilded Age: Fifty-One Extravagant Designs, 1875–1910.
Jefferson, North Carolina: McFarland & Co., 2013.
Schuker, Stephen A.
American "Reparations" to Germany, 1919– 33: Implications for the Third-World Debt Crisis.
Princeton, N.J.: Princeton University Press, 1988. https://www.princeton.edu/~ies/IES_Studies/S61.pdf
Photo Sources
Charles Dawes: Harris & Ewing - https://www.loc.gov/pictures/collection/hec/item/hec2009007646/,

Dawes House: By Burnhamandroot - Own work, CC BY-SA 3.0, https://commons.wikimedia.org/w/index.php?curid=4766280
Additional Information