First Presbyterian Church
Introduction
One of the oldest buildings still in use in Boyd County, the First Presbyterian Church remains one of the most prominent churches in Ashland. It was founded by the Poage family in 1819 as a log structure several miles from its current location. The church went through three building phases, which would lead to the current structure in Ashland. It is known for its mid-Victorian structure and stained glass windows.
Images
The First Presbyterian Church today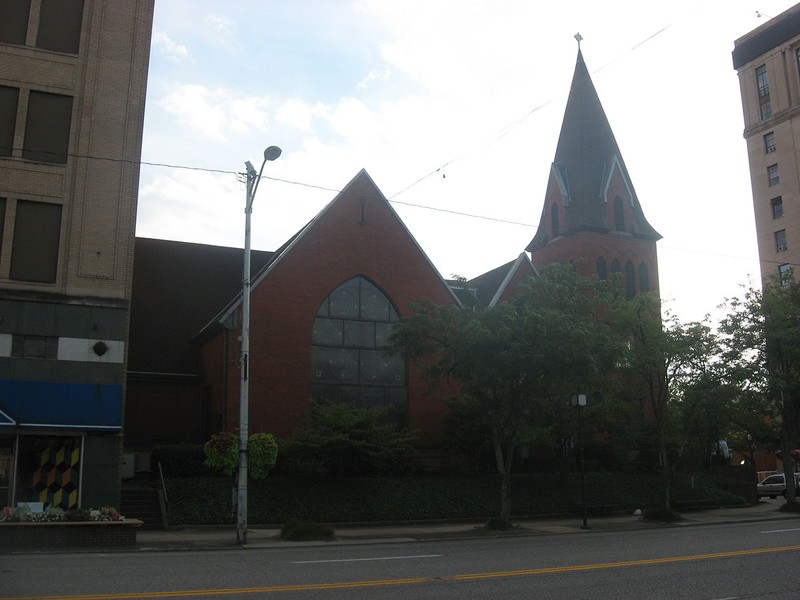 Backstory and Context
The significance of this church, beyond being one of the oldest buildings in Boyd County, was its contributions to the education of early Ashland and assisting soldiers during the Civil War. Reverend John Clark Bayless imposed several innovations to the church program such as prayer meetings, Sunday School, regular quarterly communions, and regular collections. It was also under his ministry that the church re-opened the academy established by the second church. It was renamed the Beechgrove Academy and assisted in providing educational services to the community of Ashland. During the Civil War, it aided soldiers in both Kentucky and West Virginia even though they lived in a border state.
The present building is the third building in the sequence of churches. The original church was a log structure built in 1819 and used until 1828. It was the church founded by the Poage family, who would later donate the land that the second church was built on. When it came time to build the third church, they would accept an offer from the Kentucky Iron and Coal Manufacturing Company for a plot of land. The deal was that they would provide land to any church or school that could build a facility under $2,500.
Construction on the impressive Victorian structure began in 1857. The original building was small, only having two doors that lead inside the and the vestibule consisting of two small aisles and room for an organ. In 1919, they wanted to move forward with enlarging the church to contain an auditorium and classroom locations. During this reconstruction, they also raised money to include the stained-glass windows that exist in the building today. To achieve this goal, they encouraged children to host plays, sell produce, and seek donations to help raise money.
Sources
Evans, Temecka D. Presbyterian Church has deep roots, long history in Boyd County. The Daily Independent. September 10, 2016. Accessed April 02, 2018. http://www.dailyindependent.com/news/presbyterian-church-has-deep-roots-long-history-in-boyd-county/....

Mrs. Paul Blazer, Jr. (February 14, 1973). "National Register of Historic Places Inventory/Nomination: First Presbyterian Church" (PDF). National Park Service. Retrieved January 19, 2018.
With photo from 1955.
Additional Information