Jim Brown Field
Introduction
In April of 2013, Manhasset Valley Park named its new multipurpose field after Jim Brown, legendary Hall of Fame football player and a pioneer in integrating college and professional football in the modern era of the NFL. Brown had several "firsts" in NFL history. Brown was a teammate of Ernie Davis at Syracuse and has been called by some, "the greatest all-around athlete" of Syracuse University. He played several sports during his collegiate career but is best-known today for confronting racism and charting a path for other African American players.
Images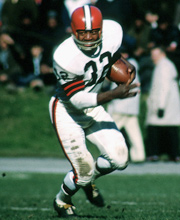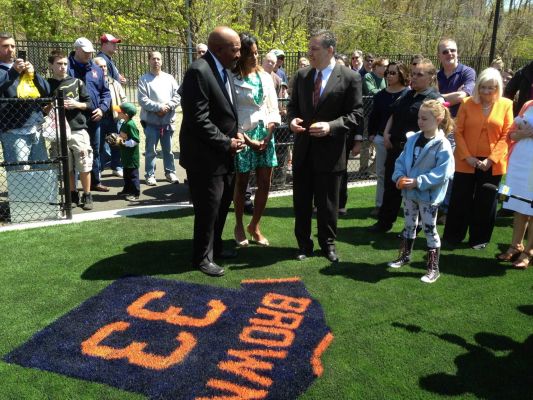 Backstory and Context
Jim Brown became the first player to win both the MVP award and the Rookie of the Year award in the same season in the National Football League. The field honors Brown, a local resident who became an NFL legend after graduating from Manhasset High School in the 1950s.

Brown's skill in various sports makes his name on the multipurpose field even more appropriate. He lettered in four sports during his college career, football, basketball, lacrosse, and track. During his extensive athletic career Brown wa,s nominated into the College Football Hall of Fame, the National Football Hall of Fame, and the Lacrosse Hall of fame for his athletic achievements. He holds several NFL records as well as several MVP titles in addition to his historic season as rookie of the year.
Sources
http://www.profootballhof.com/hof/member.aspx?PLAYER_ID=33 http://www.newsday.com/long-island/nassau/nfl-legend-jim-brown-helps-christen-manhasset-park-1.5152333 http://bleacherreport.com/articles/157718-the-undisputed-greatest-jim-brown#articles/157718-the-undisputed-greatest-jim-brown http://www.northhempsteadny.gov/content/7354/7125/7183/7415/default.aspx
Additional Information