Landmark Society of Western New York
Introduction
The Landmark Society of Western New York is an organization dedicated to historic preservation. Its mission is "preserving, interpreting, and fostering interest in the architectural, historical, and cultural heritage of our region" (1). The Landmark Society and its services are a great example to highlight the blend of architecture and history in Rochester.
Images
Landmark Society of Western New York logo. Image source: Google.

Areas serviced by the Landmark Society. Image source: http://landmarksociety.org/about/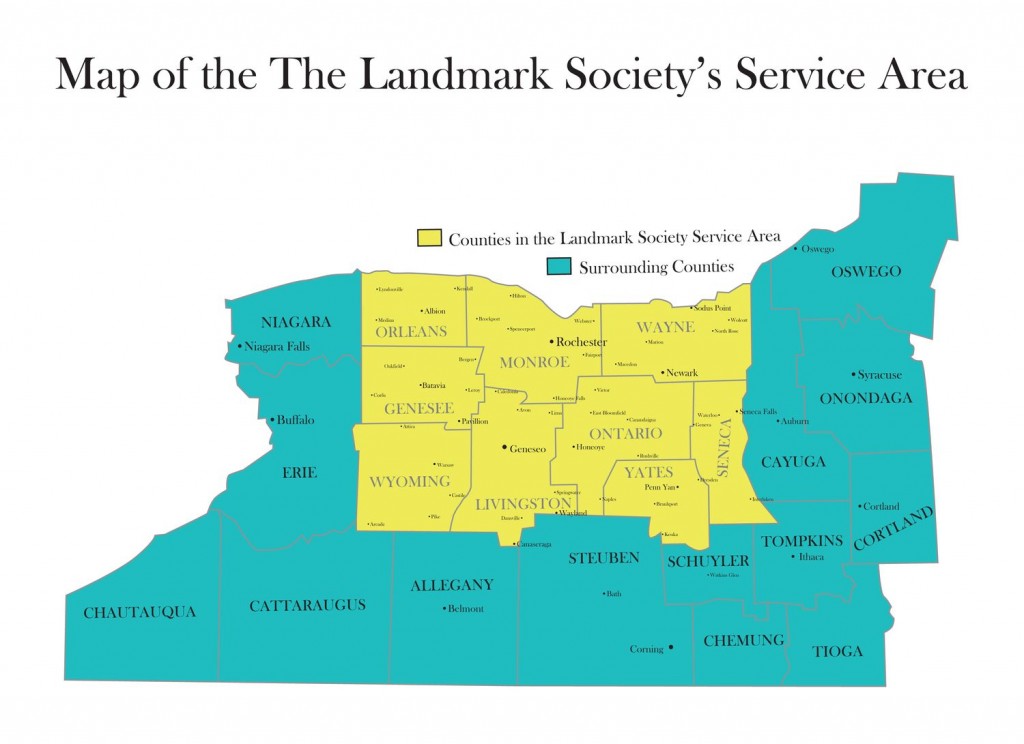 Young Urban Preservationists logo. Image source: http://landmarksociety.org/yup/

Backstory and Context
The Landmark Society of Western New York was founded in 1937 and is an original member of the National Trust for Historic Preservation (1). To aid in the process of historic preservation, the society advocates and educates about preservation in Rochester, Monroe, Orleans, Wayne, Genesee, Livingston, Ontario, Wyoming, Yates, and Seneca Counties (2). The society works with local governments, community activists, and other individuals to find attainable solutions for threatened buildings and changes to zoning codes (2).

In addition to advocacy, the Landmark Society maintains various historic sites to further preserve, promote, and educate the community's architectural and cultural history. These sites include: the Stone-Tolan House, the Ellwanger Garden, the Hoyt-Potter House, and St. Joseph's Park (3). The Stone-Tolan House and Ellwanger Garden will be future stops in this tour.

Furthermore, the Landmark Society hosts a variety of programs and events to engage the community. People can join the Landmark Society on day trips and overnight excursions by registering online. An upcoming tour is Gems of Vermont in September (4). Within the Landmark Society is also Young Urban Preservationists (YUP) who come together through a passion of historic preservation and community revitalization. Events include Bikes, Beer & Buildings and Heart Bombing, Park(ing) Day (5). Overall, the Landmark Society has many ways to involve the community and to spread awareness on the importance of preserving our heritage and the potential uses these historic sites and buildings have in modern society.
Sources
1 http://landmarksociety.org/about/
2 http://landmarksociety.org/programs/advocacy/
3 http://landmarksociety.org/programs/historic-sites/
4 http://landmarksociety.org/programs/tours-special-events/
5 http://landmarksociety.org/yup/
Additional Information