ALICO Building
Introduction
The ALICO Building is a whopping 22-story tall building. It is the common place for many scenic photos taken in Waco, Texas. The ALICO Building still remains one of the biggest focal points of Waco, Texas. The second one enters the downtown area, the beautiful, yet scenic red colored sign spells out ALICO, and one knows they are in Waco. Located in the center of downtown Waco off of Austin Avenue, it is currently occupied by the Amicable Life Insurance Company.
Images
Picture of the ALICO Building captured at night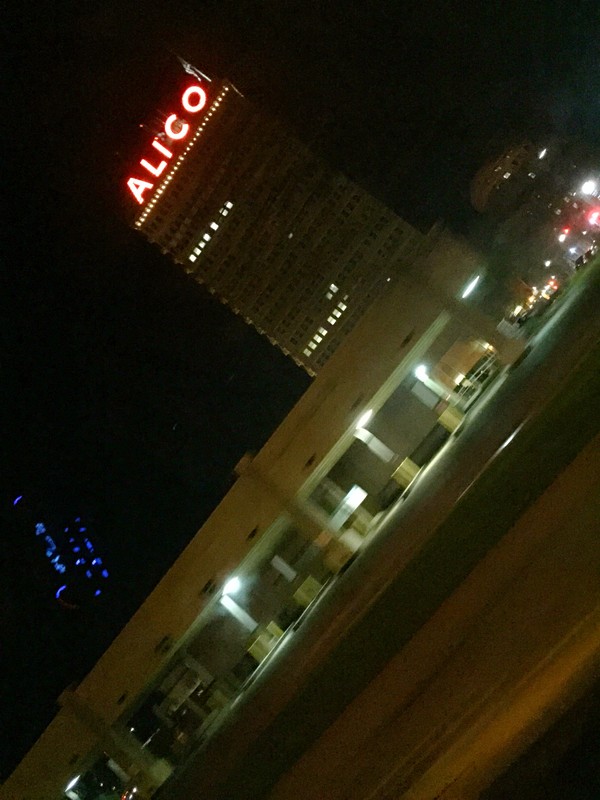 Front side of the ALICO Building with its glowing red letters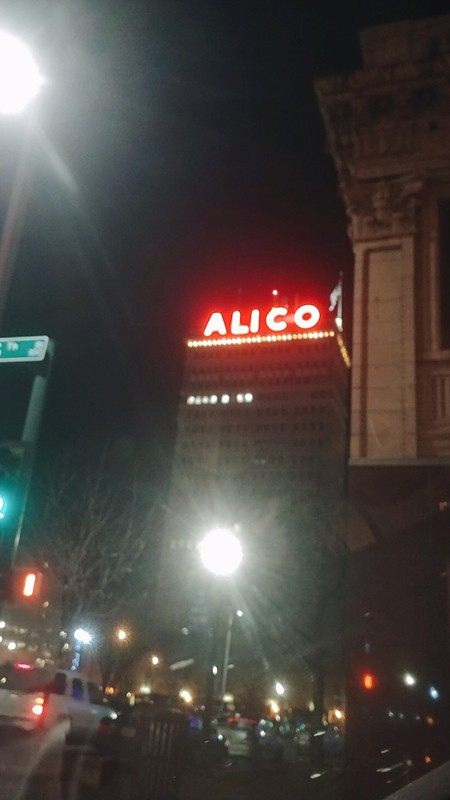 Backstory and Context
Artemas R. Roberts was the man responsible for the creation of the ALICO Building. He grew up in a poverty stricken family. He eventually moved to Alvarado, Texas, attended Sam Houston State Normal School, and eventually began working for Texas Life Insurance Company. He was so successful at selling insurance that he and his business partners were able to finance construction for the ALICO building. Roberts was a teacher, but he wanted to do more and desired more earning potential. Roberts saw the city of Waco as a golden opportunity for accomplishment. His dream was to create a beautiful building overlooking the city of Waco.
The city of Waco was seen as a commercial giant, and a good site for triumph. The Texas Legislature passed the Robertson Insurance Law which "required insurance companies doing business in the state to invest 75 percent of their reserve in state securities or pay a proportionate tax."[1]
Roberts had some help from a couple of people in creating the Amicable Life Insurance Co. (ALICO). With the help of William Waldo Cameron, R.T. Dennis, J.P. Massey, J.R. Milan, H.M. Minier, T.J. Primm, Sam Sanger, R.B. Spencer, and A.R. Wilson, ALICO was formed. Roberts became the president of ALICO and the actuarial and general manager, as well. The firm was successful from the beginning, and continued to become even more successful later on.
The location and structure of this building contributes to its uniqueness. Initially, the building was occupied by the First National Bank. Roberts was then able to obtain a contract that allowed him to have possession of the first and second floors of said building. From that, he created the Amicable Building. The demolition of the bank began in May 1910, and was a strenuous process.
Construction of the ALICO started on April 2, 1910. They needed a building in which there would be strength, stability, and fascination in order to boost their sales of insurance. This 22-story building was completed in 1911. This building became such a focal point for Waco. As a result, more people began to visit Waco, as well as move to the city to see this landmark.
The ALICO Building to this day remains one of the most stable and resilient buildings. The architects in charge of this beautiful building were Roy E. Lane and Sanguinet & Staats. It was made to withstand tragic weather catastrophes. The building is designed with a steel frame that can resist a hurricane force wind. On May 11, 1953, the building actually survived an incoming hurricane with only a little damage done to it. Some people inside got a little hurt, but there were no casualties, while other buildings in Waco were hit hard.
The top part of the building is made of terra cotta and brick, while the bottom half is made out of granite and other stone. The exteriors and interiors of this building are fire-resistant. The building was also formed in a way to be fitting to the eye. The interior of the building would also include "electric generating machinery, high pressure boilers for heating and power, a complete power plant, outlets for phone service, and oil-burning lamps in the hallways. This design was unique to the building and this practice was not so common during 1910. This building has a beautiful and even more sturdy structure to protect its self and its significance. The cost to construct this building was set at $755,000." Robert's goal for this building was not only to have it become so successful, but to uphold its structure and keep its prominence from carefully designing its structure and taking the time to do so.[2]
The ALICO Building still gets crowded with many tourists till this day. Dozens of people would walk by the ALICO building to witness its construction. They were amazed at this building and could not wait to see what it would all become. Around 1911 and 1940 doctors, bookkeepers, dentists, merchants, and lawyers were interested in this building, as well and were some of the many tenants who leased space during these years. It was the perfect location to conduct business because the area was becoming more popular. In addition, there was also a successful beauty shop and a barber shop there. The WACO Radio Station was created and found on the 8th floor of the building for many years. These aspects of the building really enhanced its popularity and made the building attractable and admired to many. The company had a high success rate and continued to flourish at a fast pace. The ALICO became an important landmark to the citizens of Waco and has caught the attention of many other people not living in Waco, too. This building provides "rental office space as well as providing the home office for American-Amicable Life Insurance Company of Texas and its corporate family."[3] Amicable Life merged with American Life Insurance of Dallas in 1965. The company became known as American-Amicable in 1968.
The ALICO Building revolutionized construction. It broke down barriers to construction and was seen as an instrument for other buildings. The structure of the building really shed light on other building projects. While other tall buildings were being developed in other countries, the ALICO Building differed in that it was placed in such a low developing city. The building created success for the city by bringing in residents who would want to witness the construction of the building. As a result, the population of Waco began to increase and became a more popular city.
[4]The creation of the elevator system and the refinement of the steel industry strengthened this building's underlying success and foundation. The ALICO Building became a landmark for Waco due to its power and durability. This tall building with the big red colored words reading "ALICO" is positioned in the skyline of Waco which adds to its beauty and prominence.
Sources
Lariat, Baylor. "Baylor Lariat." The Baylor Lariat, 10 Sept. 2015, baylorlariat.com/2015/09/10/allure-of-the-alico-mystery-and-history-behind-wacos-favorite-building/.
Ryan, Terri Jo, and Randy Fiedler. "The Story of the ALICO Building: 100 Years, 22 Stories and 1 Towering Ego." WacoTrib.com, 28 Apr. 2011, www.wacotrib.com/waco_today_magazine/the-story-of-the-alico-building-years-stories-and-towering/article_4b214782-811f-5885-9d57-ab0c0f69d3c4.html.
Sawyer, Amanda. "ALICO Building." Institute for Oral History | Baylor University, www.baylor.edu/oralhistory/index.php?id=931730.
Young, John. "Places in Time." Waco History Project: Alico Building, wacohistoryproject.org/Places/alico.htm.
"ALICO Since 1910." :ALICO: ALICO History, www.alicobuilding.com/heritage/default.php.
Additional Information