Lt. General James F. Hollingsworth Statue
Introduction
At the front of the Quad at Texas A&M University is a bronze statue that faces away from the Quad, which is where the Corps of Cadets resides and towards the entrance. Hollingsworth's statues is facing towards Evans Library and the University as a whole. On the bottom of the statue is his callsign, Danger 79er, three stars, and two plaques on either side of the statue which states his awards, medals and his heroics in battle. He was a famed soldier, leader, and Texas A&M alumni and is known for being the most highly decorated general who was not awarded the Medal of Honor, and the third most highly decorated general in the United States.
Images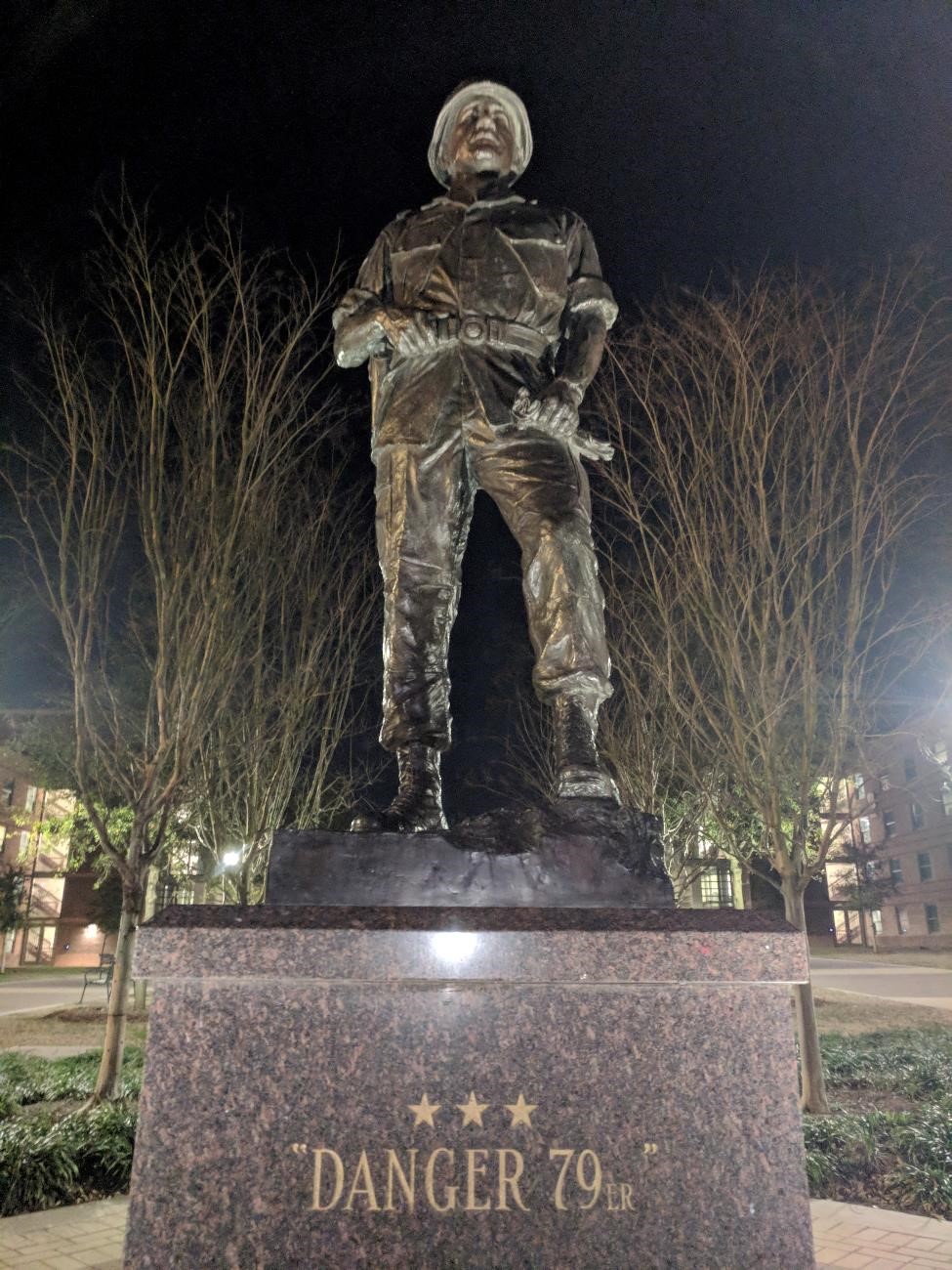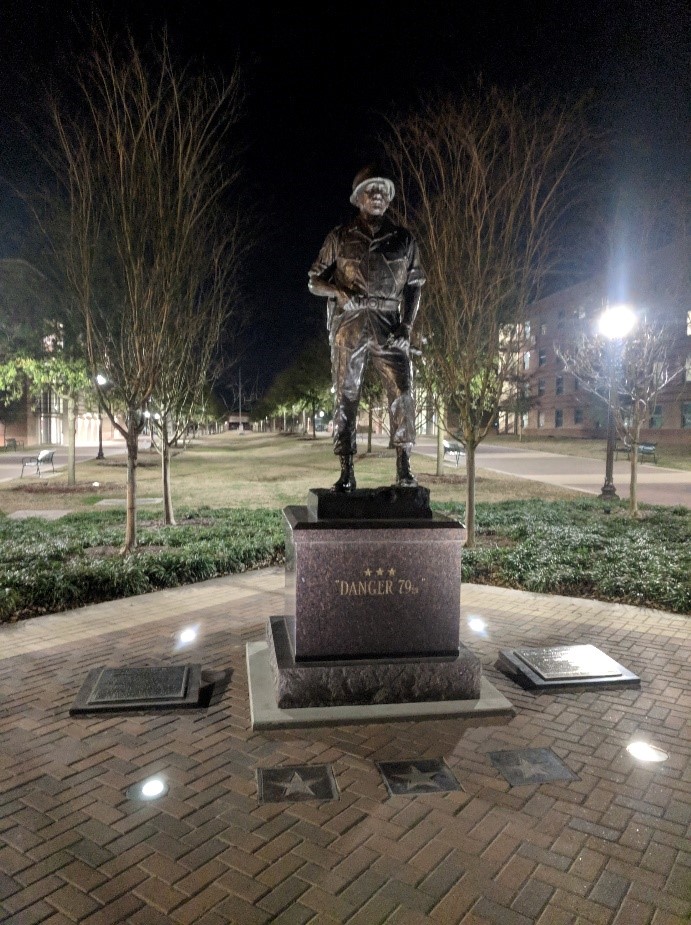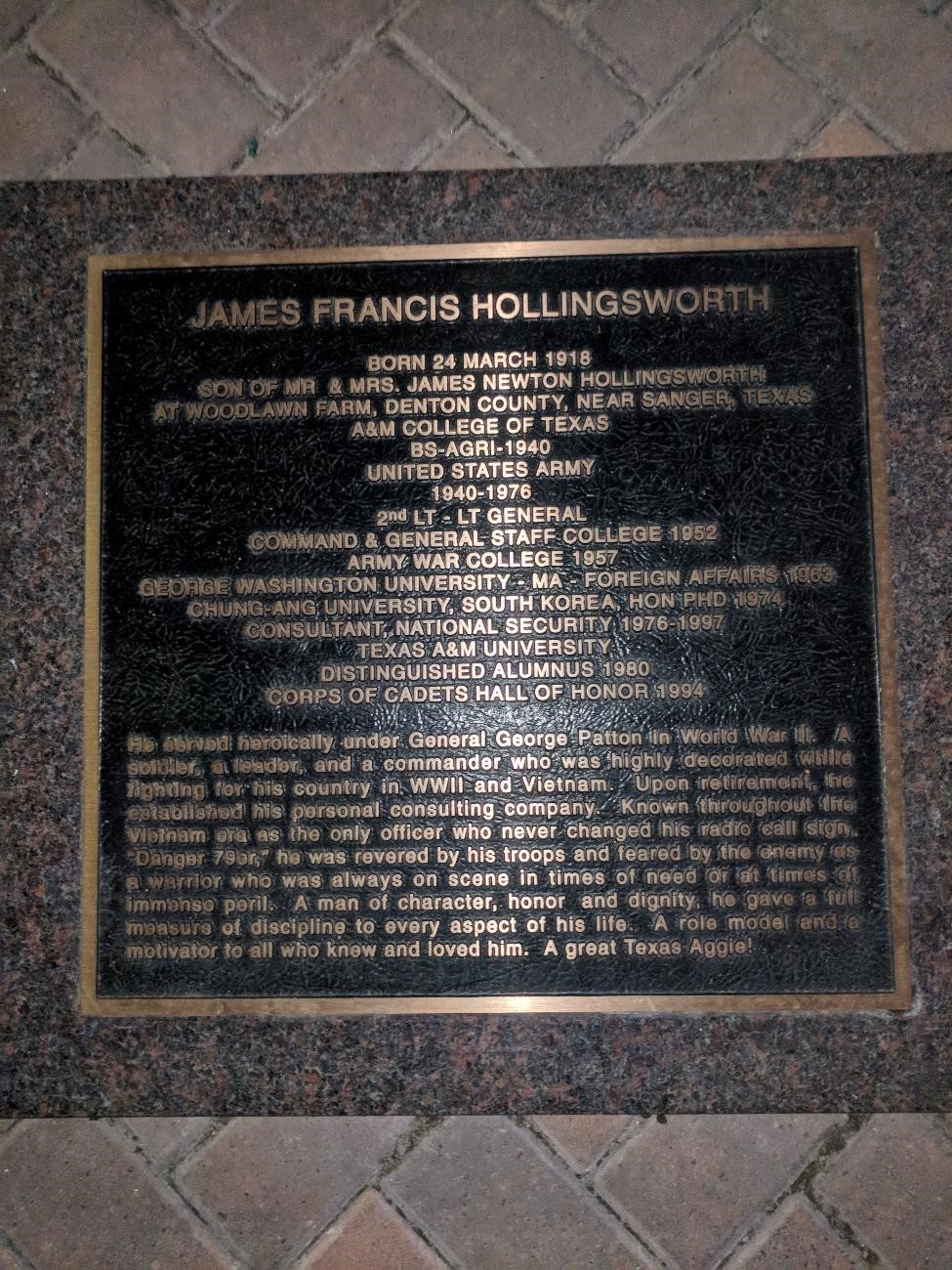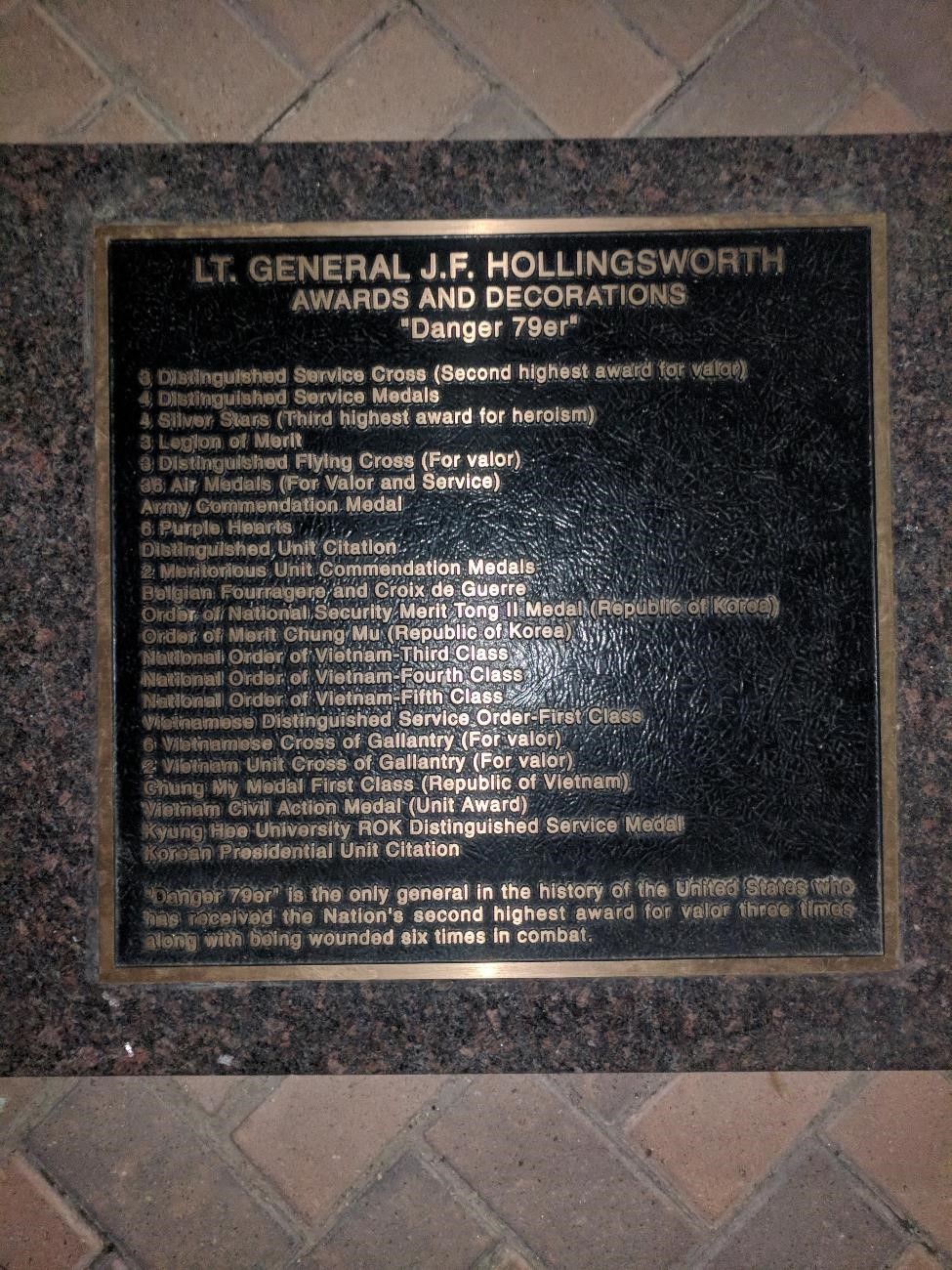 Backstory and Context
Due to Lt. General J. F. Hollingsworth's success in his military career, Texas A&M chose to recognize him as a distinguished alumnus. He is not only an important figure to the university but also to Texas and to the United States as a whole. This is why he was given a statue placed at the front of the Quad so that cadets and students can see what they should strive to be as a military officer and as a person. "His illustrious career included combat service in WWll, Korea, and Vietnam which resulted in his becoming one of the most decorated graduates of the Corps of Cadets."[1]
Hollingsworth comes from a humble background in Sanger, Texas. He was born on a family farm on March 24, 1918 to James Newton and Mamie Browning Hollingsworth. He is the oldest of four boys and they all grew up to serve their country in the military during WWll. The Great Depression hit his family hard so they had almost no money to put him through college. Hollingsworth had to maintain a rigorous schedule while attending the Texas A&M to put himself through it. He worked at a creamery, which he reported to at 4:00 in the morning and then returned to during the evening to do another shift seven days a week.[2] He was unable to participate in varsity athletics due to his intense schedule. He graduated in 1940 from Texas A&M, that time known as the Agricultural and Mechanical College of Texas, with a degree in agriculture. He commissioned into the Army as a 2nd Lieutenant just in time to serve in the war.
Hollingsworth was given command of platoon but quickly rose through the ranks to command a regimental-size task force at the age of 26 under General Patton. He displayed great leadership under fire and his Second Armored Division was given the nickname "Hell on Wheels." Hollingsworth was credited with many victories in battle over German forces and also being the first to enter Berlin following the surrender of Germany.
Following WWll, he held several more important commands in various conflicts. After the war in Europe, he served in the Seventh Army while also attending the U.S. Army Command and General Staff College and the Army War College. He later served in Vietnam as the division commander of the 1st Infantry Division. He earned his title of "Danger 79er" due to his merciless tactics and his front line mentality. Due to his successes in Vietnam, he was awarded two Distinguished Service Crosses for extraordinary valor in combat. After his service in Vietnam he was stationed in South Korea where he eventually retired in 1976.
After 36 years of service he became the Chancellor's 21st Century Council of Advisors, an Advisor to the President of Texas A&M University, and a member of the Board of Trustees at the Marine Military Academy, Harlingen, Texas.He became a demanded speaker at Universities and other organizations. He also has willed over three million dollars to Texas A&M and the Corps of Cadets. Later on, he was honored with the unveiling of his bronze statue in 1999. The inscription stated, "He was revered by his troops and feared by the enemy as a warrior who was always on the scene in times of need or at time of immense peril."3 The statue depicts him in his Army combat uniform standing on a plaque which displays his callsign Danger 79er. Hollingsworth was awarded a total of 38 Air Medals. He is the only General in the history of the United States to be awarded the nation's second highest award for valor three times (Distinguished Service Cross) and be awarded the Purple Heart six times. Hollingsworth's life is full of achievements and accomplishments. He is crucial figure in the history of Texas due to his ability to impact those he spoke to after his service. Everybody should learn about this man simply because he was one of the most influential graduates Texas A&M has ever produced and because of his success in wartime.
Sources
"James Hollingsworth - Recipient." Military Times Hall Of Valor. Accessed March 03, 2018. https://valor.militarytimes.com/hero/7487.
"General James F. Hollingsworth." HistoryNet. February 21, 2018. Accessed March 05, 2018. http://www.historynet.com/general-james-f-hollingsworth.htm.
"LTG James Francis "Jim" Hollingsworth (1918-2010)..." (1918-2010) - Find A Grave Memorial. March 03, 2010. Accessed March 03, 2018. https://www.findagrave.com/memorial/49038305/james-francis-hollingsworth#.
"Lieutenant General James F. Hollingsworth '40." Texas A&M Corps of Cadets. Accessed March 03, 2018. https://corps.tamu.edu/portfolio-items/james-hollingsworth/.