H.E.A.R.T.S. Veterans Museum of Texas
Introduction
In the middle of Huntsville's historical and political influence on the Texas culture, lies the H.E.A.R.T.S. Veterans Museum of Texas, which is a nonprofit history museum consisting of memorabilia and artifacts of wars that have taken place all around the world. It is a veteran's museum, so it gives viewers insight into different events involving soldiers of the past. These events are not only related to Texas itself, but America as a whole. This museum is a great visit for those who not only want to learn about Texas and its veterans, but who want to be immersed into the events that happened in the past!
Images
This is a picture of the 36th Infantry Division.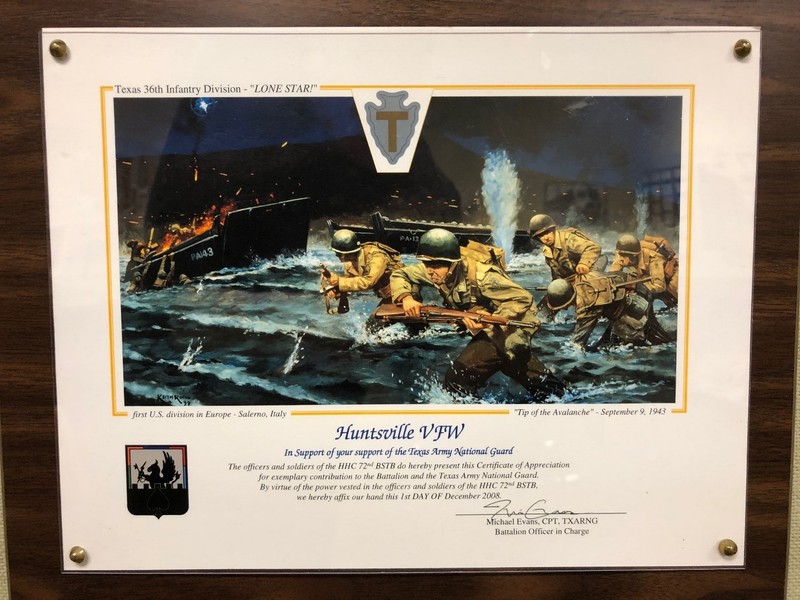 This is a collage of different events that occurred in the Korean War.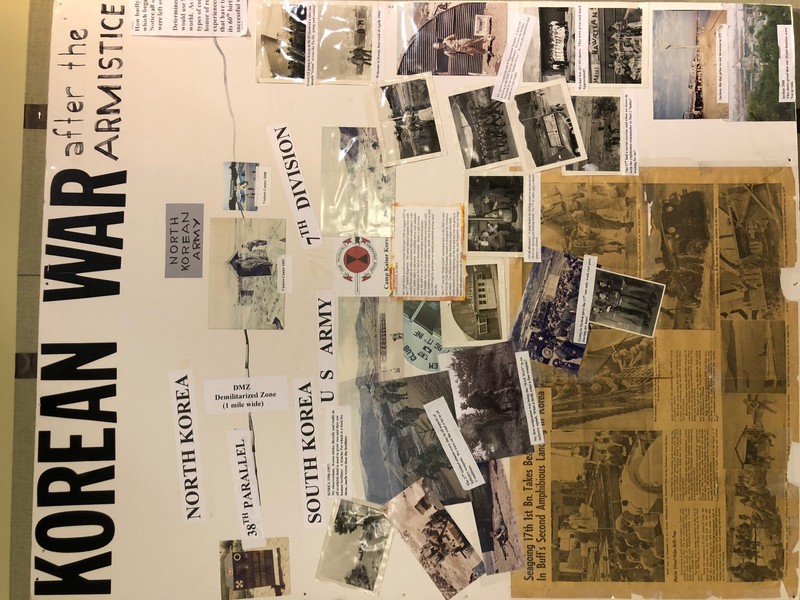 This is Roy Benavidez, recipient of the Medal of Honor for his acts of bravery in the Vietnam War.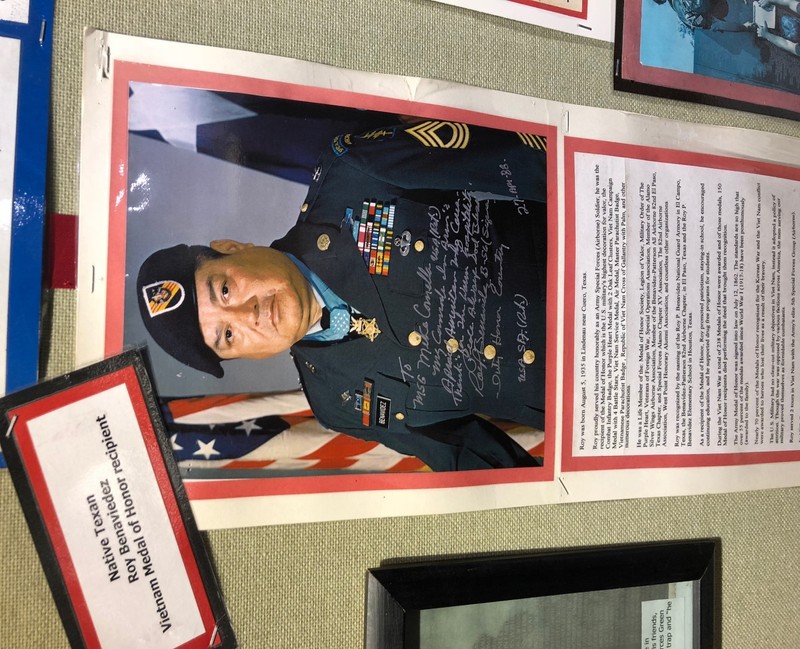 Shown here are weapons used in various wars.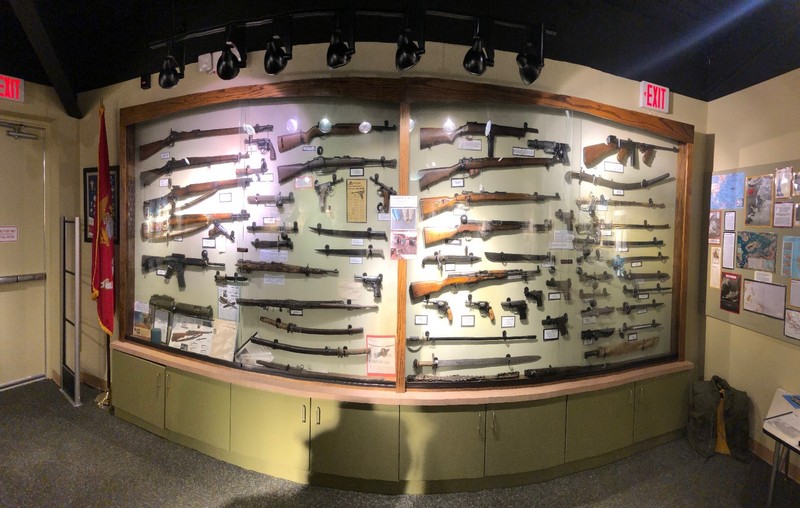 This model shows the location of the prisoner of war camps located throughout Texas in World War 2.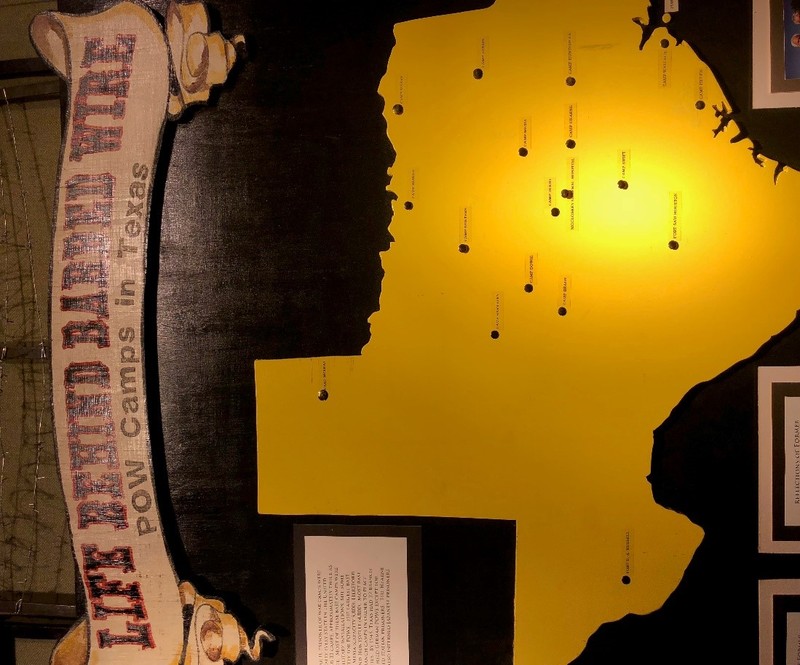 Backstory and Context
The origins of The H.E.A.R.T.S. Veterans Museum of Texas started not all that long ago, in 1993, when a veteran's display was put up in Huntsville Texas by Charlotte Oleinik and in honor of General Ray Lynch. The display was being shown in a small flower and antique shop. In the later years of the 1990's, Charlotte became invested in a committee which focused on the 50th year celebration of the end of World War II. She teamed with a variety of veterans from different wars and presented artifacts and information at different schools. When they realized they had too much information and artifacts to merely present at schools, they decided to settle down at a permanent location. Thus, the H.E.A.R.T.S. Veterans Museum emerged. The acronym H.E.A.R.T.S. in the name of the museum simply means Helping Every American Remember Through Serving. This really shows the heart (pun intended) that the owners instill within this place compared to other museums.
This museum displays a variety of crucial events of Texas and America's past. From the trenches of World War II, to the gore-filled battles of the Vietnam War, this museum is immersive in its unforgettable timeline of events. Some of the most intriguing information one can find here involves the chronological timeline of events that are most defining for Texas as a whole. More specifically, the timeline of Texas military heritage. This includes some of the most famous characters in Texas History. The museum shows that in 1835 Stephen F. Austin commanded a group of volunteers which marked the creation of Texas' military. Sam Houston would lead the group of volunteers to acquire Texas' independence from Mexico on March 2nd, 1836. This led to the formation of the Texas Rangers which was a small group made of 56 people. The Rangers didn't have a huge presence until President Mirabeau Buonaparte Lamar came into office. The timeline goes through Sam Houston's affiliation with the Civil War, to his eventual death shortly after. The timeline also briefly discusses some of the events that led up to the Spanish-American War.
There are several veterans that one will see when examining the walls of the museum. A few brave heroes that participated in many different wars and battles are especially shown off with large portraits and information. The information explains their act of heroism, and or their significance to certain time eras. There are many native Texas veterans including Roy Benavidez. When his 12-man special forces unit was surrounded by a squadron of Vietnam soldiers, Roy courageously flew his helicopter into danger and saved at least 8 of his comrades lives. Consequently, he obtained a series of stab wounds and broken bones. He survived this traumatic experience and received the highest degree of recognition in any military branch, the Medal of Honor, for his bravery. Along with the Medal of Honor, he received the Purple Heart award, which is also a notable achievement. There are many veterans here that received a variety of medals/ceremonial awards from their actions in the service. It truly the shows the heroism in not only native Texans but as unified Americans.
Another historical event that can be seen here is World War II. This must be one of the most involved and interesting wars of all time, and this museum brings you into the middle of it. During the war, Texas had a large amount of Prisoner of War Camps located in the center of the state. The museum has a life size model of Texas showing each of the camps located in Texas, and it showed that there were many camps not too far from each other in distance. Next to the scale model was a uniform worn by one of the chief generals located in camp Huntsville. There was also a video representation of the overall condition of the camps, and the people inside them. For instance, camp Huntsville was a relatively civilized camp. Prisoners were given free time for sports and activities, and received a formal, U.S. based education. These camps consisted mostly of Germans, but also were occupied by several Japanese and Italian soldiers. Texas had more prisoner camps than any other state. The largest bases in the state were Mexia, Hereford, Hearne, and of course Huntsville, with their respective populations being 5,800, 5,000, 4,800, and 4800 people.
One other war that is deeply illustrated in the museum is the Korean War. Many items from the war, such as a cracked helmet of an American soldier, show the true violence that occurred between North Korean and U.S. soldiers. There is a huge section that stretches from wall to wall that contains famous uniforms worn from American officers, weapons used, such as the carbine rifle, and specific informative texts that will certainly further viewers' knowledge on the events that took place in the war. One piece of text explains the issues that started the war, stating that it was basically a political war of the democratic ideals of the U.S. and South Korea and North Korea's communist ideals. Additionally, many soldiers' experiences were displayed in the timeline of events in pictures and in short biographies. One soldier that had a great deal of information about his experiences in the war would be John Sicola who served in the 17th Infantry Regiment at Camp Kaiser. The piece talked about the brutal weather conditions while he was stationed there, and how his unit was severely undertrained. His unit trained non-stop to prepare to fight the North Koreans.
All in all, the H.E.A.R.T.S. History Museum of Huntsville Texas offers much more than just stated before. It is a great way to learn about veterans and their contributions to various wars. If rich, enlightened chronological events of the past is even in the slightest of one's interest, coming out to Huntsville will change one's mind of history in general. It isn't just a museum, it's almost as if it's a movie of sorts, that steps through each era in a captivating way!
Sources
"The HEARTS Story." H.E.A.R.T.S. Veterans Museum, Accessed March 07, 2018. http://www.heartsmuseum.com/the-hearts-story.html.
Steen, Ralph W. "Texas Declaration of Independence." Texas State Historical Association, June 14, 2010. Accessed March 07, 2018. https://tshaonline.org/handbook/online/articles/mjtce.
Krammer, Arnold P. "German Prisoners of War." Texas State Historical Association, June 14, 2010. Accessed March 07, 2018. https://tshaonline.org/handbook/online/articles/qug01.
"The Korean War." Khan Academy, Accessed March 07, 2018. https://www.khanacademy.org/humanities/ap-us-history/period-8/apush-1950s-america/a/the-korean-war.