Camp Lordsburg Historical Marker (World War II detention and POW facility)
Introduction
Camp Lordsburg was operated by the Department of Justice and United States Army during World War II and held Americans of Japanese, German and Italian ancestry who were classified as an enemy alien. Construction of the Lordsburg camp began in February 1942. By July 1942, over 600 Japanese American men were transferred to Lordsburg from the Fort Lincoln Internment Center in Bismarck, North Dakota. Eventually, 1,500 Japanese Americans were interned at the New Mexico camp, which closed in 1945.
Images
Layout of Camp Lordsburg. Source: National Park Service.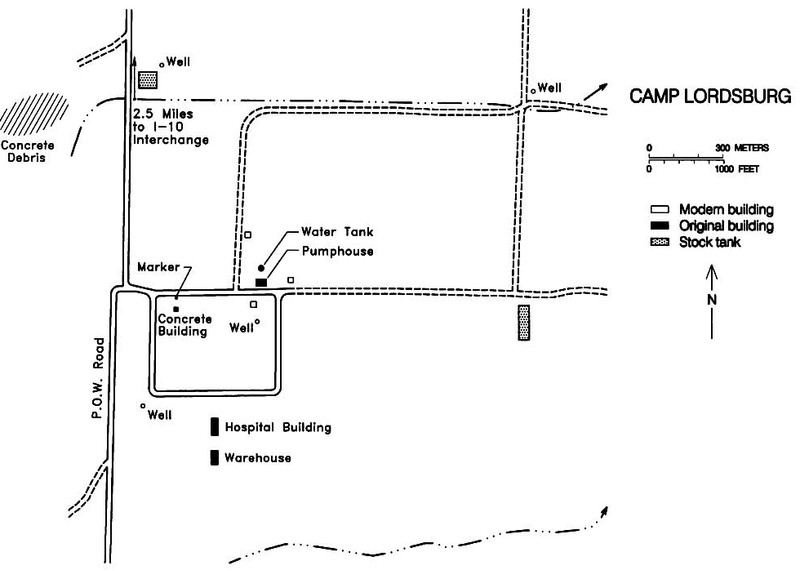 Camp Lordsburg closed operations in 1945. There is a historical marker off Prisoner of War Road, south of Interstate 10.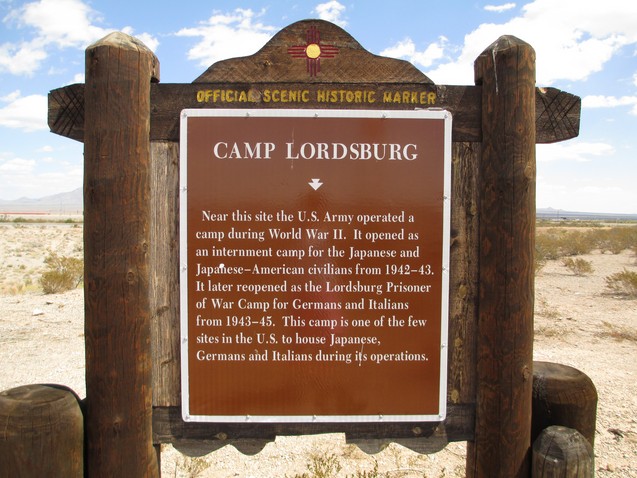 Backstory and Context
Between 1942 and 1943, fifteen hundred Japanese Americans were interned at Lordsburg. In addition to those transferred from Fort Lincoln Internment Center in Bismarck, North Dakota, other men were transferred from the Tuna Canyon Detention Station in Tujunga, California.

Because those held at Camp Lordsburg were classified as an enemy alien due to lack of citizenship, the prison camp had oversight under the Geneva Convention and Spain acted in an oversight role.

By July 1943, all of the Japanese Americans were transferred elsewhere and Italian prisoners of war were confined at Lordsburg. Up to 4,000 prisoners were held at Lordsburg between 1943 and 1945. The prisoners were brought by train to a siding roughly two miles from the camp and were marched by armed guards through the desert to the camp.

On July 27, 1942, shortly after Camp Lordsburg opened, a sentry at the facility, shot two Japanese Americans during a nighttime march from the train siding. One of the victims, Hirota Isomura, a fisherman from San Pedro, California, died instantly. The other, Toshiro Kobata, a farmer from Brawley, California, died before dawn. Both were in their late fifties and could not keep up with the pace of the two-mile trek through the desert to Camp Lordsburg. The graves of Hirota Isomura and Toshiro Kobata are at Fort Bliss National Cemetery, El Paso, Texas.

The sentry was charged with "willfully and lawfully" committing murder, and then sent to Fort Bliss, Texas, for a court-martial. The court could not prosecute the sentry since, according to him, the prisoners were trying to run away and he was following standing orders. The murder charges were reduced to manslaughter and the sentry was acquitted. The incident is known as the "Lordsburg Killings."

A mining company purchased the land in the early 1970s and removed all of the foundation slabs. The majority of the former camp site is on private land behind fencing.

Sources
U.S. Army Facilities Camp Lordsburg, New Mexico. National Park Service. . Accessed April 10, 2018. https://www.nps.gov/parkhistory/online_books/anthropology74/ce17l.htm. Chapter 17; Department of Justice and U.S. Army Facilities

Lordsburg Internment POW Camp. Office of the State Historian is a division of the Commission of Public Records, State Records Center and Archives.. . Accessed April 10, 2018. http://newmexicohistory.org/places/lordsburg-internment-pow-camp. [La Crónica de Nuevo México 6 (July 1978): 3 - 4. Published by the Historical Society of New Mexico and reproduced with their permission.]

Lordsburg (detention facility). Densho Encyclopedia. . Accessed April 10, 2018. http://encyclopedia.densho.org/Lordsburg_%28detention_facility%29/.