Epps House Cabin and Historical Marker, Solomon Northup
Introduction
Constructed in 1852 and moved to the LSU Alexandria campus in 1999, this home was originally built by Solomon Northup while he was enslaved to Edwin Epps. The story of Solomon Northup's capture and enslavement became the subject of the book and Hollywood movie "12 Years a Slave." Northup built this home with his owner Edwin Epps and carpenter Samuel Bass at Bayou Boeuf near Holmesville. Bass and Northup became friends during the construction of the home which led Solomon Northup to entrust him with the story of his kidnapping. Bass helped prove that Northup had been a free man in New York and Northup was freed the following year. The structure was moved to another location in 1976 before being carefully deconstructed, moved, and reconstructed here thanks to the efforts of history professor Dr. Sue Eakin. to serve as a historical landmark on the campus.
Images
This historical marker is entitled Epps House: Solomon Northup's Gateway to Freedom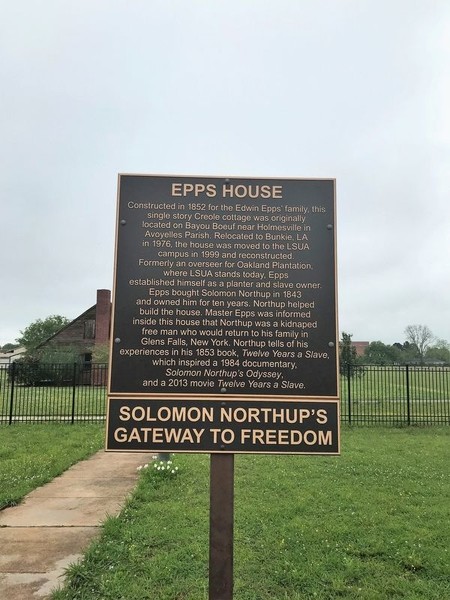 Epps house is open to the public and located on the LSU Alexandria campus thanks to the efforts of history professor Dr. Sue Eakin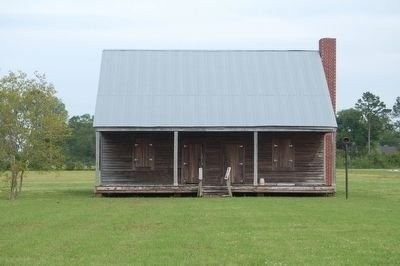 Backstory and Context
Northup was a free man of color in New York who was kidnapped and and sold into slavery by two criminals who later claimed to have legally purchased Northup from another slave trader. These two criminals
drugged Northup and sold him into slavery. As the years of his enslavement continued, Northup feared that he would never be reunited with his wife and three children.
After two years, Northup was purchased by Epps, a former plantation overseer, in 1843. Epps owned Northup until he was presented evidence that Northup was a free man in 1853.
Understanding that Epps would either not believe or simply refuse to free Northup, Samuel Bass and Solomon Northup were careful to document Northup's illegal capture and involve Northups family, northern abolitionists, the media, and the courts prior to notifying Epps that Solomon Northup was a free man. Epps learned of Northup's status in this cabin.
Northup tells of his experience being owned by Epps in his 1853 book
Twelve Years A Slave.
The book became a best-seller and supported the growing abolitionist sentiment of the 1850s. The story of Solomon Northup has been unsed in countless American classrooms thanks to historians who use the book as a primary source as well as the 1984 documentary "Solomon Northup's Odyssey" and the 2013 Hollywood film "12Years A Slave."
Sources
The Scrambler, Cajun. Epps House Historical Marker. The Historical Marker Database. April 08, 2018. Accessed April 08, 2018. https://www.hmdb.org/marker.asp?marker=116037.


Additional Information