First Baptist Church of Wylie
Introduction
The First Baptist Church of Wylie is a church in North Central Texas, which received a historical marker in 2002. Wylie is located twenty miles Northeast of Dallas. The church is built on a rich and full history dating back to 1870. The church has seen immense growth in the 148 years since its founding. The First Baptist Church continues to have a strong influence on the growing community of Wylie.
Images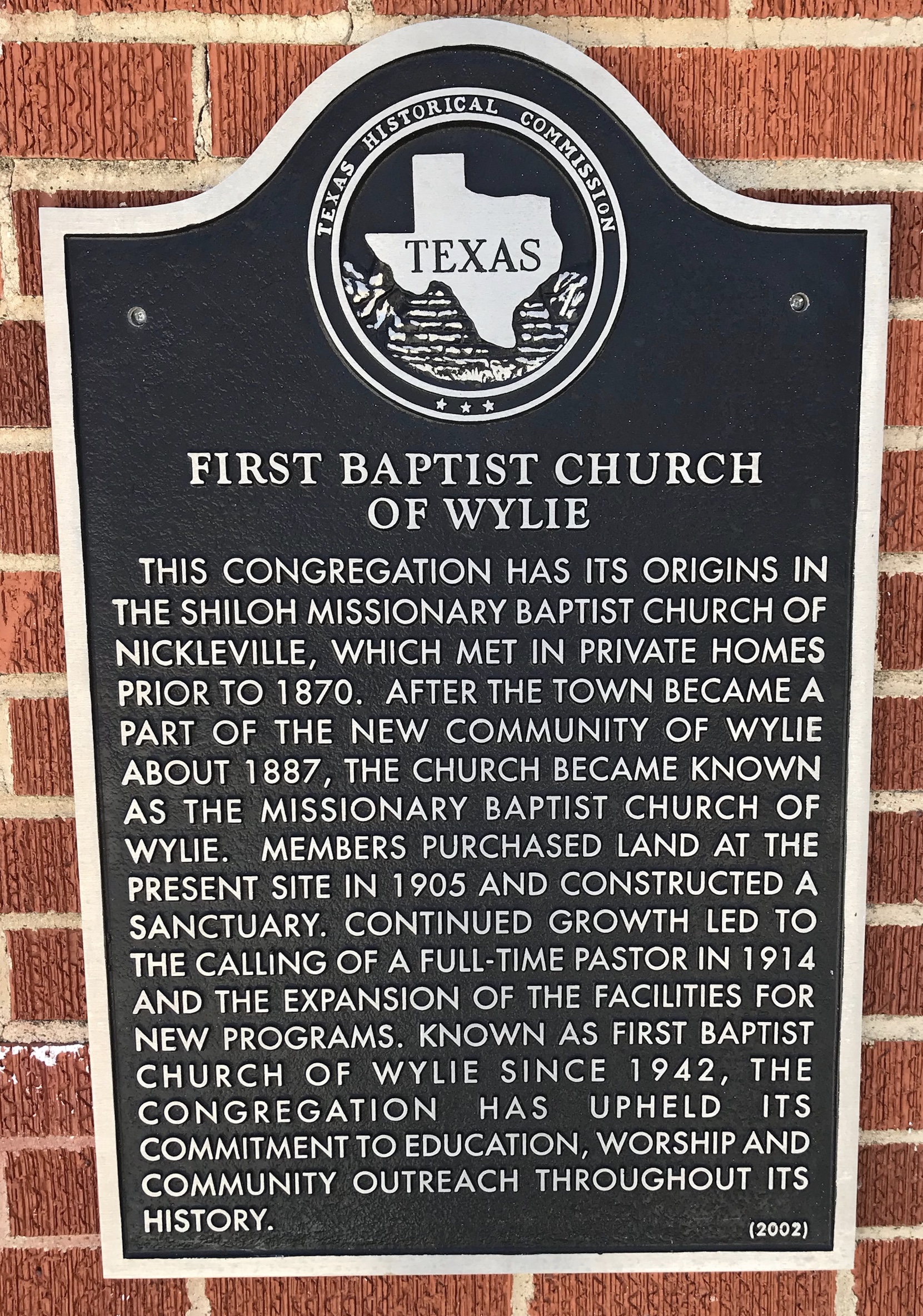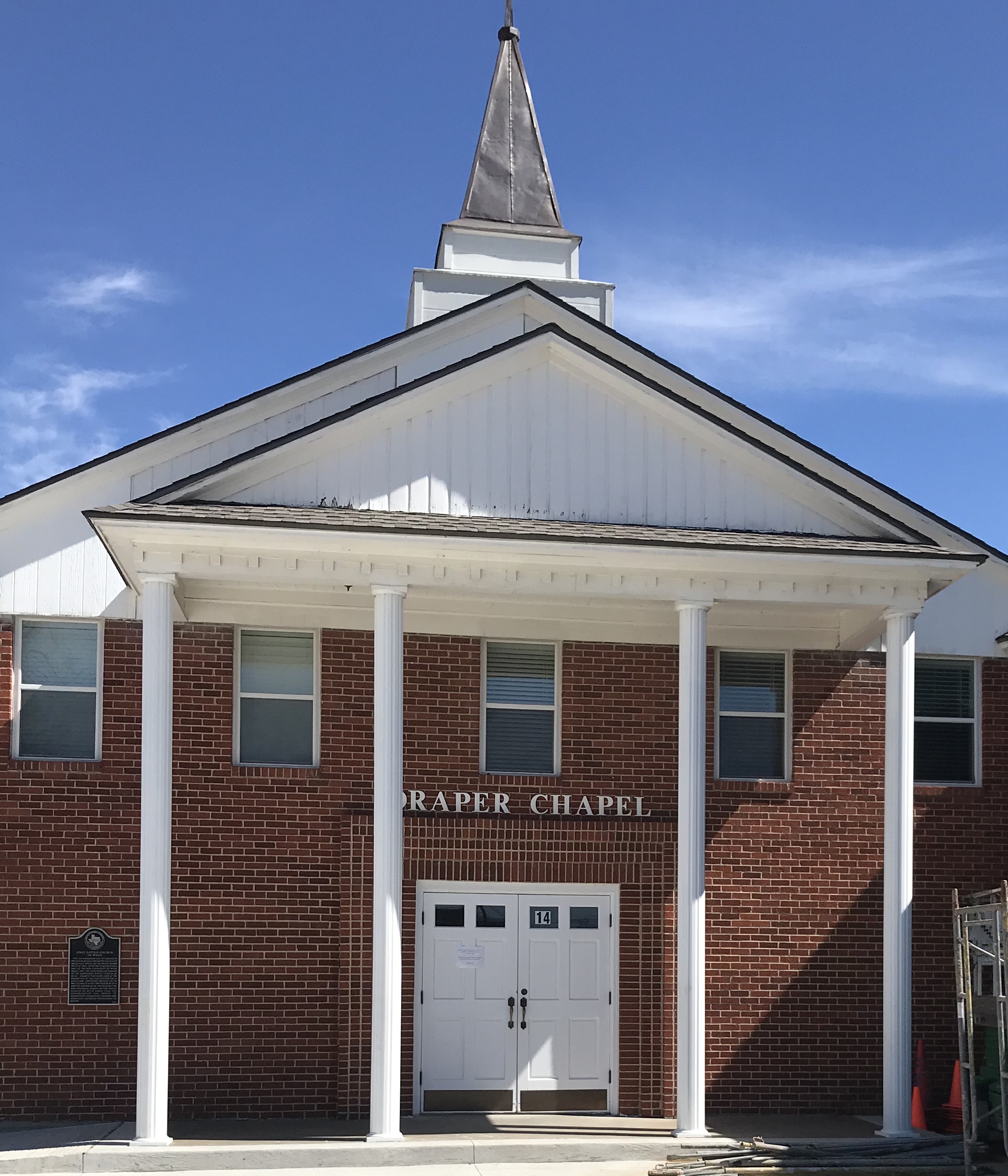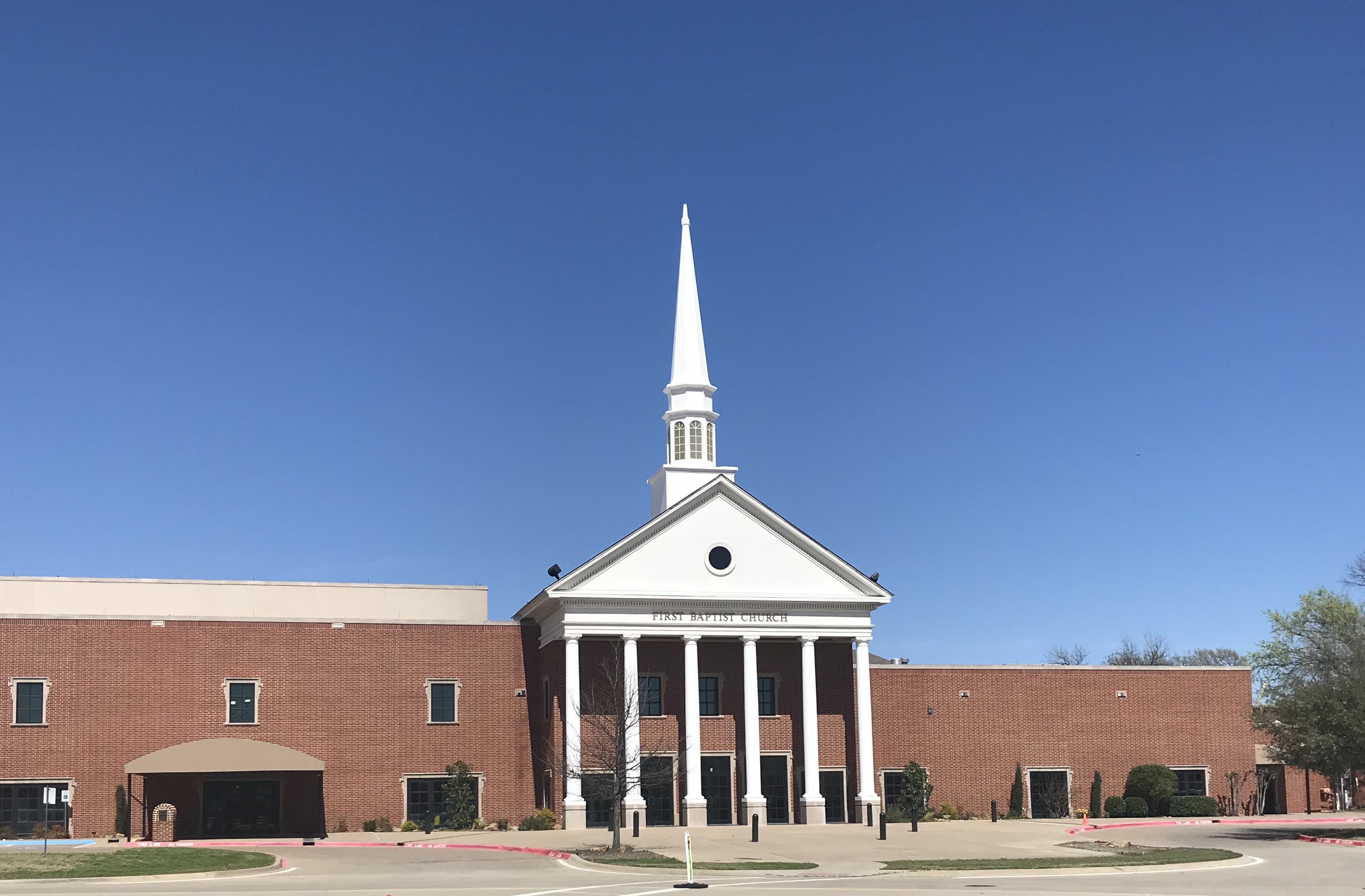 Backstory and Context
The First Baptist Church in Wylie, Texas continues to have a strong influence in the community more than a century after its founding. To understand the roots and history of the church, it is important to understand the small town in which it was founded. Shiloh Missionary Baptist Church was founded in the 1860's in the town of Nickelville, Texas. The members of the church regularly met in private homes to attend church services and weekly Bible studies.[1] In 1885, the Sante Fe and Gulf Colorado Railroads were establishing routes through areas surrounding Nickelville. Civil War leader, Lieutenant Colonel William D. Wylie, was an engineer for the railroad. Wylie convinced the people living in Nickelville to move closer to the railroad to experience the prosperity of the growing community.[2] This new town was named after William D. Wylie. The railroad and fertile farmlands contributed to the growth of the small town. Cotton was the leading agricultural crop during this time, and during the growing season, schools would be closed to allow children to help their parents.[3] Because of the growth and movement from Nickelville to Wylie the Shiloh Missionary Baptist Church moved in 1887 and became the Missionary Baptist Church of Wylie.
In 1904, Brother W.T. Newson became the pastor of Missionary Baptist Church located in Wylie. The number of church members had grown and a permanent structure was becoming necessary. On June 13, 1905, the land for the new church was purchased at 100 N. First Street from Dr. G. C. Kreymer for $300. The Sante Fe Railroad was located slightly south of the land. Once built, the church featured two doors with a large stained glass window and two steeples that were prominently seen when driving into Wylie. In 1940, the church changed its name to First Baptist Church in Wylie. In the early 1950's, Reverend W.P. Mears became pastor of the First Baptist Church. Under his leadership, the first brick building was constructed. A bell was installed at the church right after the new building's construction.[4] This same bell is displayed today outside of the church, close to the historical marker.
In 1958, Reverend Gilbert N. Callaway became the pastor at the First Baptist Church in Wylie. In 1960, because of church growth, Callaway saw a need for Sunday school classrooms. Several new classrooms, a kitchen, and a dining area were all constructed on the same property purchased in 1904. Reverend Callaway was the first pastor at the church to hold his Doctorate in Theology. Callaway was involved in many ministries outside of serving as the pastor for nine years. He served as a Sunday school teacher, Meals on Wheels volunteer, and a minister in the Collin County Jail.[5] From 1958-1967, the years that Callaway served as pastor to First Baptist Church of Wylie, membership increased from 561 people to 815 people. Giving for missions also exceeded expectations during his leadership as pastor. Dr. Callaway was the first pastor at First Baptist Church of Wylie to have a parsonage built for him. The parsonage was a four-bedroom home, that was completed in 1963.[6]
On September 24, 1969, Reverend Albert L. Draper began his ministry at First Baptist Church in Wylie. Brother Draper wanted to invite and welcome everyone in the community to church. Brother Draper and his wife, Linda Draper, took the time to get to know the individuals and business owners of the community. On December 6, 1970, First Baptist Church of Wylie celebrated its 100th year anniversary. During the centennial celebration, members dressed in clothing that would have been worn by members 100 years prior and lunch was served on the lawn.[7] By 1973, the church was in desperate need of more space because of continued growth. A new auditorium was built along with rooms for Sunday school classes. By 1988, the church expanded by 33,000 square feet. This new space included classrooms, an office facility, and a gymnasium.[8] Reverend Draper retired in 2005, after 36 years of service to the congregation of First Baptist Church Wylie. In 2005, Brother Kris Segrest became the pastor of First Baptist Church. On October 25, 2009, First Baptist Church in Wylie constructed a new facility called the "Event Center." This new 41,500 square foot space would be home to church offices, a bookstore, a youth area, and a common gathering area for church fellowships.[9] New ministries and outreaches are being formed each year to make an impact in the city of Wylie and other surrounding communities. First Baptist Church in Wylie continues to play an influential role in the community almost 150 years after its founding.
Sources
Minor, David. "Wylie, TX (Collin County)." Handbook of Texas Online. June 15, 2010. Accessed February 8, 2018. https://tshaonline.org/handbook/online/articles/hgw16.
Fisher, Donnita. "Gateway Readies New Facility, FBC Wylie Opens Event Center." The Wylie News. Volume 62 Issue 24. October 28, 2009. Accessed February 10, 2018. https://texashistory.unt.edu/ark:/67531/metapth619606/?q=FBC%20Wylie.
Dempsey, Agnes and Church History Committee. "To God be the Glory." Henington Publishing Company. 1995. February 1, 2018.
"Dr. Gilbert Callaway." Turrentine Jackson Morrow. March 6, 2004. Accessed February 19, 2018.
Cook, Margaret. "First Baptist Church Roots Traced Back to 1870." The Wylie News. Volume 49 Number 22. November 1, 1995. Accessed February 5, 2018. https://texashistory.unt.edu/ark:/67531/metapth749427/m1/9/?q=FBC%20Wylie%20historical%20marker.
First Baptist Church of Wylie. Historical Marker for Church. Wylie, TX. December 9, 2002.

"First Baptist Church to Observe 100th Anniversary Sunday." The Wylie News. Volume 23, Number 25. December 3, 1970. Accessed February 9, 2018. https://texashistory.unt.edu/ark:/67531/metapth347487/?q=December%201970%20Wylie%20Texas
"History of Wylie." Wylie Texas Government. Accessed February 17, 2018. http://www.wylietexas.gov/living/history_of_wylie/index.php