Fountain Valley Heritage Park
Introduction
Fountain Valley Heritage Park is located just west of the public library at the City of Fountain Valley Civic Center. The public park includes the area's first real estate office, the Oda Japanese bathhouse and the Callen's Ranch water tower. The park's grounds include a gazebo and rose gardens, and is managed by the Fountain Valley Historical Society.
Images
Fountain Valley Heritage Park.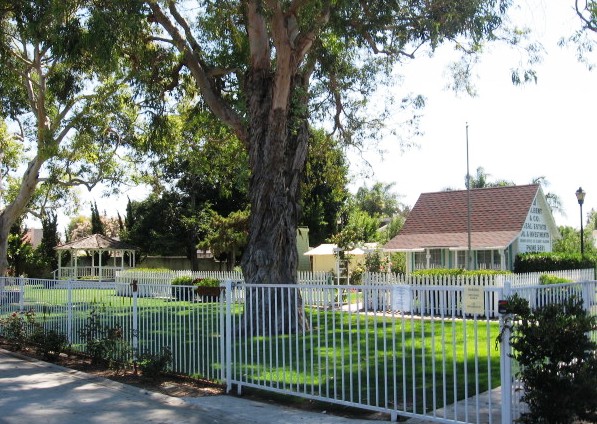 Backstory and Context
Fountain Valley Heritage Park is a 2.3-acre public park which is home to a few of the community's historical structures, including the real estate office of Tom Talbert, for whom the town originally was named, and the barber shop and furo, or Japanese bath house, of the Oda family.

The Heritage Park is on a former horse ranch and the historical structures were moved to the property to save them from demolition. One of the newest additions to Heritage Park is the 1898 Courreges Ranch tank house, which was the oldest standing structure in Fountain Valley. The tank house was moved to Heritage Park in 2017.

The Fountain Valley Historical Society, a non-profit organization founded in 1967 to preserve the community's history, manages the Heritage Park which was created in 1983.



Sources
Fountain Valley HIstorical Society. . Accessed April 08, 2018. https://www.facebook.com/FountainValleyHistoricalSociety/.

Collins, John. "Fountain Valley Historical Society is worthy of your support." Orange County Register(Santa Ana)October 30, 2008. . https://www.ocregister.com/2008/10/30/fountain-valley-historical-society-is-worthy-of-your-support/

Fountain Valley. Preserving California's Japantowns. . Accessed April 08, 2018. http://www.californiajapantowns.org/index.html.

Gibb, Dann. Images of America: Fountain Valley. Arcadia Publishing, 2007. ISBN: 9780738547459