Temple Israel Cemetery
Introduction
Opened in 1871 by the B'Nai Israel Society, the Temple Israel Cemetery, also known as the Pleasant Hill Cemetery, is the oldest Jewish cemetery in Nebraska. Five acres of land was purchased by the society and declared as property of the Congregation of Israel which later became Temple Israel. It is used by both Reform and Conservative Jewish communities in Omaha today to bury the dead. It is located in North Omaha on North 42nd Street.
Images
Front gate of the cemetery, rebuilt in 1999.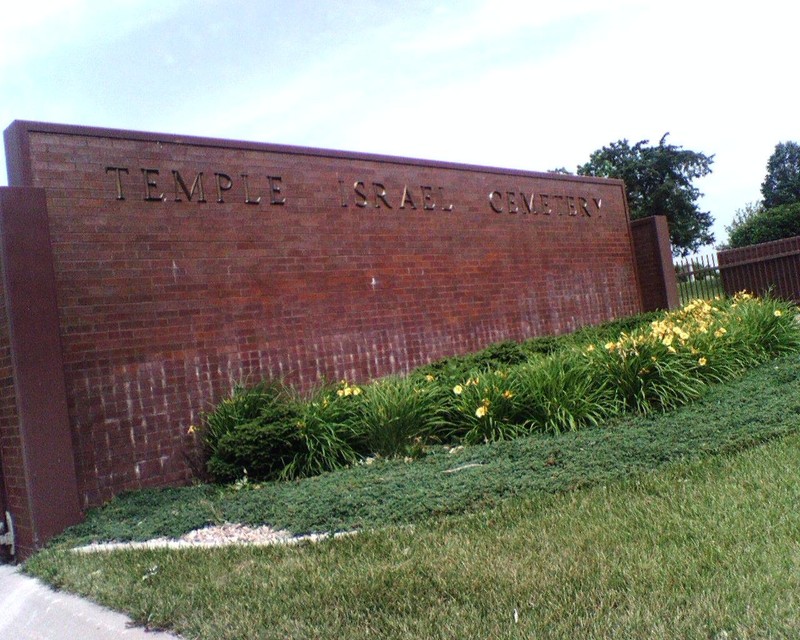 Backstory and Context
The first Jewish immigrants of Omaha made their way to Nebraska during the 1850s. Political unrest within Europe caused a large wave of Jewish arrivals throughout the United States. As revolutions swept across Germany and Italy, millions of Europeans made their way to America, five percent of whom were of Jewish descent. The 1840s and the 1850s saw the first Jewish immigration to the United States from Germany, Austria, and Bohemia.[1] They arrived through Cincinnati and Wisconsin via riverboats and stagecoaches. The next wave came in the 1880s following pogroms in Russia, followed by a third wave followed in between 1891 and the early 1900s, mostly from Eastern Europe. The people got off their ships in New York, and some took trains into Omaha. Refugees from Eastern Europe came by the millions to the United States. Between 1901 and 1917, over 2000 of those people settled in Nebraska.[2]

Another wave of Jewish immigration occurred following the Second World War. Holocaust survivors were welcomed into Omaha by the Jewish community and given food, clothes, jobs, and places to live. Many survivors were claimed by the community in place of family members in order to gain access into the country. A number of these survivors have been interviewed by the Shoah Visual History Foundation, which films the accounts of genocide survivors.[3]
Jewish settlers made their way out west, establishing communities in small towns, as well as businesses. Among the earliest known Jewish settlers were Aaron Cahn and Meyer Hellman in 1856. They opened up a clothing business, called M. Hellman & Company, which took off due to Omaha's place on the Oregon Trail.[4] The Brandeis department store, which opened in 1881, was established by Jewish immigrants. The store stood eight stories tall and was the main market for high fashion and sophisticated shopping. It remained in business for around a hundred years before being bought out by Younkers in 1987.[5] Nebraska Furniture Mart was established in 1937 in Omaha by Russian Jewish immigrant, Rose Blumkin. Blumkin, also known as Mrs. B., was a very active saleswomen before she died in 1998 at the age of 104. She sold most of her business in 1983 to Warren Buffett and Berkshire Hathaway.[6]
One of the first known Jewish services in Nebraska was held on September 30th, 1867, for the celebration of Rosh Hashanah, the Jewish New Year. The service was held at the home of a Mr. Rosenthal between 10 a.m. and 6 p.m. Twenty Jewish people were present at this service, and an equal number of people were there for Yom Kippur the following week. These services were spoken in German and Hebrew and began the establishment of an official Synagogue.[7] In 1868, the first Jewish Reform congregation was founded in Omaha. These German Jews formed the "Congregation of Israel," which later changed its name to the "Temple Israel" in 1945. The land for the Temple Israel Cemetery was purchased in 1871 to provide ritual services to the city's Jewish community.[8]
Since its establishment in 1872, there have been many notable burials at Temple Israel Cemetery. One of these is Emil Brandeis. Brandeis was the son of the founder of Brandeis department store in Omaha. Brandeis was established in 1881 by Jonas L. Brandeis. Emil Brandeis was the only Omahan to go down on the Titanic, and his ashes are buried at the cemetery. He made the front page of the Omaha World Herald for days following the Titanic disaster, with stories of his family worried about him.[9] Another notable person is Julius Meyer, who was an interpreter for Indian tribes. He was proficient in several American Indian dialects and helped maintain trade deals and negotiations with local tribes around Omaha in the late 1800s. Meyer opened up a curio shop and museum called "The Indian Wigwam" which attracted many tourists into Omaha. In 1883, the French government hired him to accompany a group of Winnebago and Omaha Native Americans to be their translator. Meyer maintained a good relationship with many Native American tribes before his death in 1909.[10] The famous Omaha Steaks was opened by Jewish immigrants in 1917. Father and son, J.J. and B.A. Simon escaped religious persecution from Latvia in 1898, and headed to the United States. The two men settled in Omaha because of Nebraska's resemblance to their native country. Many members of the Simon family are buried here, including Lester Simon. Lester joined the family business in 1929 and became President of the company in 1946. He expanded the business by serving their food on the Union Pacific passenger trains that traveled from Omaha to all parts of the country during the 1940s. In 1952, Lester started the company's first mail order ads to have the steaks shipped to the general public, and later across the country with the help of new technologies that kept the meat fresh over a long period of time.[11]
Sources
[1] Carol Gendler, "The Jews of Omaha: The First Sixty Years," M.A. Thesis, University of Nebraska at Omaha, 1968.
[2] Oliver B. Pollak, "Pioneers and Refugees," In Jewish Life in Omaha and Lincoln: A Photographic History (Chicago, IL: Arcadia, 2001), 9-11.
[3] Pollak, 15-16
[4] "Meyer Hellman & Aaron Cahn: First Permanent Jewish Residents Of Omaha, Nebraska – JMAW – Jewish Museum Of The American West," March 13, 2014. Jmaw.Org. Accessed April 7 2018. http://www.jmaw.org/hellman-cahn-omaha-jewish/.
[5] Pollak, 65.
[6] Pollak, 67.
[7] Carol Gendler,
"The First Synagogue in Nebraska: The Early History of the Congregation of Israel of Omaha,"
Nebraska History 58, (Fall 1977)
, 324-325.
[8] " The Jewish Federation Of Omaha ". Jewishomaha.Org. Accessed April 8 2018. http://www.jewishomaha.org/about/our-history/.
[9] "Emil Brandeis, Omaha Merchant, Missing, With Half of Survivors to Hear From," Evening World Herald, April 16, 1912.
[10] Pollak, 59.
[11]
Omaha Steaks: Our Heritage
, (Omaha, NE: Omaha Creative Group, 2011).
Additional Information