Andrew Landrum House
Introduction
Though Santa Clara and the Silicon Valley are now famous for its role in the technological revolution, the Landrum House stands as an example of innovation pre-dating the invention of the computer. Landrum, a carpenter, constructed the house in 1875. The home is an example of eclecticism in architectural styles; he combined the then-popular Italianate and Carpenter Gothic styles in his "T" shaped plan for the house. It is believed the Landrum House was one of the few Santa Clara buildings whose chimney to survive the 1906 San Francisco earthquake.
Images
Landrum House, taken 2012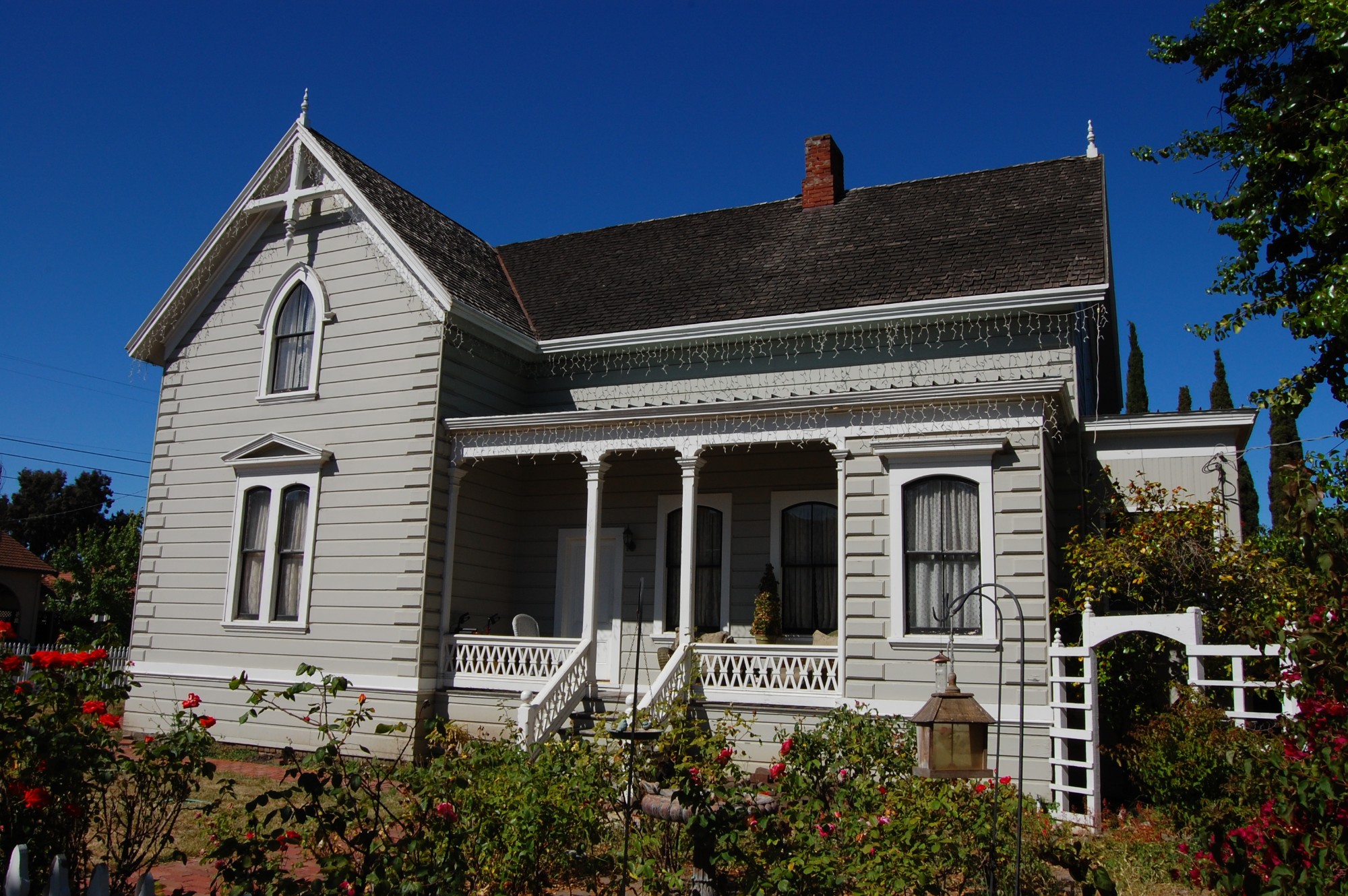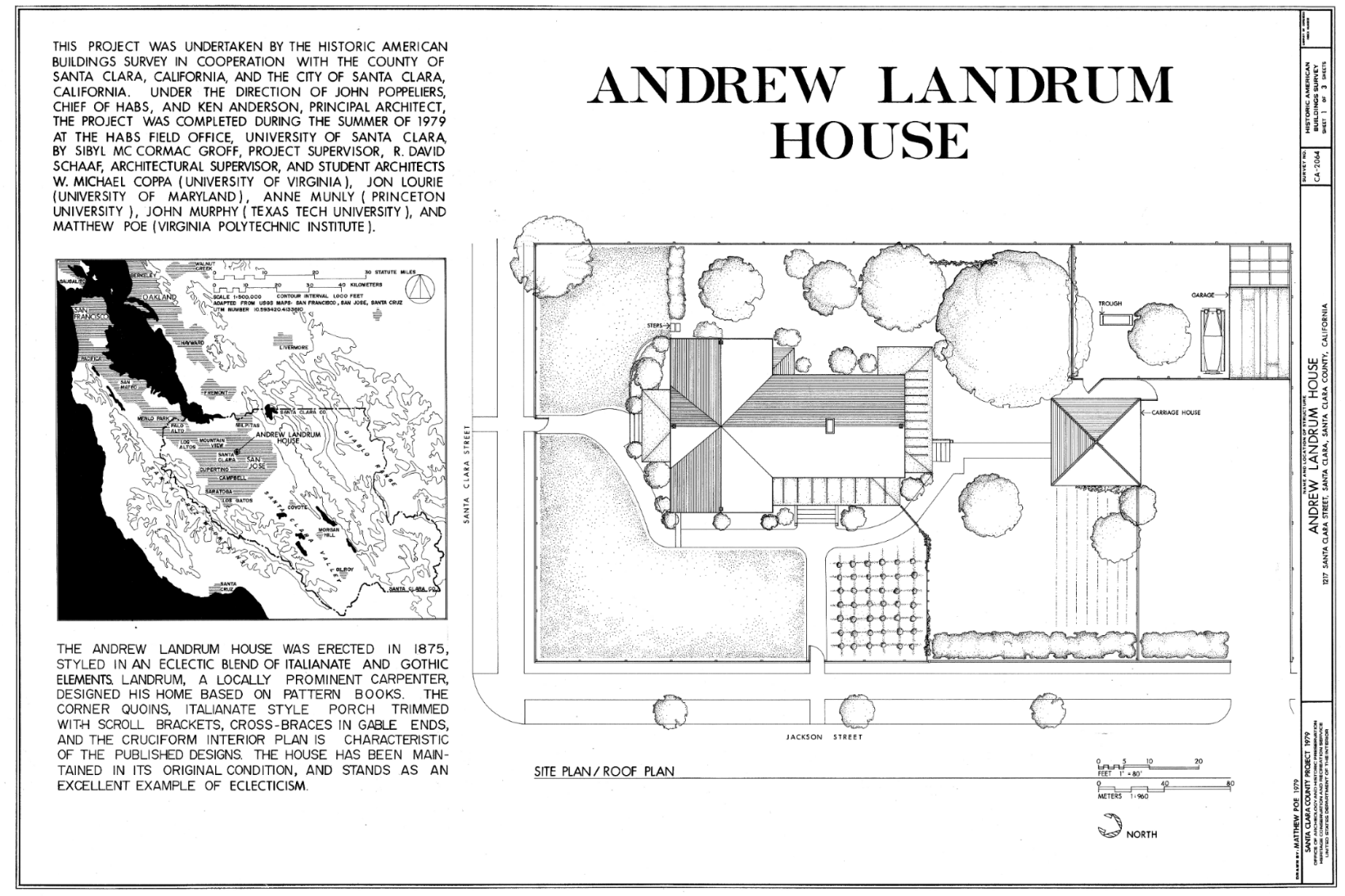 Backstory and Context
Designed in 1875, the Andrew J. Landrum House exists as a prominent period piece, which helps define the architectural quality of the Old Quad area of Santa Clara. Andrew Landrum, a noted Santa Clara carpenter, designed his T-shaped house by drawing from both the then-popular Italianate and Gothic Revival styles that he had found in pattern books.
Notable features of the house include its corner quoins, the Italianate porch with scroll brackets, gables with cross-bracing and the cruciform interior plan, and the results of the T-shape design consisting of crossed, steeply gabled rooflines. The brick chimney ties the house together, and it is believed to have remained entirely intact after the 1906 San Fransisco earthquake.
Though not much is known about Landrum, his house speaks to his influence in early Santa Clara history; less than 2,500 people called Santa Clara home when Landrum purchased the plot of land in 1874. Landrum was advertised as a carpenter in the Santa Clara County Directory while "Landrum, Miss M. 1217 Santa Clara Avenue" was included in the Social Directory of 1903, one of only twenty-nine women listed in the directory, alluding to the caliber of their (elevated) social status.
No significant modifications have changed the building since Landrum designed the house, and it remains one of Santa Clara's oldest and best-preserved houses.
Sources
"Andrew J. Landrum House."
National Park Service, Santa Clara's Historic County: California's Silicon Valley, A National Register of Historic Places Travel Itinerary.
. Accessed April 4, 2018.
https://www.nps.gov/nr/travel/santaclara/lan.htm


McCormac-Groff, Sibyl, "Nomination Form: Andrew J. Landrum House."
National Register of Historic Places.
September 1, 1979. https://npgallery.nps.gov/GetAsset/72eb5c66-8fc6-44a4-a304-7312018a64d5/
United States Census Bureau. . Accessed April 04, 2018. https://www.census.gov/en.html.
Photo Sources
HABS CAL, 43: Library of Congress Prints and Photographs Division Washington, D.C. 20540 USA. http://www.loc.gov/pictures/item/ca0984.sheet.00001a/ (See copyright information at http://www.loc.gov/rr/print/res/114_habs.html)
Landrum House, taken 2012: By Eugene Zelenko - Own work, GFDL, https://commons.wikimedia.org/w/index.php?curid=19839258
Additional Information