The Gill-Hay House, 545 High Street
Introduction
This home has historic and architectural significance that sometimes gets lost among the many lovely homes in the High Street neighborhood. It stands as a testament to private-public partnerships to renew interest in properties to work toward a sustainable community. The property may have changed hands multiple times, but each transition has added character to its story.
Images
Image courtesy of Virginia Landmarks Commission on file at the City of Petersburg Department of Planning and Economic Development, 1974.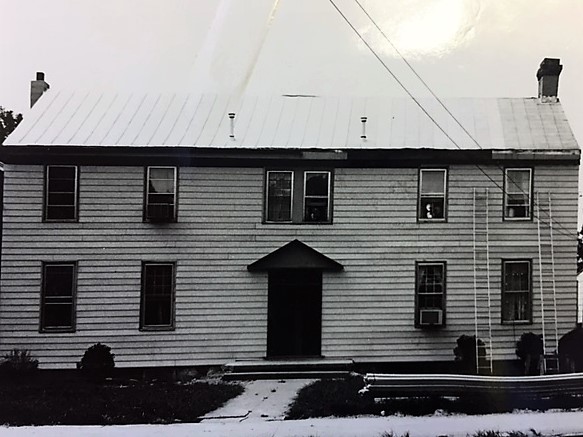 Backstory and Context
Built circa 1785, this stately, clapboard Federal house is steeped in Revolutionary War heritage. The lot was purchased by local silversmith, William Wright. It was built in the summer and then sold to Erasmus Gill. Gill had married Sarah Newsum, heiress to the estate of Peter Jones, one of Petersburg's earliest successful merchants. Though he served as Captain of the Continental Army under George Washington, there were gambling debts that forced him to sell. The property changed hands to William Randolph. Under Randolph's ownership, William Branch Giles rented the home. At this point, Giles was a prominent lawyer in Petersburg who won election to the U. S. House of Representatives. In fact, he was one of Jefferson's supporters who helped lead attacks against Alexander Hamilton and the Federalist platform. Later on in life, Giles was elected as a U. S. Senator and later as Governor of Virginia. He presided over the state Constitutional Convention during his tenure in office. In fact, Giles County is named after him. Another owner, George Hay, was the special prosecutor for America's first treason trial against Aaron Burr. Hay was the son of Anthony Hay, owner of the Raleigh Tavern in Williamsburg. His marriage to President James Monroe's daughter enabled him to serve as unofficial advisor. One of Hay's visitors, Benjamin Henry Latrobe, is famous for his role as first professional architect and engineer of the United States. He surveyed the Appomattox River, but those drawings were lost.
Architectural features of the home include an impressive staircase and original heart of pine siding. Built in the Colonial-Georgian style, this two-story weatherboard home has stone foundations in the front and some Flemish bond foundations in the other areas. At the time of the 1974 Virginia Landmarks Commission inventory, it was noted that some original windows remained. A pitched metal roof exists, but one chimney on the western side was removed. In 1998, the Historic Petersburg Foundation, Inc. purchased the property and did significant work to rehabilitate the property. Owners since this period have continued to improve the home and grounds. The grounds in the rear of the building have many outdoor living spaces and landscaped areas that attracts native birds of every variety.
Sources
Historic Petersburg Foundation, Inc. (unknown). "The Gill-Hay House 545 High Street," [Flyer] Petersburg. City of Petersburg Department of Planning and Community Development. Petersburg, VA.
Virginia Landmarks Commission. (1974, July). Architectural-Historic Inventory Cards. City of Petersburg Department of Planning and Economic Development.