"El Soldado" - California Mexican American Veterans Memorial
Introduction
The only monument in the nation honoring Mexican American soldiers that is located on the grounds of a state capital, "El Soldado" recognizes the service of nearly three hundred thousand Californians. The movement to create the memorial began as widows and mothers of Mexican American soldiers who were killed during World War II held meetings and raised funds for three years. Thanks to these efforts, this monument was dedicated in 1951 at the Sacramento Mexican American Center. The monument was refurbished in the 1970s and moved to the California Capitol Mall in 1990. Restored again in 2017 thanks to volunteers, a new plinth includes the names of California's Mexican American Medal of Honor recipients. Efforts to expand the memorial are currently underway.
Images
El Soldado's original dedication in 1951 at Sacramento's Mexican American Cultural Center, which used to provide social services for the local Mexican American Community.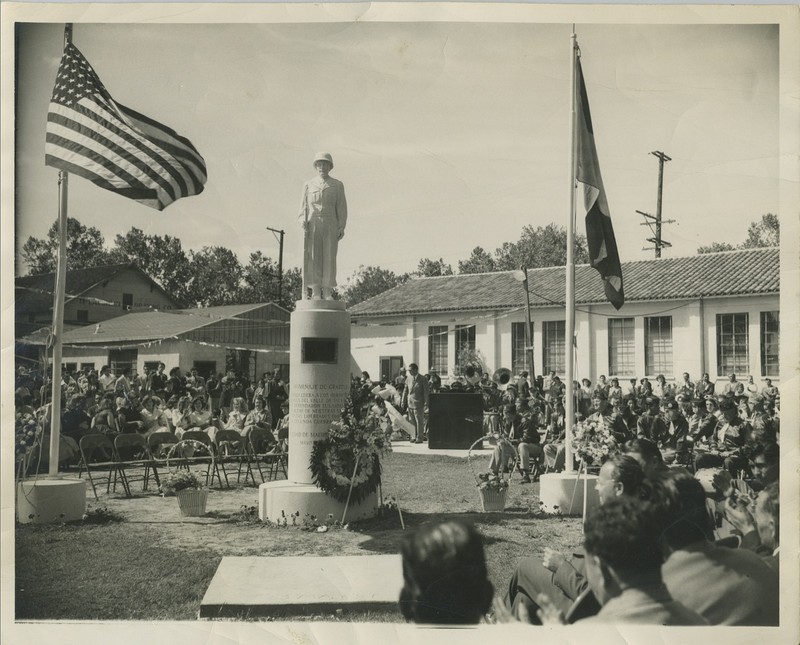 Another 1951 view of the original memorial, which featured a simpler base and did not contain the names of Mexican American Medal of Honor recipients.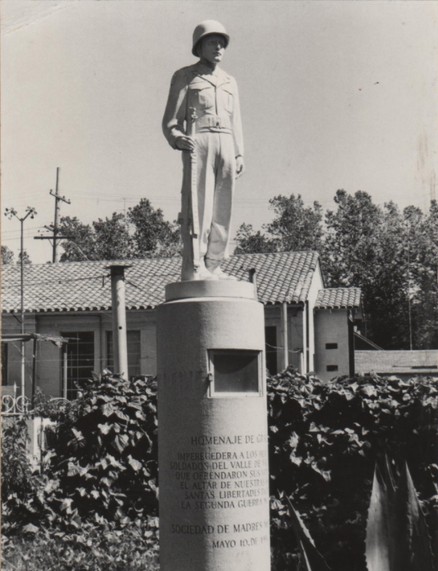 A fundraising meeting of the "Sociedad de Las Madres." A modern incarnation of the organization continues to care for the monument to this day.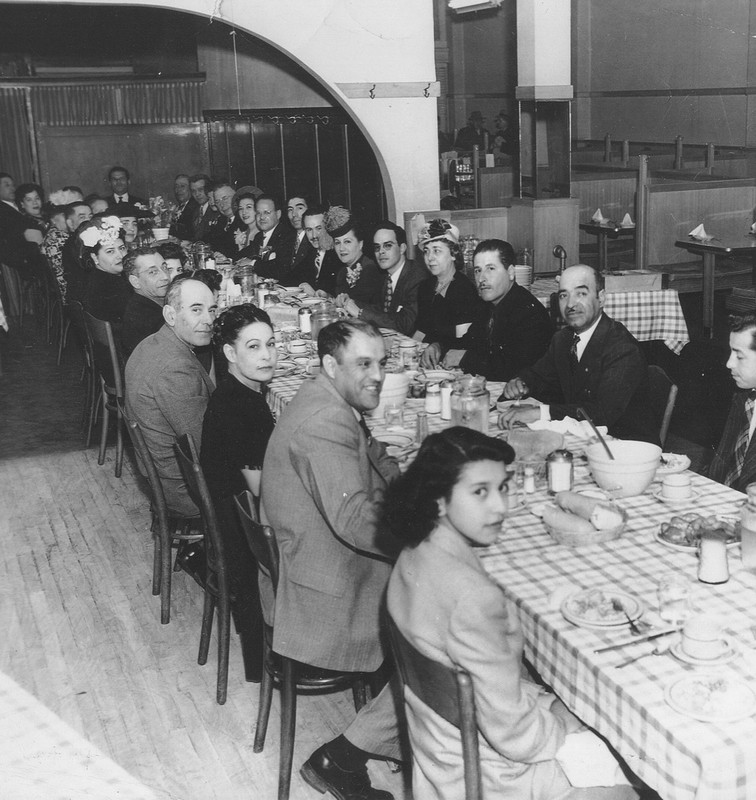 El Soldado on the capitol grounds prior to its removal for restoration in 2016 (official Facebook page).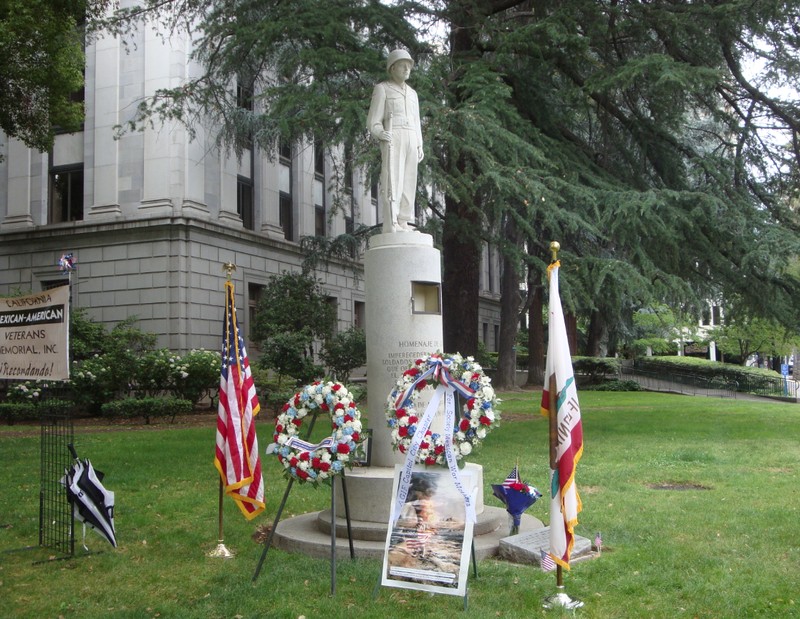 Workers prepare to remove the statue in September 2016 (official Facebook page).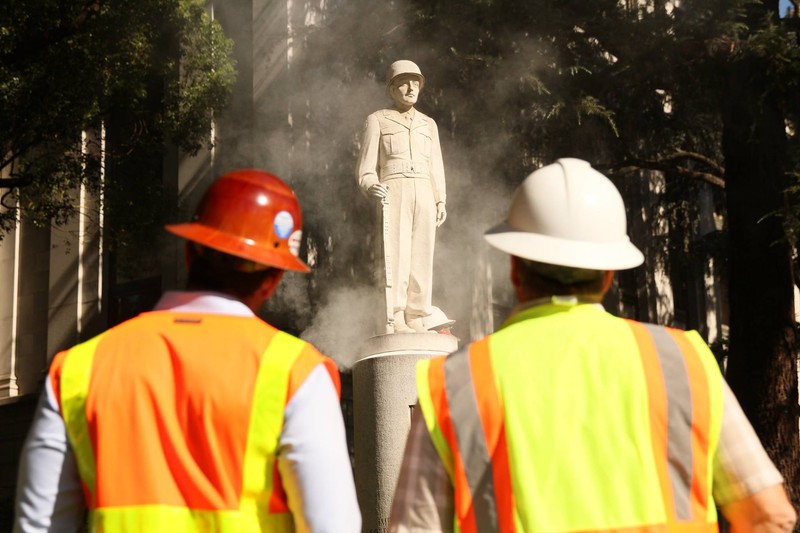 The weathered statue is temporarily removed in 2016 for the restoration process to begin (official Facebook page).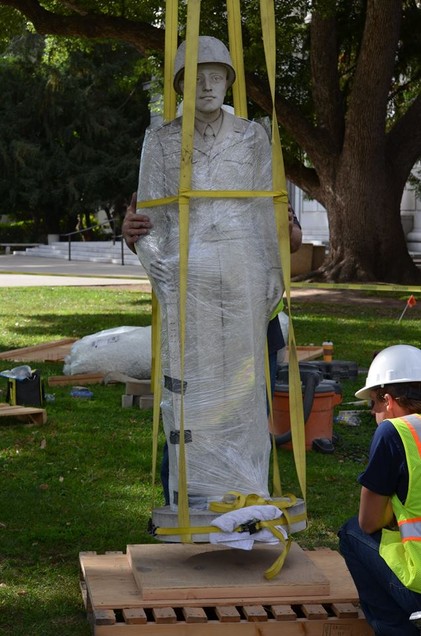 Workers landscape around the new plaza after the statue's reinstallation (official Facebook page).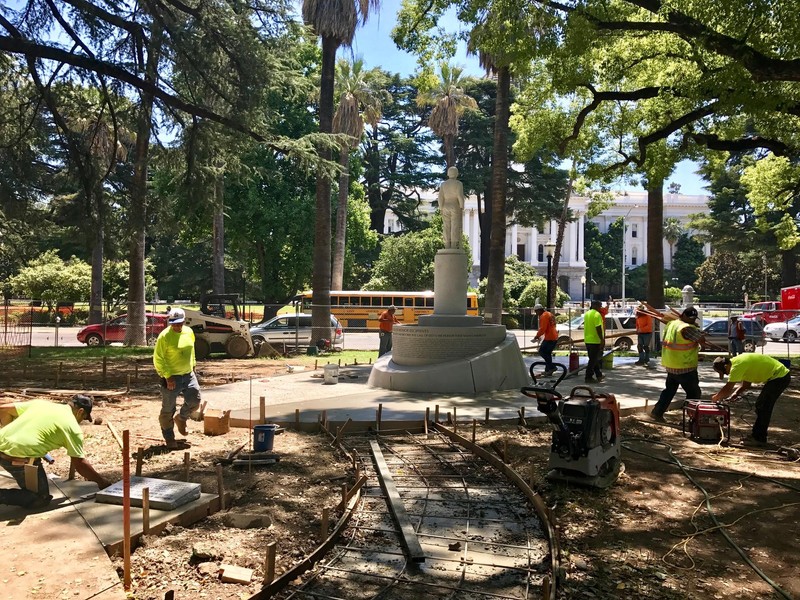 The refurbished statue on its new base and plaza (official Facebook page).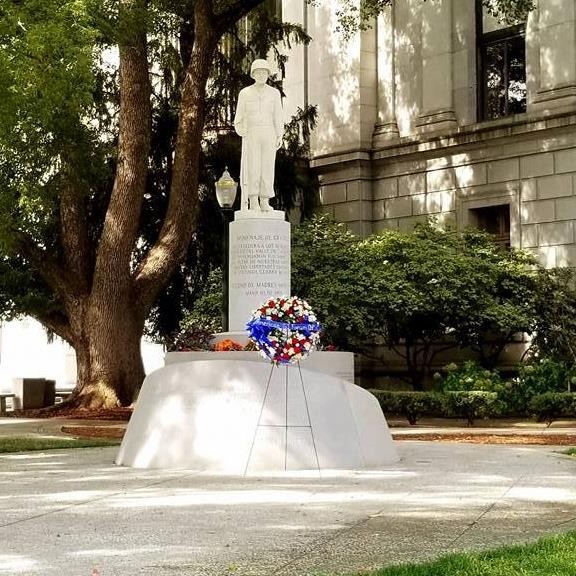 The statue's new base features the names of all Mexican American Medal of Honor recipients, dating back to the Civil War (official Facebook page).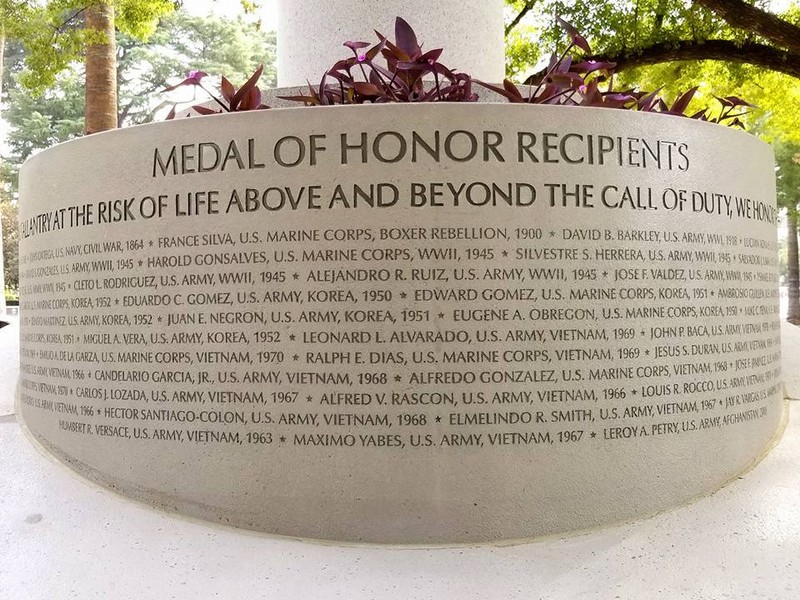 A Mexican American veteran at the statue's rededication ceremony (official Facebook page).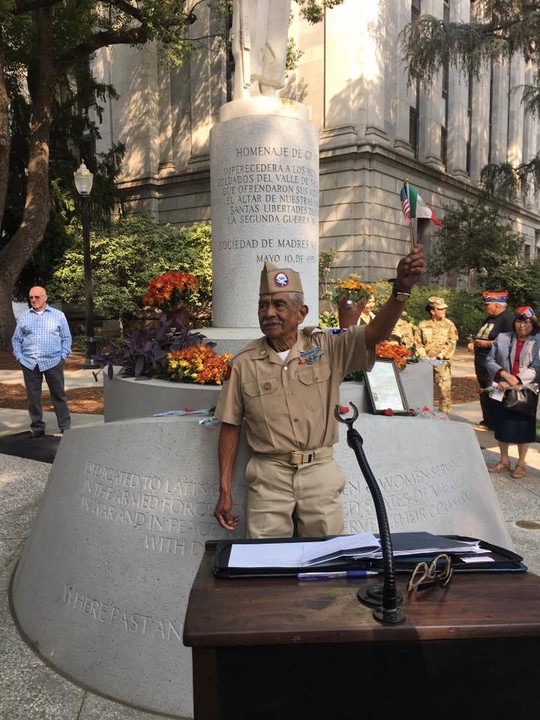 Design firm Quadriga's rendering of the final memorial plaza. Funds are still being raised for the surrounding gardens.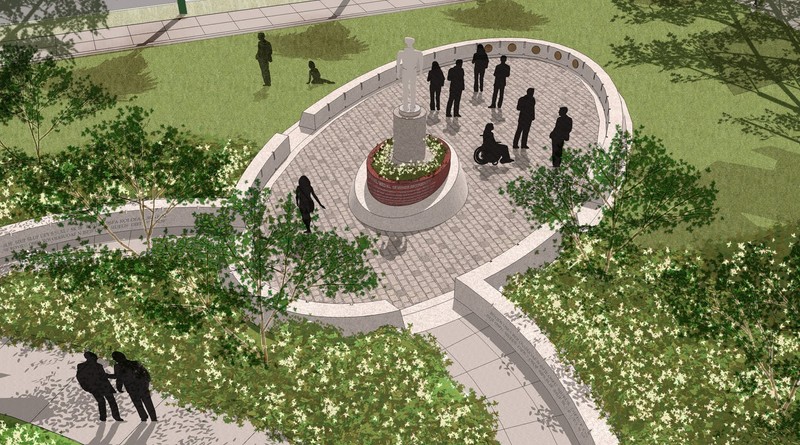 Another rendering from design firm Quadriga contextualizes the monument within the capitol grounds.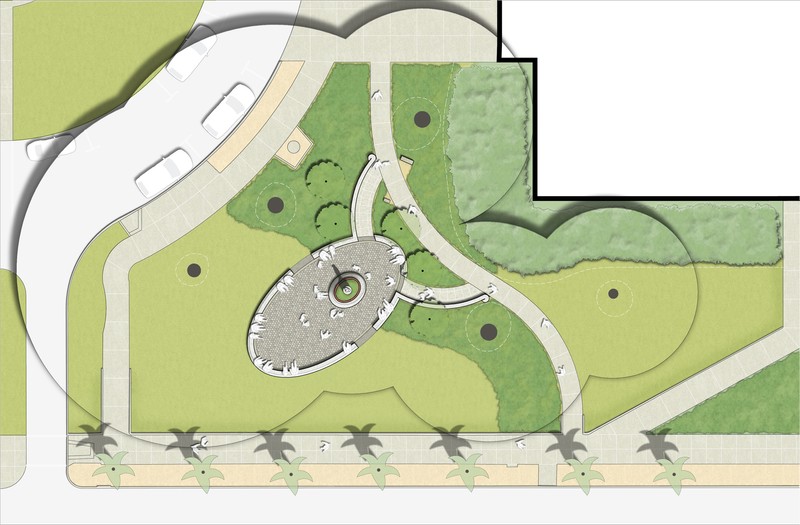 Backstory and Context
Despite a relative state of national unity during wartime, the end of World War II brought little recognition for the tens of thousands of Mexican American veterans who had served in all branches of the military and in both theaters of the conflict. As demonstrated by the response of many whites to the "Zoot Suit Riots" of 1943, many Americans subscribed to a narrative that not only discounted the contributions of minority servicemen, but also denigrated Mexican Americans.
In an effort to recognize their husbands and sons after war's end, a group of Mexican American women formed an organization and began efforts to fund a memorial. Calling themselves "La Sociedad de Las Madres" (Society of Mothers), the Sacramento-based group began actively fundraising in 1948 and worked tirelessly for three years through community organizing, raffle sales, and even the selling of homemade tamales. At last, an appropriate marble statue was purchased from Italy for a sum of $4000 and dedicated on May 10, 1951--Mother's Day in Mexico--outside Sacramento's Mexican American Center. It was the first war memorial dedicated solely to Latino-Americans.
Time took its toll on the statue, and in the early 1970s the Madres raised $10,000 once more to restore the aging memorial. Sacramento itself had begun to embrace a more outspoken Chicano identity, with a new mural and events like the Festival de Colores. The site of El Soldado was rezoned in 1990, however, and it was moved to its current site at the Capitol Mall--now to assume the additional mantle of the only Mexican American war memorial in the United States to be located on a state capitol's grounds.
By this time, the marble was severely weathered and the tip of the Soldado's rifle had broken off. There was once again a clear need for restoration. Little outward progress was made until 2008, however, when a successful push was made by the nonprofit Mexican American Veterans Memorial Beautification and Enhancement Committee to enact state legislation allowing for the monument's refurbishment and expansion. An initial estimate was made for a cost of $1.1 million, to be furnished through private donations--not taxpayer funds.
At $800,000, El Soldado's careful restoration was by far the most expensive component. Years of hard work eventually brought about the full sum of donations to complete the task and establish a new base and plaze for the venerable statue. The new base lists all Mexican American recipients of the Medal of Honor dating back to the Civil War.
The restored work was rededicated for the fourth time in its history on October 11, 2017. The ceremony was delayed a month due to extreme heat, which had made the conditions of the surrounding sod unfavorable. Further donations are still required to tackle the final phase of the project, which will install more sidewalks and a "mother's garden" to encircle the plaza.
Sources
"Wells Fargo Foundation donates $50,000 to improve El Soldado Mexican American Veterans Memorial." Lake County News(Lakeport)July 21, 2014. . http://www.lakeconews.com/index.php?option=com_content&view=article&id=37695:wells-fargo-foundation-...

Perez, Adrian. Latino veterans honored at Sacramento's unique memorial. SacLatino. May 28, 2013. Accessed April 02, 2018. http://www.saclatino.com/2013/05/latino-veterans-honored-at-sacramentos.html.

Snape, John. California Military and Veterans Code 2016. Sacramento, CA. Snape Legal Publishing, 2015.

Koseff, Alexei. "It took nine years, but California's 'El Soldado' memorial finally got fixed." Sacramento Bee(Sacramento). , Capitol Alert sec. http://www.sacbee.com/news/politics-government/capitol-alert/article178179646.html

Our Mission. El Soldado Latino . Accessed April 02, 2018. http://elsoldadolatino.org/.

Perez, Adrian. "El Soldado" Monument Recognizes Latino Heros of War. SacLatino. August 25, 2017. Accessed April 02, 2018. http://www.saclatino.com/2017/08/el-soldado-monument-recognizes-latino.html.



Additional Information