The Ted Lewis Museum
Introduction
Ted Lewis was a singer, musician, and actor who helped popularize jazz for mainstream America in the early part of the 20th century. Ted began playing the clarinet as a child and worked his way up the ranks from vaudeville to cabarets to Broadway. In the 1920s, he became the Columbia recording company's highest-paid artist. Ted Lewis died in 1971, prompting his widow, Adah Becker Lewis, to found the Ted Lewis Museum in his hometown of Circleville, Ohio.
Images
Outside the Ted Lewis Museum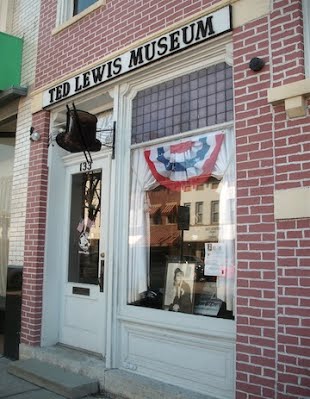 Ted Lewis, ca. the 1920s.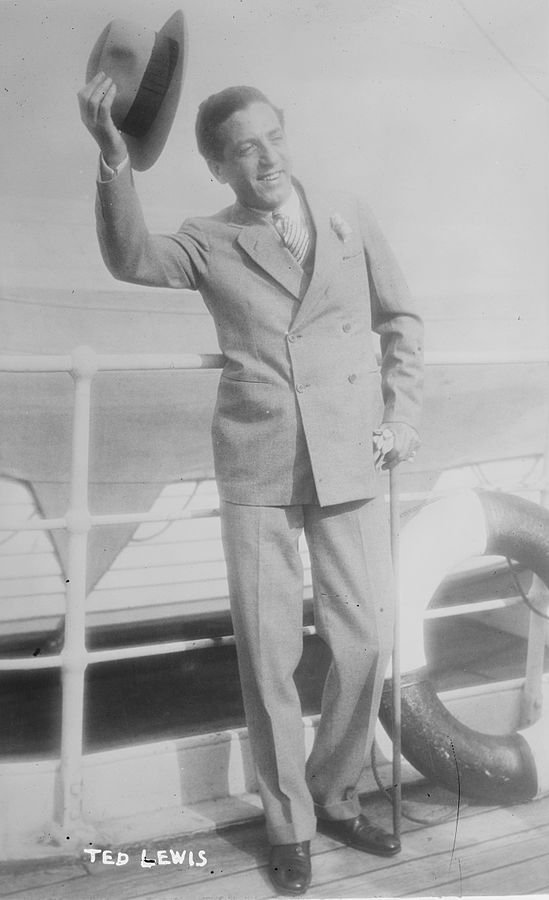 Ted Lewis and his raggedy top hat, ca. 1951.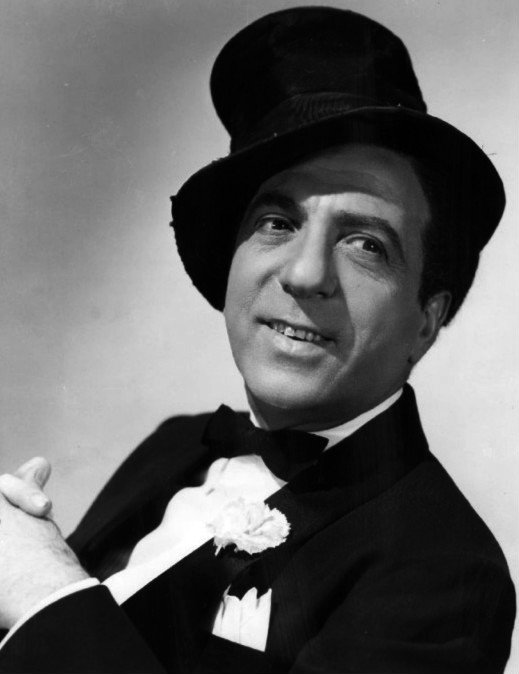 Backstory and Context
Ted Lewis was born in Circleville, Ohio on June 6, 1890 as Theodore Leopold Friedman. His parents ran Friedman's Bazaar, a women's clothing store. Ted began playing the piccolo at age nine because his fingers were too small for a clarinet. He played in his music teacher's band, the Circleville Cadet Band. He was later kicked out for putting his own spin on a song the band was playing. Still, he stayed in the public eye, be it carrying a banner in a parade or playing his E-flat clarinet to bring crowds into traveling shows. He sang in public professionally for the first time at age sixteen. His job was to keep audiences entertained with a new song each night between movies.
Ted's parents disapproved of this attention and sent him to a business school in Columbus. Instead, he worked in a music store until landing a job on the vaudeville circuit. Once in New York City, he stuck around by working at the El Dorado cabaret. When his father learned of his whereabouts, he took him back home, but not for long. Ted returned to New York and started an act called Lewis and Friedman with his pal Jack Lewis. When the duo performed in one of the Carolinas, a theater manager put "Lewis and Lewis" on the marquee because it fit better. Henceforth, Ted Friedman was known as Ted Lewis.
In 1915, Ted met and married ballerina Adah Becker. They were married until his death fifty-six years later. Adah gave up her career to work as his secretary and business manager. One year later, Ted put together his first band, a five-piece ensemble called the Ted Lewis Nut Band. The group played at Coney Island and was so successful, they were booked to perform with other up-and-coming performers. While appearing at Rector's Restaurant in 1917, Ted wore an old, battered top hat, which he had won from a cab driver in a dice game, and asked his audience "Is everybody happy?" Both actions would become staples of his act in years to come.
Ted's star continued to rise, and he became the first celebrity to headline three Broadway nightspots at the same time. After recording an album for Columbia, his jazz style became a national craze. He opened his own cabaret in 1918, the Bal Tabarin. Later, he became a partner in the Montmartre Club and opened the Ted Lewis Club. He played hits such as "When My Baby Smiles At Me," "Sunny Side of The Street," and "Georgette," for major recording labels like Decca, Mercury, and RKO Unique. He went on to become Columbia's highest-paid artist of the 1920s. He even performed with other show business greats, including Fannie Brice, Al Jolson, and Jimmy Dorsey, and acted in a movie based on his life for Warner Brothers.
Ted Lewis died in his sleep on August 25, 1971, leaving a sixty-year career behind him. He was buried in the Forest Cemetery in Circleville, Ohio. Six years later, Ted's widow Adah ignored requests from the Smithsonian, Yale, and Harvard and donated his personal collection to his hometown, which he had referred to as "The Capital of the World." She founded the Ted Lewis Museum, which still features "Ted Lewis' archives, memorabilia and music library in the only remaining edifice that stood within the original circle of Circleville." Adah died in 1981.
Sources
Ted Lewis Biography. Ted Lewis Museum. Accessed July 16, 2018. https://www.tedlewismuseum.org/ted-lewis-biography/.

Mission & History. Ted Lewis Museum. Accessed July 16, 2018. https://www.tedlewismuseum.org/mission-history/.


Additional Information