Republic F-105 Thunderchief Marker
Introduction
On England Drive in Alexandria, Louisiana, there is a marker devoted to the F-105 Thunderchief. This is the location of the Flying Tigers Heritage Park, a park dedicated to airmen of the past, present, and future. It is a park built at the former location of England Air Force Base. The Flying Tigers flew many planes including the F-105 Thunderchief.
Images
This is the marker denoted to describing the plane and it's significance.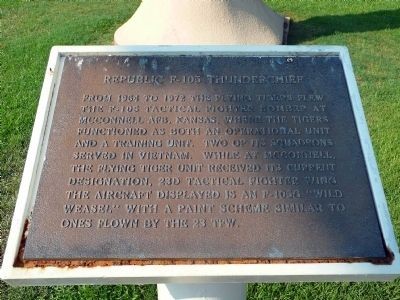 This is the F-105 Thunderchief that they have on display at Flying Tiger Heritage Park.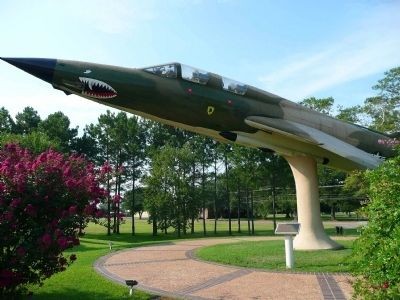 Backstory and Context
The Flying Tigers were created in the early 1940s. These pilots came from many branches of the U.S. military including the Army Air Corps, Navy, and Marines. They soon became part of the American Volunteer Group. This group was a foreign legion designed to help form a new Chinese Air Force.
The leadership role of this plan was appointed to a man name Claire Chennault. He was chosen because he knew the true value of air power during combat. Without a good team of fighters, bombers could destroy the enemy with no resistance. He wrote a book on this titled The Role of Defensive Pursuit, even though the army would not listen to his ideas.
In the beginning of his endeavor, he had no planes. This soon changed when America sent him 100 P-40 Tomahawks. He soon built up a squadron of mercenaries. These men were paid $600 dollars a month in addition to an extra $500 for each Japanese plane they could shoot down.
December 19th was their first major operation. The Japanese military sent out bombers to destroy the Kunming Fields. Chennault sent out his team to destroy the planes. At the time, the Japanese did not know about his squadron and sent the bombers without protection. This resulted in a major victory in which only four Japanese planes escaped and not a single fighting tiger was killed. On July 4th, 1942, the American Volunteer Group was absorbed into the Army. Up to this point, they had destroyed over 300 enemy planes while only losing 8 of their own.
Sources
"F-105 Thunderchief." Republic F-105 Thunderchief, History, Specifications, Surviving Aircraft, and Photographs, www.airplanesofthepast.com/f105-thunderchief.htm.
"Republic F-105 Thunderchief Historical Marker." Historical Marker, 18 Mar. 2017, www.hmdb.org/marker.asp?marker=10109.
"The Flying Tigers." Aviation History, www.aviation-history.com/airmen/tigers.htm.
"Flying Tigers Heritage Park." England AFB, www.englandairforcebase.com/england-air-force-base-static-display.htm.
Additional Information