Mt. Nebo Death Masks
Introduction
In the town of Carlton, Alabama there is the Mt. Nebo Church and Cemetery that houses three unique tombstones. These grave markers were made by Isaac Nettles, an African American farmer and inventor. Today these tombstones have gone through much damage due to weather and vandalism. The "death mask" headstones have been recognized as unique and significant by folklorists in the state and national organizations.
Images
Mt. Nebo Death Masks Marker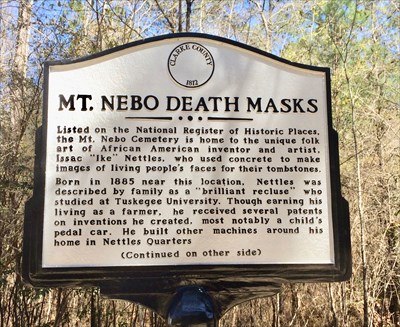 Headstone of wife, Korean, and three daughters.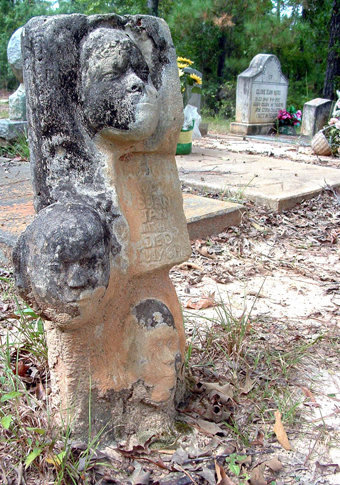 Headstone of Manul Burell. Only mask not part of Nettles family.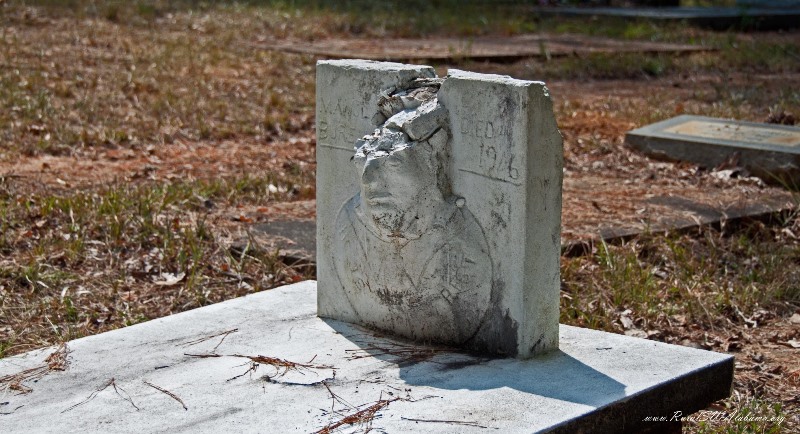 Headstone of Angel Ezella Nettles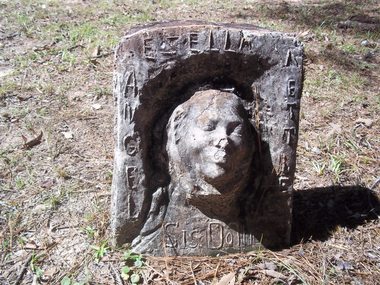 Backstory and Context
Isaac "Ike" Nettles was a Carlton area native, born in 1885. Nettles was known for his many talents. He earned most of his living wages as a farmer but was known to invent. Later in his life he was contacted by the Ford Motor Company in regard to a machine he hoped would change the timber industry. However, he died before he could demonstrate his machine. His creativity lead him to the creation of these grave markers. He created the "death masks" by making mud molds of the subjects' faces while they were still alive and then casted the masks using concrete and wire.
Before his death Nettles created four death mask headstones, three of them are family members. The headstone of his wife, Korean, who died in 1933, contains the faces of their three daughters, Pauline, Marie, and Clara. The faces are arranged asymmetrically on a narrow headstone with an inscription to the right of center that says "mother. Close by is another headstone that contains a woman's face that bears the words Angel Ezella Nettles, "Sis Dollie". The third headstone has a face of a man, Manul Burell who died 1946. Under the face are hand-drawn marks that outline a shirt complete with buttons and on the chest are the words, "He Is At Rest". The largest of Nettles' headstones is of his mother, Selena, who died in 1940. However, the headstones is no longer at the site due to being blown over by Hurricane Fredrick in 1979, leaving a hollowed-out base.
Due to weather and vandalism, "death mask" headstones have encountered substantial damage throughout the years because of their age and type construction. These headstones are on the National Register of Historic Places, added February 24, 2000. Nettles did not pass down his technique for creating the death masks and only a simple tombstone marks his grave.
Sources
Hilton, Mark. Mt. Nebo Death Masks. The Historical Marker Database. February 26, 2017. March 28, 2018. https://www.hmdb.org/marker.asp?marker=101576.
Mt. Nebo Death Masks, www.clarkemuseum.com/html/mt__nebo_masks.html.
"Isaac Nettles 'Death Masks' Headstones near Carlton, AL." RuralSWAlabama, www.ruralswalabama.org/attraction/isaac-nettles-death-masks-headstones-near-carlton-al/



Additional Information