General Winfield Scott Historical Marker
Introduction
The town of Winfield incorporated on February 21, 1868 , and named after General Winfield Scott. One of the nation's longest-serving military officers, Scott served in the War of 1812 and was the leading U.S. Army officer in the Mexican-American War and at the start of the Civil War. Scott was also the presiding officer at the signing of the peace treaty that ended the Black Hawk War.
Images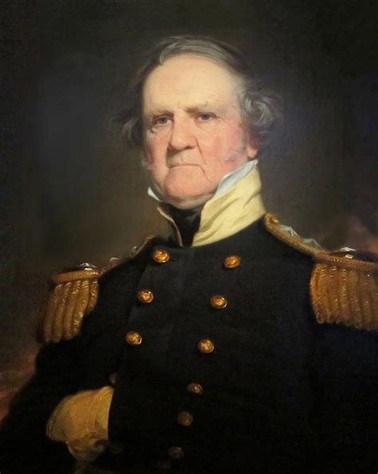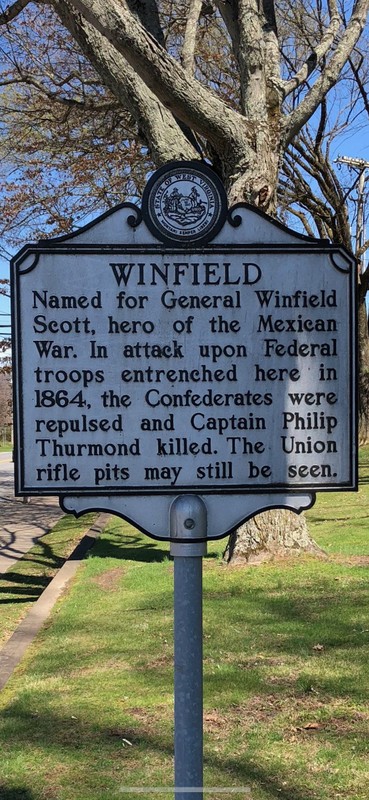 Backstory and Context
General Winfield Scott was born into a family of modest means and became fatherless at a young age, but rose to become one of the leading American military figures of the 19th century. After he fought on the Niagara frontier during the War of 1812, Scott urged for the Army to focus on enforcing standards of professionalism. In 1821, Scott assembled the "General Regulations for the Army," which became the first systematic set of military bylaws. These bylaws set standards for what now is every expected aspect of a soldier's life. Named commanding general of the U.S. Army in 1841, Scott then ran for president for the Whig Party. Although unsuccessful as a nominee in 1852, Scott continued to serve as the presiding general of the army.
Winfield Scott became known as a master tactician and during his fifty-three years of service, and is best known for his use of combined arms and use of the navy to maneuver his army or prevent his opponents from moving men or materiel. General Scott also enforced standards of professionalism of the U.S. Army. During his first few months in the War of 1812, he witnessed firsthand the troubles inherent in a large reliance on ill-trained citizen militia. In 1814 to counter what he had experienced, Winfield trained rigorously with American soldiers in Buffalo, New York. That summer he demonstrated was a well group of disciplined troops could do in the decisive victory near Chippewa Creek and the bloody stalemate along Lundy's Lane. 
During the Mexican-American War, Scott used the navy and repeatedly maneuvered his opponents out of their defensive positions. His chief engineer, Captain Robert E. Lee, helped scout the route for some of these flank maneuvers, thus molding his own skills for a later war. And while Scott was not averse to using frontal assault style attacks, he preferred though to win victories by sieges or turning movements to flank his enemy and minimize casualties. While his tactics were derided by some who romanticized cavalry and bayonet charges, he won the respect of soldiers and other officers who valued the way the use of tactics and strategy could provide victory with the fewest casualties.
Sources
History.com. . Accessed March 21, 2018. http://www.history.com/topics/winfield-scott.
Winfield Scott. . Accessed March 21, 2018. https://www.civilwar.org/learn/biographies/winfield-scott.
PBS. . Accessed March 21, 2018. http://www.pbs.org/kera/usmexicanwar/biographies/winfield_scott.html.
Clemens, Thomas G.. Encyclopedia. . Accessed March 21, 2018. https://www.encyclopediaVirginia.org/Scott_Winfield_1786-1866.
Additional Information