Sacramento Squatters' Riots of 1850
Introduction
A plaque mounted on the corner of the California Fruit Building commemorates the exact location where gunfire broke out between two groups of Sacramento citizens on August 14, 1850. Though the Fruit Building would not be built until 1914, a line of rebellious squatters formed across 4th Street at this intersection and, by most accounts, opened fire upon a similarly armed posse led by Sacramento's Mayor Hardin Bigelow. Though the squatters were dispersed and many arrested in the following days, the dispute over land rights would have long-standing effects on the development of the city. The 1982 plaque lists those who were killed in the gunfight, in the violence of the following days, or subsequently of their wounds.
Images
First Mayor of Sacramento, Hardin Bigelow. He received four bullet wounds during the downtown shootout and miraculously survived. Transported to Sacramento, he died there a few months later during a cholera epidemic.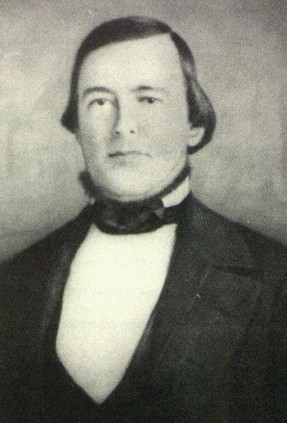 Dr. Charles Robinson, one of the leaders of the Sacramento Settlers Association. Wounded during the shootout, indictments against him were dropped. He later became the first Governor of Kansas (and first governor in U.S. history to be impeached).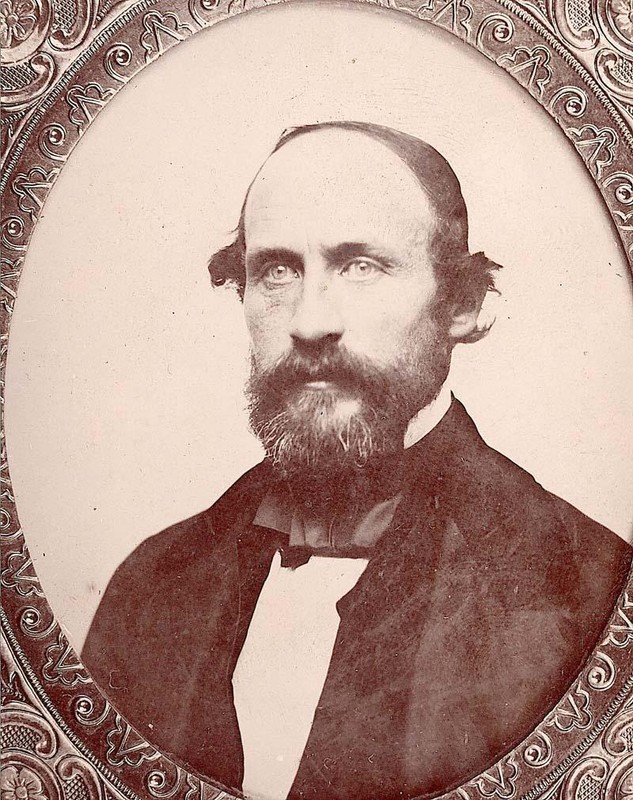 Sheriff Joseph McKinney became the first Sacramento County sheriff to be killed in the line of duty, shot by squatters resisting arrest the day after the downtown shootout.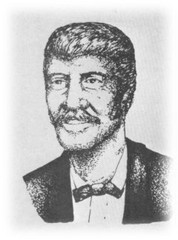 Prison brig "La Grange." Sacramento's second prison, replacing the "Strafford," which had departed only a few months before the riots. "La Grange" would serve the city in this capacity until 1862.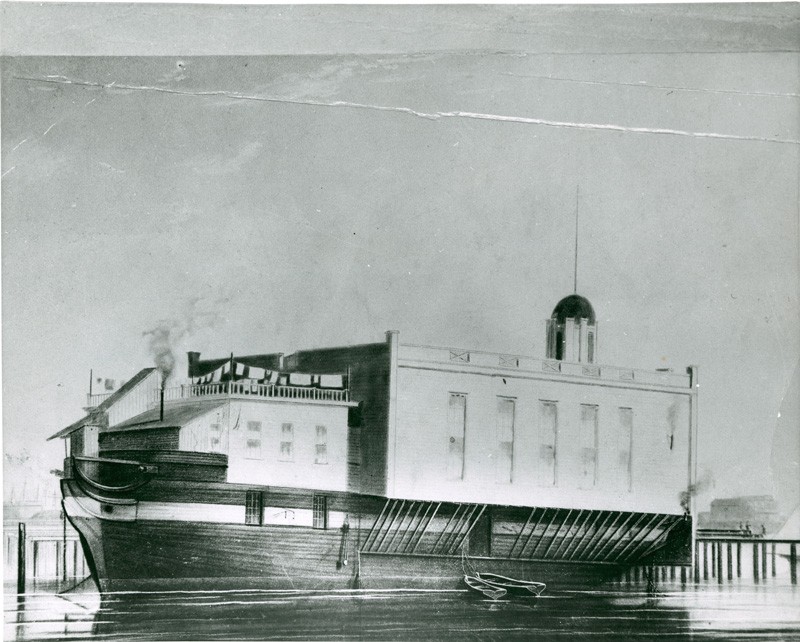 Mayor Hardin Bigelow's gravestone cites the riots where he received his fatal wounds. Though he died in San Francisco, he was buried in what is now Helvetia Cemetery in Sacramento.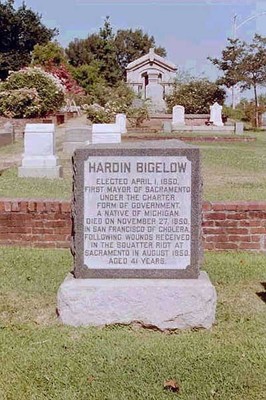 A reconstruction of the certificates of title passed to their members by the Sacramento Settlers Association, from Bancroft's comprehensive "History of California."

A sketch of the approximate route taken by both parties to the site of the August 14 shootout, showing their paths on modern Sacramento streets. After the shootout, city militia gathered at a headquarters near the present Sacramento History Museum.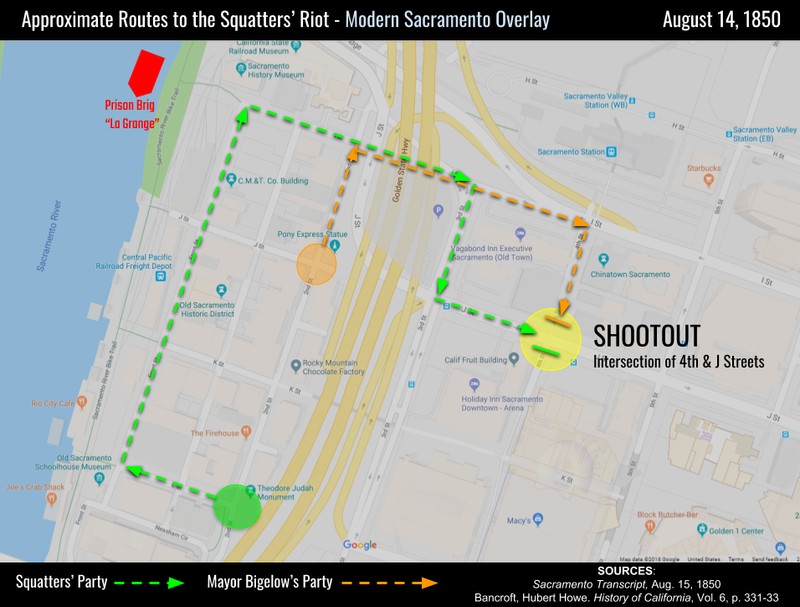 The 1982 commemorative plaque placed on the NE corner of the California Fruit Building, near where the line of squatters made their stand. The listed dead did not all perish in this gunfight (photo by Syd Whittle, hmdb.org).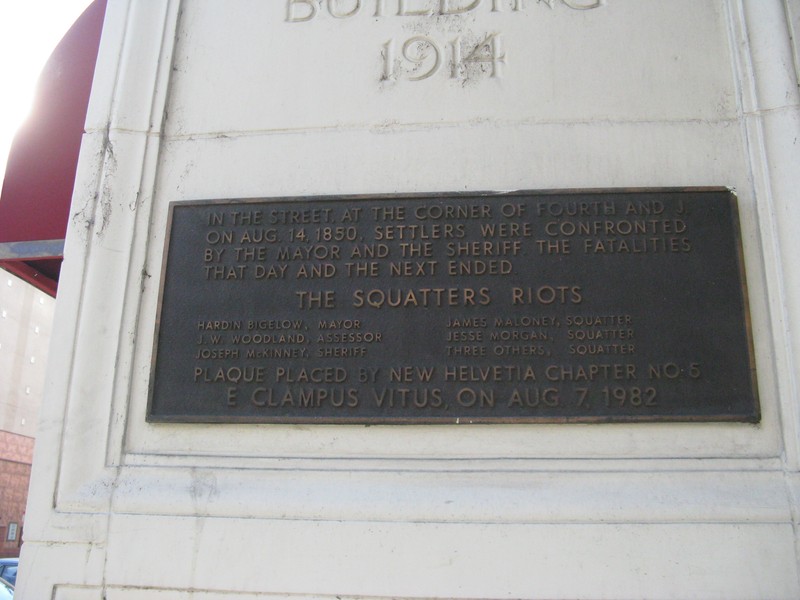 Backstory and Context
Prelude to Violence
In 1848, John Sutter was in trouble. For the decade leading up to the Gold Rush, his land grant in Alta (Northern) California from the Mexican government had allowed the ambitious Swiss immigrant to build a seemingly unassailable fiefdom straddling the Sacramento Valley. Built on the backs of several hundred Native American slaves (and a mounting sum of debt), Sutter's agricultural empire spanned tens of thousands of acres from his fort at the confluence of the Scramento and American Rivers. When the United States wrested control of California from Mexico in 1846-48, Sutter was wary of the seismic shift in power, but generally maintained good relations with the American troops who passed through his properties and occasionally occupied his fort.
The discovery of gold on his land in nearby Coloma, however, brought the most rapid change to Sutter's de facto kingdom of New Helvetia. He soon found his mills abandoned, his crops in ruin, and his herds decimated by an influx of prospectors, speculators, and squatters from the United States and other countries. Financially devastated, Sutter was persuaded to divide his land into lots and sell it off to a growing list of entrepreneurs who wished to establish businesses in Sacramento--and the resulting deals promised to free Sutter from the crushing debt of his pre-American investments.
A number of Sacramento's new citizens were dissatisfied with Sutter's arrangements, claiming he was selling land not included in his legitimate grant from the Mexican government (California Governor Micheltorena, ousted militarily by Californios in 1845, had expanded Sutter's holdings). They were emboldened by the California Constitutional Convention that had submitted its request for statehood to the U.S. Congress in late 1849, and hoped that the arrival of American government would uphold their rights to "homestead" the property they claimed Sutter had no right to sell.
The squatters would never get the opportunity to find out. By April 1850, popular sympathies lay primarily in the camp of wealthy businessmen who had purchased property from Sutter, and conflicts began to break out between the squatters--who had formed the Sacramento Settlers Association--and Sutter's customers, who were supported by Sacramento's city government and, according to newspaper accounts, most of the citizenry. Following a series of ejections wherein at least one squatter's cabin was burned by Sutter's supporters, the Settlers Association, headed by a Massachusetts doctor named Charles Robinson, the attitude of the squatters hardened. They removed lumber and building materials belonging to Sutter's customers, built their own fences, and in May hired their own surveyors and assessors and issued certificates of land title to members of the Association who had paid their dues.
The Guns of August
On August 10, 1850, judgment was rendered in court against squatter John F. Madden, and a statement made by the judge was construed to mean that Madden had no right to appeal. Two days later Charles Robinson and the infuriated Settlers Association issued a manifesto refusing to recognize the California courts and legislature (since California was in limbo waiting upon its ratification as a state, its current government had little legal standing). A tense meeting between Mayor Hardin Bigelow, Robinson, and 200 squatters brought about a temporary calm, but tempers flared anew on August 13 when two more squatters were arrested and thrown into the city's jail--then merely La Grange, a ship anchored on the riverbank.
The next morning, Sacramento Sheriff Joseph McKinney seized a squatter's house, which was soon reclaimed by a large armed party of squatters under the leadership of a James Maloney, cutting a puzzling figure on horseback with pistols and sword. Maloney's men then moved toward the waterfront, where it was speculated they might attempt to free their imprisoned compatriots aboard La Grange. For reasons unknown, they turned away from the prison brig and eventually passed within mere blocks of Sacramento Mayor Hardwick Bigelow, who was passionately rallying citizens to arms.
Mayor Bigelow's ad-hoc militia caught up with the squatters at the intersection 4th and J Streets. Maloney's men turned and formed a line across 4th while the Mayor reportedly ordered the squatters to lay down their arms--whereupon, according to newspaper reports of the day, Maloney commanded his band to open fire. Mayor Bigelow fell with four bullet wounds (which he would survive, despite dire expectations). The city assessor, J.M. Woodland was mortally wounded and died in minutes. Maloney was killed, and Charles Robinson was also wounded. The Sacramento Transcript of the following day reported four total dead, and five wounded.
Deprived of leadership, the squatters scattered. Many were rounded up in the following days and arrested as militia poured in from San Francisco and Benicia under command of the Lieutenant Governor--though the violence was not yet over. Sheriff Joseph McKinney was killed the day after the downtown shootout while rounding up a band of squatters in the Brighton neighborhood, becoming the first Sacramento County sheriff killed in the line of duty. Most of the indictments against squatters fell away within weeks of the riots, as California received news of its freshly ratified statehood in October (a month after it had been approved by Congress).
Though the riots themselves had fizzled out quickly, their legacy proved durable. Mayor Bigelow never recovered from his wounds, succumbing to a cholera epidemic in San Francisco a few months later. The legal debates between squatters and the "pro-Sutter" party continued to play out in newspaper editorials for months, and historians later argued that the suppression of homesteading in the area severely inhibited Sacramento's population and economic growth for years afterward. The issue boiled over again during a more violent cycle of unrest in San Francisco the following year.
Sources
Historical Resources Impact Analysis Report. City of Sacramento. . Accessed March 31, 2018. https://www.cityofsacramento.org/-/media/Corporate/Files/CDD/Planning/Environmental-Impact-Reports/A.... p.63
Sacramento, California: Squatters Riots Plaque. Roadside America. October 15, 2011. Accessed March 31, 2018. https://www.roadsideamerica.com/tip/30290.
Stapp, Cheryl Anne. The Infamous Squatter Riots. California's Olden Golden Days. August 13, 2015. Accessed March 31, 2018. https://cherylannestapp.com/infamous-squatter-riots/.
Squatters Riot-Sacramento City-1850. Yesteryear Once More. April 14, 2009. Accessed March 31, 2018. https://yesteryearsnews.wordpress.com/2009/04/14/squatters-riot-sacramento-city-1850/. Compilation of various contemporary newspaper articles.
Bancroft, Hubert Howe.
The History of California
. Vol. VI. San Francisco, CA. The History Company, 1888. p.328-336. Digital copy accessed 3/30/2018. https://archive.org/details/historycaliforn05bancgoog
"Tremendous Excitement!" Sacramento Transcript, Volume 1, Number 90, 15 August 1850. p.2
"Restoring of Quiet." Sacramento Transcript, Volume 1, Number 93, 19 August 1850. p.2
Additional Information