Museum of the Earth
Introduction
The Paleontological Research Institution's (PRI) Museum of the Earth was established in 2003 to provide the general public with a unique opportunity to explore our world through a mix of natural history displays, interactive science features, and art exhibitions. The museum's 8,000-square-foot permanent exhibition takes visitors on a journey through 4.5 billion years of history, from the Earth's origin to the present day. Through hands-on, visual exhibitions and outreach, the Museum of the Earth encourages critical thinking about life on Earth in the past and today, and how our species is affecting the natural world.
Images
The Museum of the Earth opened in 2003.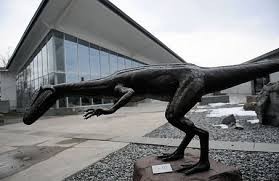 Backstory and Context
In 2013, the Cayuga Nature Center became PRI's newest public venue for education. The Nature Center cultivates an awareness, appreciation, and responsibility for the natural world through outdoor and environmental education. The goal is to transform the Nature Center into a premier educational center for teaching and learning about the impact of climate change on the fauna and flora of Tompkins County.
PRI and its two public venues for education, the Museum of the Earth and the Cayuga Nature Center, are separate from, but formally affiliated with Cornell University, and interact closely with numerous University departments in research, teaching, and public outreach.
Sources
"About." Museum of the Earth. Accessed February 14, 2015. http://www.priweb.org/about.php.
Additional Information