High Street Methodist Church 615 High Street
Introduction
Though the church is no longer active, it serves as a reminder of the storied and rich history shared by neighborhoods and their religious ties and beliefs. According to Gibson Worsham, one unique feature of High Street Methodist Church is that their temple-form church in the Gothic style was concealed behind a new asymmetrical Romanesque-style front in 1897.
Images
1844 images included in the Walker Booklet, published 1984.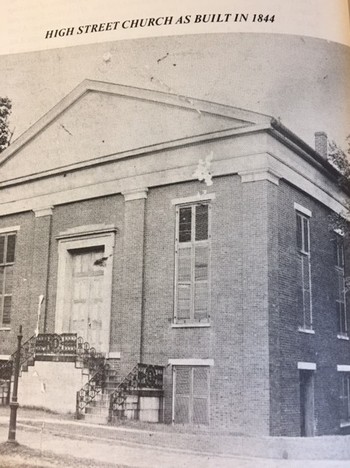 Image Courtesy of John Rooney, 2018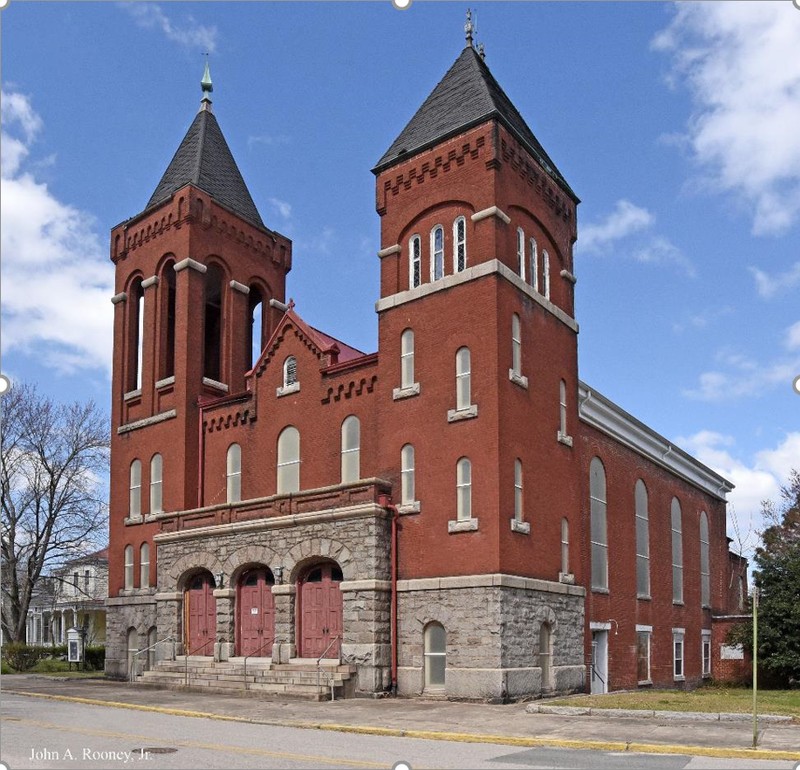 Backstory and Context
Thomas Branch and D'Arcy Paul purchased site on High Street in January 1844 to build the church on this site. The first station preacher was James D. Coulling, and Presiding Elder of the District was John Early. During the Civil War, it served as one of several churches to allow temporary burials of soldiers. The original was a different style and construction that the additions designed by Major Harrison Waite and later constructed in 1897. The Romanesque-Revival addition to the front featuring the towers and vestibule. There are cathedral windows in the space. The notes regarding the construction show lofty goals by the membership, stating plans to incorporate a pastor's study, ladies' parlor, steward's room, organ room, reading room, and more. The planned interiors were to incorporate steel ceilings and wainscoting, among other architectural elements. The estimate was $8,000 total and the committee spoke of a debt of at least $3,000 to $4,000. A two-story rear addition, 40' X 40', was also constructed around the same period and extended again in 1904. For numerous years, the church had a prominent presence in the area, offering Sunday school, regular services, and many local events and activities. In the 1980s, as membership continued to decline, the decision was made by the congregation to close and sell the property. The current structure serves as a testament to the service given by those individuals and the importance of religion in the area.
Sources
Walker, V. (1984) High Street United Methodist Church 1844-1984. [Booklet], Taylor Publishing Dallas, TX
Worsham, Gibson. "Urban Scale Petersburg." The Churches of Petersburg: A Survey, 2015, urbanscalepetersburgVirginia.blogspot.com/2015/07/the-churches-of-petersburg.html.