Dodson's Tavern 311 High Street
Introduction
Dodson's Tavern can hold its own in terms of its architectural significance, yet the home reflects more about family and the ties to community. In addition to the numerous design features, the ownership and stories of its occupants compel readers and visitors to learn more.
Images
Image from Virginia Historic Landmarks Commission Architectural—Historic Inventory card in July 1974 on record at the City of Petersburg Department of Planning and Community Development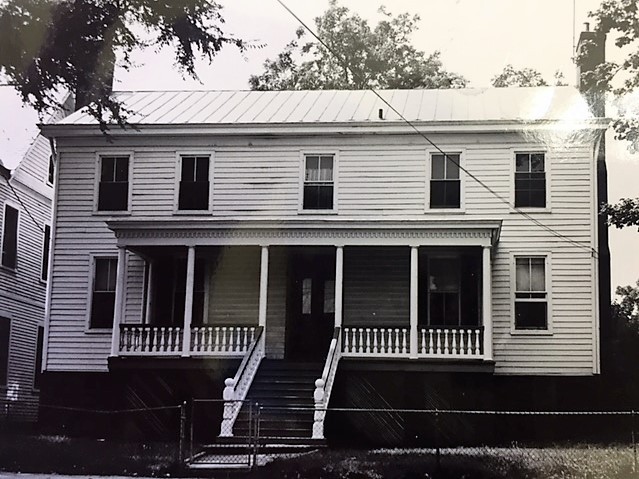 Image Courtesy of John Rooney, 2018.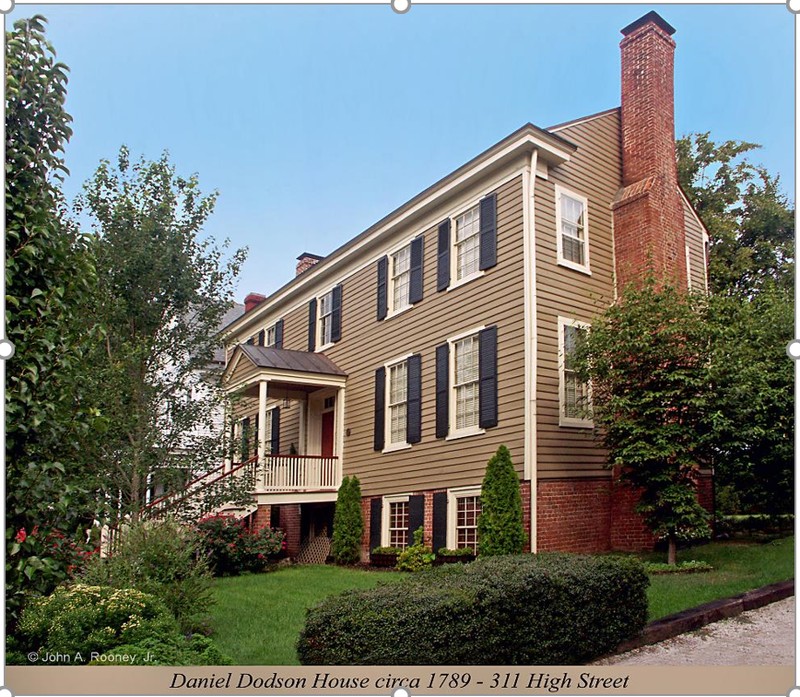 Backstory and Context
Daniel Dodson constructed the building circa 1800 in an early Federal/modified late Georgian style, similar to other structures on High Street during the period. The date of construction can be argued, given that the Works Progress Administration Historic Inventory Project reflects a date much earlier – 1750. The home played host to several prominent members of society, but also to those of national fame. Aaron Burr, the Vice President of the United States under Thomas Jefferson, visited Petersburg several times and came to this site, in particular. Other guests included Robert E. Lee and Marquis de Lafayette. It reportedly quartered soldiers in the Revolutionary War. The property was kept in the Dodson/Pegram family for 180 years.
Alterations have been made that removed portions of the home in 1975. The Victorian window frames remain on all except the upper-floor rear facing and a first-floor window on the rear of the wing moved to the position when the wing was originally built. The metal roofing is a later installation, around 1885, replacing its previous wood-shingle components. There was a flight of stone steps leading to an open stone landing. Additionally, other Federal features like beaded weatherboards, tall chimneys with double weatherings, deck metal roof, and Flemish-bond brickwork remain. A large hearth in the original winter kitchen in the English basement remains. On the interior, heavy double six-panel doors to the front and the back of the hall are revealed. Random-width floors throughout are original to the space. There are six large rooms, one small room, and two halls. An open string, three flight stairway is in the west side of the hall; it has elaborate mahogany, round handrail and balusters showcasing Federal motifs. Dentil molding is found on both floors. One closed stairways to the full cellar exists. In the cellar, there are three rooms, with two fireplaces, eight windows of two sashed and moveable slat shutters. In the large rooms on each side of the main floor hall, there are elaborate colonial mantels, fireplaces, and solid three-foot wainscoting. In the 1970s, a basement fireplace renovation revealed original cranes and hanging irons. Other architectural features include wood cornices, plastered walls, Brass English locks and "HL" hinges. A detached summer kitchen has been converted into a guest house. In 1972, retired Army Colonel John Cargill Pegram willed the property to the city and was later auctioned in 1975.
Sources
City of Petersburg. (1979). National Register of Historic Places nomination: Petersburg Old Town Historic District, Petersburg, Virginia. Richmond, VA: Virginia Historic Landmarks Commission.
Oberseider, N.L. and Savery, S. (1995.) Four Self-Guided Walking Tours: Petersburg, Virginia [Brochure]. City of Petersburg: Petersburg Museums.
Petersburg Garden Club (2004). "All Around the City: The Petersburg Tour." [Brochure]. Historic Garden Week in Virginia.
Scott, J. G., & Wyatt, E. A. (1960). Petersburg's Story: A History. Titmus Optical Company.