Ball's Battlefield
Introduction
This historical marker was placed in 1910 for an ambush that occurred near this location on July 30, 1813. The ambush was part of a larger battle for control of the region between Native Americans and the United States and Great Britain. Native Americans attacked US forces near this location but the ambush failed and seventeen Native Americans perished.
Images
The Ball's Battlefield Marker is simply just a plaque placed on a rock.
The Ball's Battlefield Marker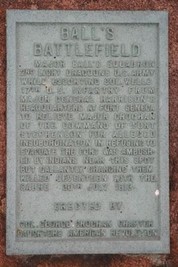 Backstory and Context
General Harrison's goal was to take Detroit back and then invade Canada where the British and their Native American allies were located. Once General William Henry Harrison learned of British plans to attack Fort Stephenson and sent orders for his troops at Fort Stephenson to evacuate. Harrison's messenger got lost along the way and by the time the men received the message the British had already arrived. Major Croghan decided that it was better to stay put than risk being outnumbered by the British outside of the fort.
Major Ball and his squadron were headed alongside Col. Wells 17th U.S. Infantry to release Major Croghan of the command of Fort Stephenson. Major Croghan was accused of insubordination after refusing to leave the fort. Later, General Harrison retracted his command to remove Major Croghan due to his victory over the British.
Sources
[1] Benington, Dale K.. Ball's Battlefield. . Accessed March 30, 2018. https://www.hmdb.org/marker.asp?marker=17967.

[2] Harrison Military Trail and Ball's Battlefield. . Accessed March 30, 2018. https://www.dar.org/national-society/historic-sites-and-properties/harrison-military-trail-and-balls....

[3] Fort Ball. . Accessed March 30, 2018. http://touringohio.com/history/fort-ball.html.