Fire Station No. 16, Atlanta
Introduction
This historical marker commemorates the first fire station in Atlanta to where African American firefighters were hired and served the city. In 1962, leaders of the African American community presented demands to the mayor to allow trained firefighters to be hired. Mayor Ivan Allen approved the hiring of 16 African American firefighters. All of these men were housed in Fire Station 16 until the city fire stations eventually became open to firefighters of all races. The fire station marker is located on Flowers Place, the former site of a mansion once owned by Theodore "Tiger" Flowers, the first African American middleweight boxing champion of the world.
Images
Front of the marker that honors the first male and female African American firefighters in Atlanta, Georgia. These men and women were persistent in the pursuit of desegregation and equal rights.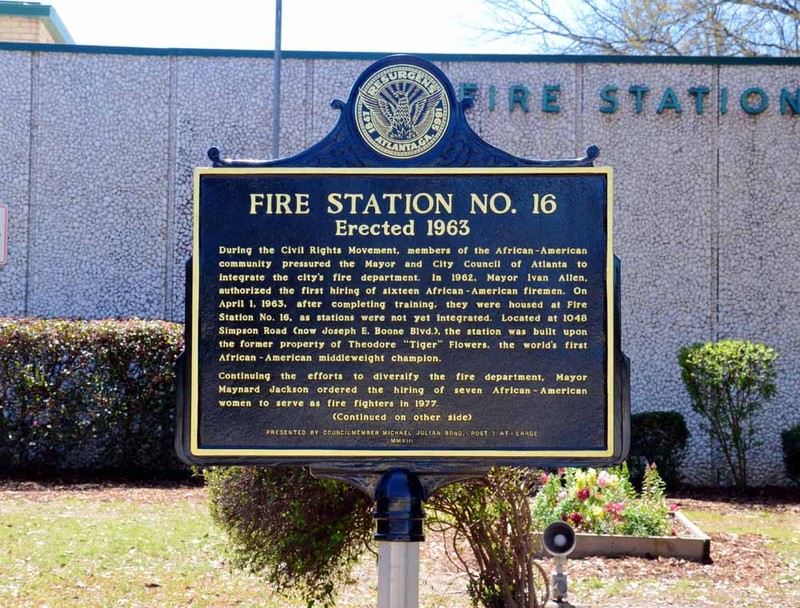 The first African American female firefighters of Fire Station 16. They called each others sisters and supported each other every day in order to survive.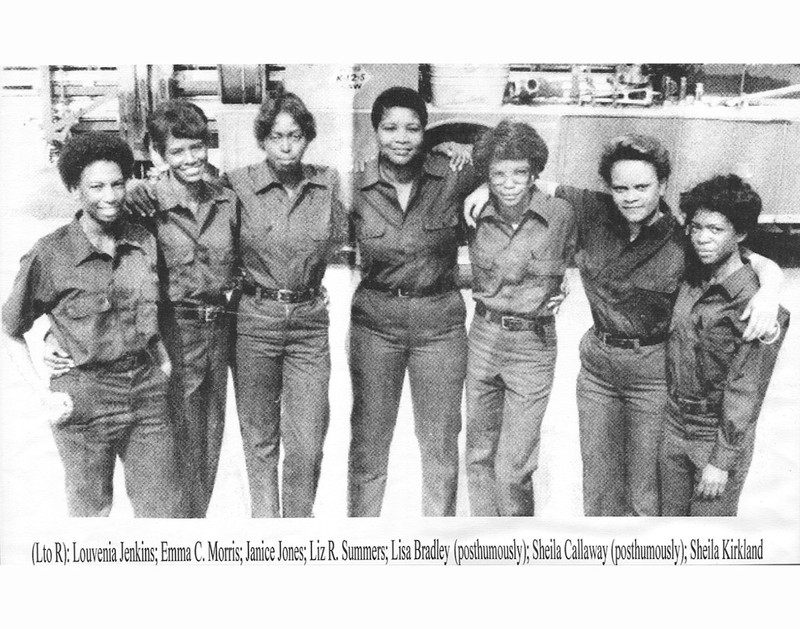 The First 16 African American male firefighters on the day they are hired to work at Fire Station 16. You can see them with the supervisors who were still held by white males.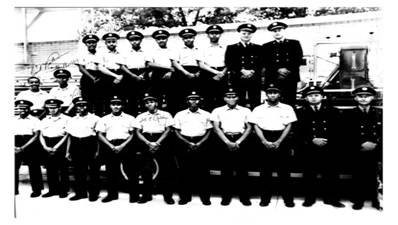 The second side of the marker. It lists the names of the first male and female firefighters that served Fire Station 16.There were 16 males were hired in 1962 and the 7 females were hired in 1977.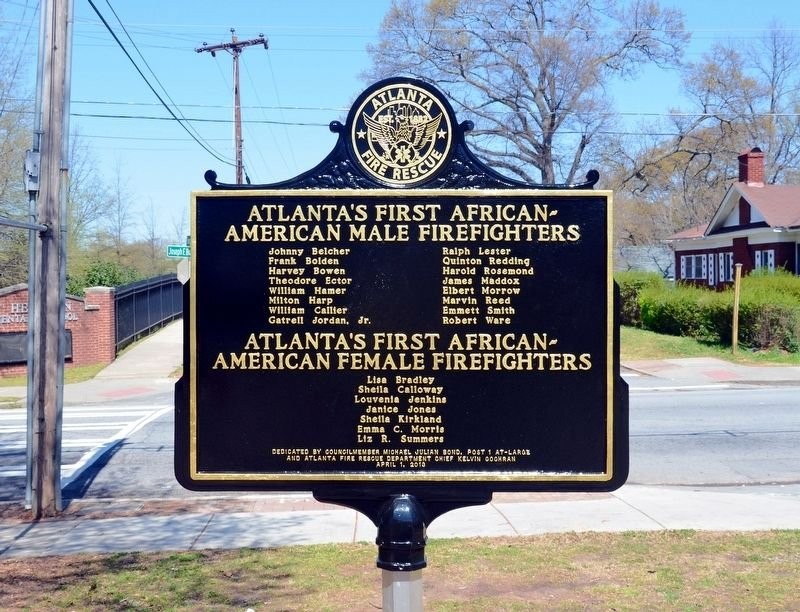 Backstory and Context
The firehouse is located at the site of a former mansion owned by Theodore "Tiger" Flowers, the first African American middleweight boxing champion of the world. He was able to gain support from both Blacks and whites as a boxer. He lived in a 20-room mansion in Atlanta, GA. He underwent a procedure to remove scar tissue from his eye the ultimately caused his death at the age of 32 in 1927. He was inducted into the Georgia Sports Hall of Fame in 1976 and elected to the International Boxing Hall of Fame in 1993. Flowers mansion was bought, demolished, and a building constructed to house newly hired African American firefighters.

The decision to hire African Americans came in the midst of the Civil Rights Movement, with the Atlanta church bombing that killed four little African American girls happening weeks later. This marker is significant because prior to 1963 African Americans had not been allowed to apply to work as firefighter s. Interviews with the firefighters revealed they were submitted to gruesome training tactics and they were made to understand that their fellow white firefighters wanted them to give up or fail.
At first, Fire Station 16 was all Black except for white supervisors and eventually became integrated. The African American firefighters would still face all types of discrimination even though feeling like the heroes among their own community. The white male firefighters refused to share cabinets with Black male firefighters and hesitated to assist them at fires.
Inscription: During the Civil Rights Movement, members of the African-American community pressured the Mayor and City Council of Atlanta to integrate the city's fire department. In 1962, Mayor Ivan Alan, authorized the first hiring of sixteen African American firemen. On April 1, 1963, after completing training, they were housed at Fire Station No. 16, as stations were not yet integrated
Side 2: Atlanta's First African-American Male Firefighters: Johnny Belcher• Ralph Lester • Frank Bolden• Quinton Redding • Harvey Bowen• Harold Rosemond • Theodore Ector James Maddox • William Hamer• Elbert Morrow • Milton Harp •Marvin Reed • William Callier• Emmett Smith • Gatrell Jordan, Jr. •Robert Ware.

Atlanta's First African-American Female Firefighters: Lisa Bradley • Shella Calloway • Louvenia Jenkins • Janice Jones • Sheila Kirkland • Emma C. Morris • Liz R. Summers.
Dedicated by council member Michael Julian Bond, Post 1 At-Large and Atlanta Fire and Rescue Department chief Kelvin Cochran April 1, 2013
Sources
Seibert, David. Fire Station No. 16. The Historical Marker Database. October 11, 2017. Accessed March 30, 2018. https://www.hmdb.org/marker.asp?marker=108848.

Poole, Sheila. Tested by Flames and Prejudice: City's First Black Firefighters Honored. The Atlanta Journal-Constitution. April 02, 2013. Accessed March 30, 2018. https://www.myajc.com/news/local/tested-flames-and-prejudice-city-first-Black-firefighters-honored/t....

Atlanta honors its first African-American firefighters. Buchhead View. April 03, 2016. Accessed March 30, 2018. http://buckheadview.com/2013/04/02/atlanta-honors-its-first-african-american-firefighters/.



Additional Information