Summers Hotel and Subway Lounge Marker
Introduction
During the era of segregation, traveling African Americans had few options for lodging. In Jackson, many Black musicians stayed at the Summers Hotel, established in 1944 by W.J. Summers. In 1966, Summers opened a club in the hotel basement that he called the Subway Lounge. The Subway began as a regular jazz venue and offered popular late night blues shows from the mid-1980s until the hotel's demolition in 2004.
Images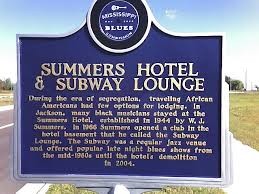 Backstory and Context
During the segregated 1940s, '50s, and '60s, the two main Jackson hotels open to African Americans were the Edward Lee Hotel on Church Street and the Summers Hotel. The Summers Hotel, originally the Maples, a rooming house for whites, stood here at 619 W. Pearl Street. The building was remodeled and renamed the Summers Hotel in 1943 after its purchase by W. J. Summers (1897-1977), a prominent African American businessman, who ran the hotel with his wife Elma. The hotel was popular among touring musicians, including James Brown, Hank Ballard, and Nat "King" Cole.
In 1966 Summers enlisted Jimmy King—vocalist, bandleader, and high school teacher—to run a newly constructed basement lounge, which King dubbed the Subway. In the '60s and '70s the Subway Lounge featured mostly jazz performers, including King, brothers Kermit, Jr., Sherrill, and Bernard Holly, and organist Levon Mitchell, as well as various touring or area groups.
In 1969 King left the Subway to start his own club but returned in 1986, when he and his wife Helen revived it as a late-night blues venue, with music starting at midnight. Guitarist Jesse Robinson led the initial house band, the Knee Deep Band, which was followed by the House Rockers, fronted by singers Levon Lindsey and Abdul Rasheed, and the King Edward (Antoine) Blues Band. Knee Deep Band vocalist Walter Lee "Big Daddy" Hood was billed as "500 Pounds of Blues." Other Jackson artists who performed at the Subway included Eddie Cotton, Jr., Bobby Rush, Patrice Moncell, Eddie Rasberry, Sam Myers, J. T. Watkins, Pat Brown, Dennis Fountain, Dwight Ross, Greg "Fingers" Taylor, Thomas "Snake" Johnson, Vasti Jackson, Bill Sampson, and the Juvenators.
Sources
http://www.msbluestrail.org/blues-trail-markers/subway-lounge
Additional Information