Temple Emanu-El (Catholic Diocese of Helena)
Introduction
Now serving as the administrative building for the Catholic Diocese of Helena, this beautiful building was once the home of Helena's Jewish community. It was built in 1891 and designed in the Moorish Revival and Romanesque styles. Temple Emanu-El was the first Jewish temple to be constructed between St. Paul and Portland and the first in Montana. It originally had onions on top of the two towers but those were eventually removed. The Diocese purchased the temple in 1981 and have owned it ever since. It was added to the National Register of Historic Places in 2002 for its significance to Jewish history and striking architecture.
Images
Temple Emanu-El was built in 1891 remained a Jewish synagogue until the 1930s. It was the first Jewish temple constructed between St. Paul and Portland and the first in the state.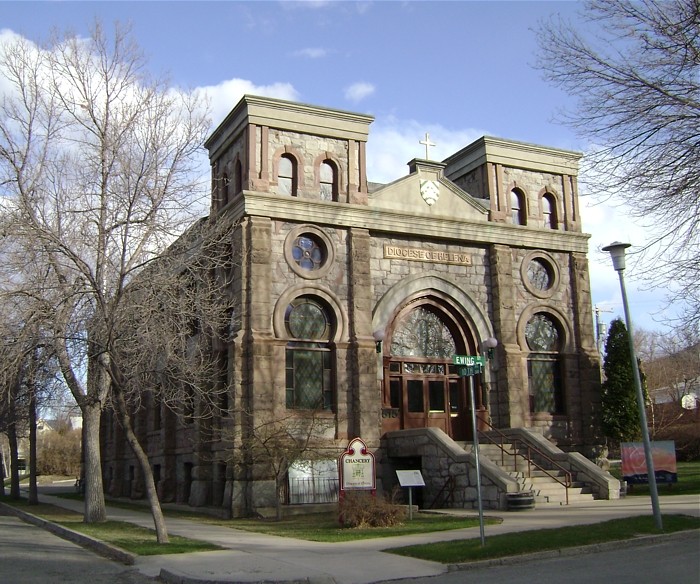 The temple as it appeared with the onion domes.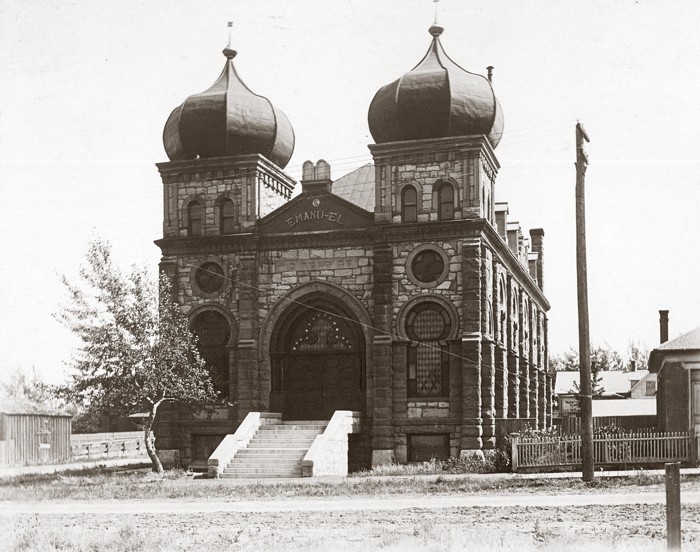 Backstory and Context
European Jews began to arrive in in the United States in large numbers in the mid-1800s (largely to escape persecution). Like other areas in the American West, mining jobs (and the potential to strike it rich) attracted Jews and other settlers to Montana. Jewish merchants set up dry goods stores and other businesses which helped the city grow. In 1866, the community formed the United Benevolent Society and established a Jewish cemetery. As the community grew, Jews became an integral part of Helena's cultural and economic life. Many became judges, lawyers, and bankers. 
The first rabbi arrived in the late 1880s, confirming the community's established presence in Helena. However, Helena's prosperity began to wane not long after the temple was built. The community's population started to decline due to economic hardship and lack of job opportunities. The congregation was forced to put up the temple for sale in the 1930s and after a few years of sitting vacant, the State of Montana bought it in 1937 and converted it to offices for the Department of Public Welfare Services (which later became the Department of Social Rehabilitation Services). The conversion process entailed stripping the building of all religious decorations and diving it into rooms for offices.
The building once again became vacant in 1976 until the Catholic Diocese purchased it in 1981 for use as office space. In 2001, a small plaque was installed to commemorate the 110th anniversary of the building's construction. After the Diocese consolidated its offices, Montana Jewish Project (MJP) bought back the building in 2022 after a year-long fundraising effort.
Sources
Baumler, Ellen. "Temple Emanu-El." National Park Service - National Register of Historic Places Nomination Form. July 11, 2002. https://npgallery.nps.gov/GetAsset/33604c0d-c6b1-46cb-8bcf-dfb74ff805e0.
Photos: Courtesy of helenahistory.com
http://www.helenahistory.org/Temple_Emanu_El.htm
Jochim, Eric. Montana Jewish Project completes purchase of historic Helena synagogue, August 25th, 2022. Accessed May 19th, 2023. https://www.ktvh.com/news/helena-news/montana-jewish-project-completes-purchase-of-historic-helena-synagogue.