Charles Copeland Morse House
Introduction
Constructed in 1892 by wealthy entrepreneur Charles Copeland Morse (1842–1900) this home demonstrates the importance of agriculture to the growth of the region at the turn of the century. Morse arrived in California from Maine in 1859 as one of the many future residents who were attracted to California as a result of the Gold Rush, but it was not precious metals that brought him fortune, but rather agriculture. His 1877 purchase of a small farm led to the formation of the Ferry-Morse Seed Company, which became the world's leading flower and vegetable seed producer. The mansion was built in 1892 and the local newspaper at the time gave the home its future nickname as "The house that seed built."
Images
2007 Photo of the "House that Seed Built."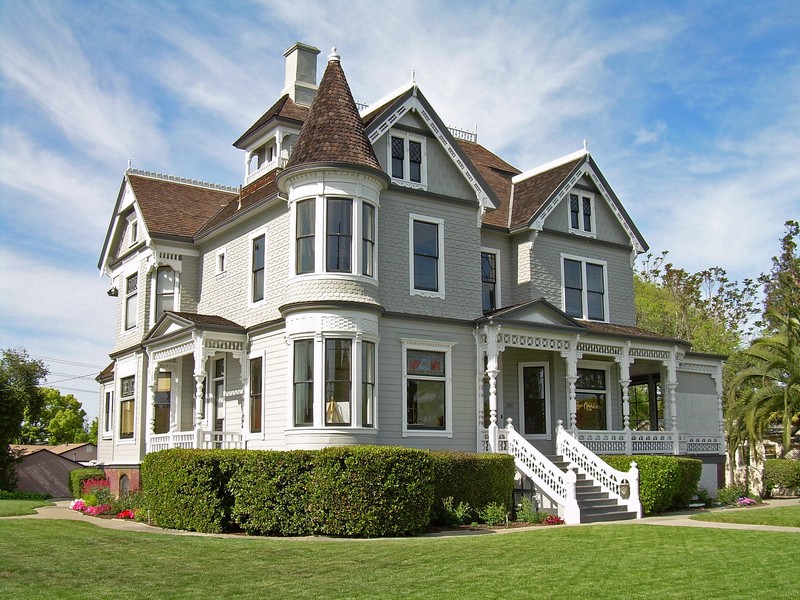 Backstory and Context
Charles Copeland Morse (1842–1900) arrived in California from Maine in 1859 as one of the multitudes lured by the California Gold Rush. Like most private miners, he eventually put aside dreams of finding gold and instead sought a new career. Nonetheless, the goal of striking-it-rich proved to be attainable by following a second plan that involved innovation rather than extraction. After moving to Santa Clara in 1862, Morse worked as a painter and then became interested in developing seeds. As a result, he eventually became known as "American Seed King," co-founding the Ferry-Morse Seed Company. In the decades that followed, this company became the world's leading flower and vegetable seed producer.
Morse grew up on a family farm in Thomaston, Maine. He was born to Obadiah and Chloe Morse in 1842, both descendants of a long line of English Puritans. Sadly, his father died when he was four and Charles spent his childhood working on the farm until he was seventeen when he left for a short-term stay in England. Upon his return, his interest in the California Gold rush inspired the young man to travel west to California.
Rather than traverse the length of what is now the contiguous U.S., Morse joined many other Americans on the East Coast by traveling to California via ship. As would be the case with most would be gold miners, the dream of striking it rich quickly proved chimerical. In 1862, Morse put mining life behind him and moved to Santa Clara where he worked several jobs including painting houses. After painting homes for a dozen years he discovered an interest in seeds.
In 1877, Morse seized on an opportunity that would reward him financially -- he and his business partner, A.L. Kellogg, purchased a small plot of farming land from R. W. Wilson for $20,000. The transaction included the acquisition of a few Eastern seed firm clients, a small warehouse and materials such as drying sheets cleaning machines and a few farming tools. It wouldn't be long before that small plot of land transitioned into the Ferry-Morse Seed Company, one of the largest vegetable and flower seed growers and supplies in the world.
Construction on the three-story Morse home finished in 1892, built as a classic Queen Anne Victorian. The house includes a raised basement, twin gables, witches' hat turret, and a host of ornate decor. The mansion's inside is adorned with elegant wood molding, stained glass windows, and chandeliers. Morse lived in the home with his wife, Maria Josephine Victoria, who he married in 1868, and five children. A local newspaper at the time described the mansion as "the house that seed built."
Sources
Ackerman, Michael G."Nomination Form: The Charles Copeland Morse Residence."
National Register of Historic Places.
September 15, 1976. https://npgallery.nps.gov/GetAsset/32d611e1-0cc6-41d0-b6c3-bd8f9ac8db60
"Charles Copeland Morse House."
National Park Service, Santa Clara's Historic County: California's Silicon Valley, A National Register of Historic Places Travel Itinerary.
. Accessed March 29, 2018. https://www.nps.gov/nr/travel/santaclara/mor.htm.
Ferry-Morse Seed Company.
The seeds of tomorrow: 1856-1956 celebrating one hundred years of service to commercial growers and home gardeners
. Detroit: The Company, 1956.
Photo Sources:
2007 Photo: By Flickr user roarofthefour - Flickr page https://www.flickr.com/photos/18702768@N04/2052043242/, CC BY-SA 2.0, https://commons.wikimedia.org/w/index.php?curid=6918616
Additional Information