Jesse Owens Memorial Plaza
Introduction
This sculpture, plaza, and walkway on the Ohio State University campus honors track and field legend and OSU student Jesse Owens. The plaza was constructed in 1984 on the north side of the Ohio Stadium.
Images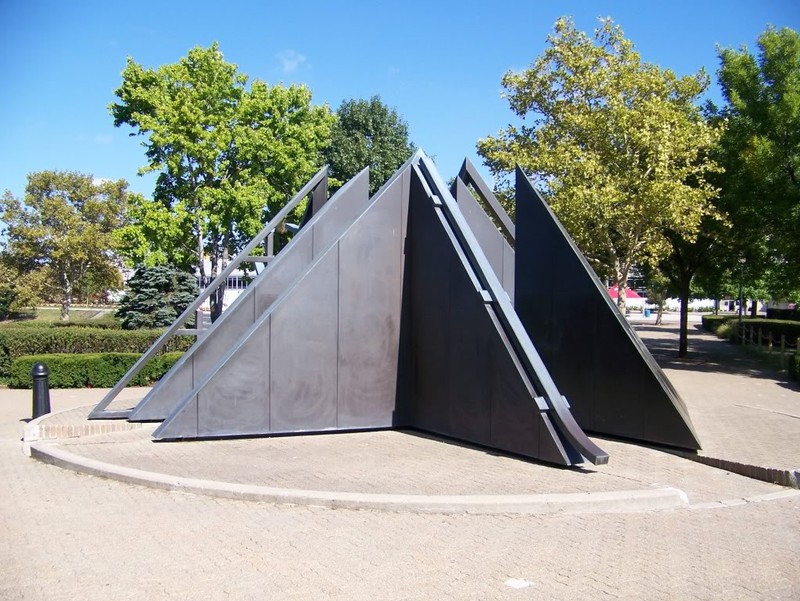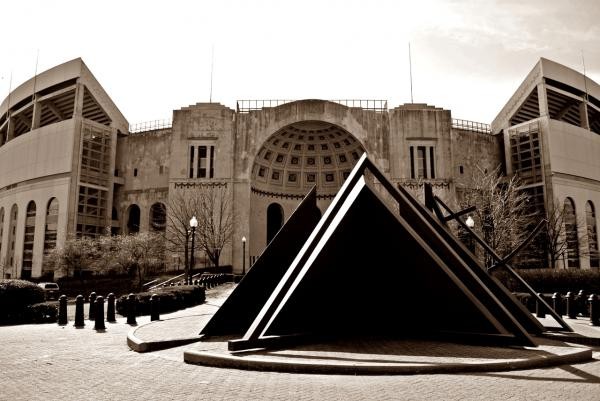 Backstory and Context
In 1984 The Ohio State University dedicated a plaza located outside the north entrance to Ohio Stadium to honor former student and track star Jesse Owens. Owens was a track and field star while attending Ohio State and set many school and Big Ten records. But he is perhaps best known for the four gold medals won at the 1936 Berlin Olymoic Games. Owens was African American and his victories demolished Hitler's Ayran supremacy theories.

The plaza is outside the "Shoe", the affectionate name for Ohio Stadium, and includes a bronze sculpture, "Celebration for a Champion", by Curtis Patterson. The memorial includes a listing of his achievements and a selection of quotes.

James Cleveland Owens was born in 1913 in Alabama. His family moved to Cleveland, Ohio when he was a boy. When he was in about third grade his teacher asked him his name. He responded "J. C." Because of his southern accent she mistakenly thought he said Jesse. He went to East Tech high school in Cleveland and equaled the world record of 9.4 seconds in the 100 yard dash. He attended college at Ohio State. On the track team there he won a record of eight individual NCAA championships, four in 1935 and four in 1936.

At the Olympics, he competed and won gold in the following: the 100 meter dash, the 200 meter dash, 400 meter relay, and the long jump. While Hitler preached Aryan supeiority, Owens credited the help of his German opponent, Luz Long, with giving him advice on how to not foul out of the long jump trials. Owens had fouled twice and Long suggested laying a towel a foot from the foul line to help him jump sooner. He and Long went on to be friends.

Even with his athletic abilities, as a Black man Jesse had always faced discrimination and difficulties. He tried several businesses and coaching. He later found success as a speaker. He died of lung cancer in 1980.




Sources
http://www.olympic.org/videos/jesse-owens-s-inspiring-history http://www.osu.edu/visitors/gardens.php http://library.osu.edu/projects/jesse-owens/timeline.html http://knowlton.osu.edu/content/jesse-owens-memorial-plaza
Additional Information