Angel's Envy Distillery
Introduction
Founded by Master Distiller Lincoln Henderson, this is one of several distilleries that produce small batch whiskey near Louisville's Bourbon Row. Demonstrating the outside investment that has led to a rapid growth of development in this formerly blighted neighborhood that was once home to many distillers and is now an entertainment district, the distillery is owned by Louisville Distilling Company, a subsidiary of Bacardi Limited.
Images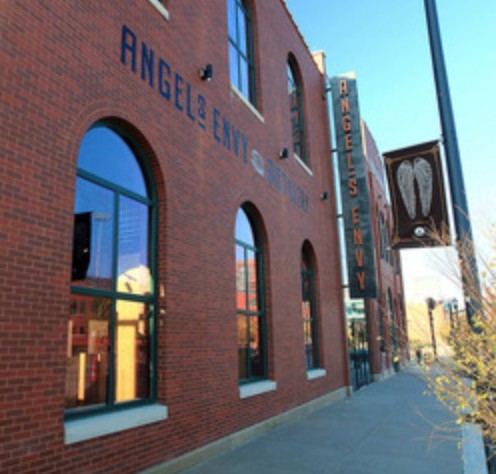 Angel's Envy' final product.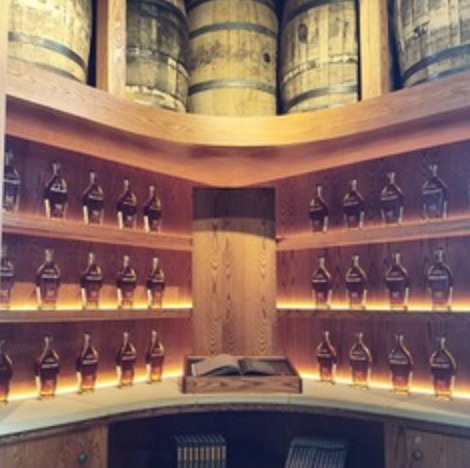 Barrels where the whiskey ages.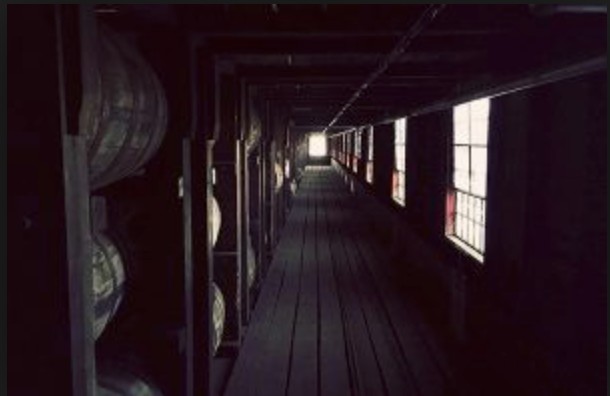 Backstory and Context
Lincoln Henderson is the founder of Angel's Envy Distillery. During his years at Brown-Forman, one of the largest American-owned companies in the spirits and wine business, Lincoln helped to create many notable brands, including Woodford Reserve. Angel's Envy was his only independent project and the opportunity to work with his son, Wes, led Lincoln to abandon retirement and once again produce small batch bourbon finished in Port barrels.
A port barrel is a barrel used in the process of wine making, specifically in connection with Portuguese wine. He had the idea for a considerable time but had never explored it. It was as important to Lincoln to be creating whiskey as it was for him to be building something with family. The tradition continued when Wes's son Kyle joined to help with the brand and learn step-for-step with his granddad.
Following centuries of tradition, the process for bourbon is quite simple and the bourbon is personally sampled after each step. This bourbon is aged four to six years in new charred 53-gallon white oak barrels. Angel's Envy adds a step they call "double maturation" (or finish) by placing the bourbon in a new 60-gallon Port barrel from Portugal for six additional months. Port barrels are used to enhance the whiskey with a sweetness and add a layer of richness.
Visitors can view an operating distillery pumping out bourbon and distillery is connected to a smaller building in the back that sits on a part of Billy Goat Strut Alley. This alley has an alley running parallel to it known as the Nanny Goat Strut. In early 1800's these alleys were known for the racing of Billy goats that took place. In an area known for horse racing, the connection with an even earlier style of racing marks the distillery's spot in the weird history of Louisville.
Sources
"Angel's Envy." Angel's Envy, www.angelsenvy.com/.

"ANGEL'S ENVY DISTILLERY JOINS THE KENTUCKY BOURBON TRAIL® TOUR." Kentucky Distillers Association, 13 Feb. 2017, https://kybourbon.com/angels-envy-distillery-joins-kentucky-bourbon-trail-tour/ .

"Angel's Envy Kentucky Straight Bourbon Whiskey." Angel's Envy Kentucky Straight Bourbon Whiskey | ForWhiskeyLovers, www.forwhiskeylovers.com/store/whiskey/angels-envy-kentucky-straight-bourbon-whiskey.

Janet Patton. "Bacardi Buying Angel's Envy Bourbon and New Louisville Distillery." Kentucky, Lexington Herald Leader, www.kentucky.com/news/business/bourbon-industry/article44565777.html.

Janet Patton. "Angel's Envy Bourbon Master Distiller Lincoln Henderson Dies." Kentucky, Lexington Herald Leader, www.kentucky.com/news/business/bourbon-industry/article44443518.html.

Josephandjoseph.net, http://josephandjoseph.net/angels-envy-distillery-tourist-center/. (pictures)

Additional Information