Nottoway Plantation & Resort
Introduction
Nottoway Plantation, also known as Nottoway Plantation House is located in White Castle, Louisiana. The plantation house is a Greek Revival and Italianate-styled mansion built by John Hampden Randolph in 1859, and is the largest extant antebellum plantation house in the South. It's 53,000-square foot and has 64 rooms, 7 staircases, and 5 galleries. It's a AAA Four-Diamond property, and a member of Historic Hotels of America and is now restored to its original architectural design.
Images
Panorama of the Nottoway Plantation & Resort. Credit: Nottoway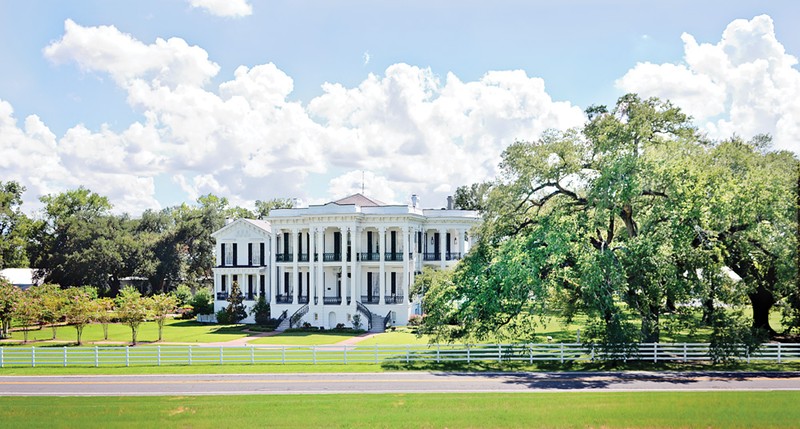 North Rotunda at night. Credit: Nottoway Plantation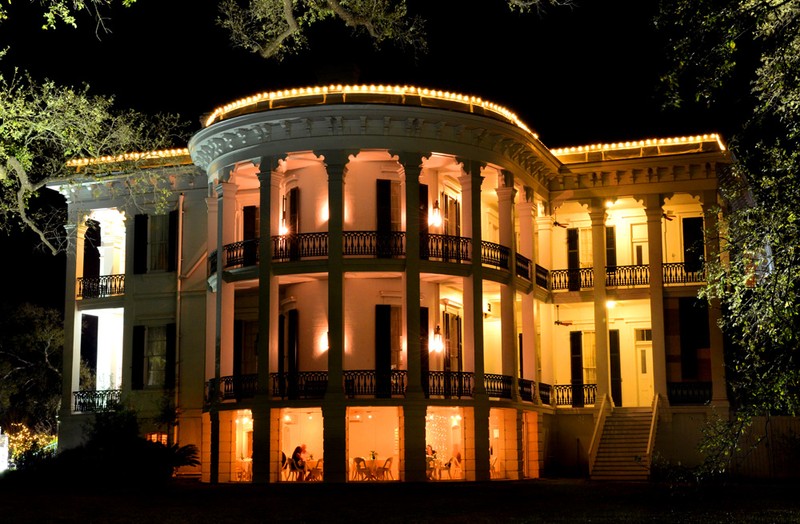 Nottoway property map. Credit: Nottoway Plantation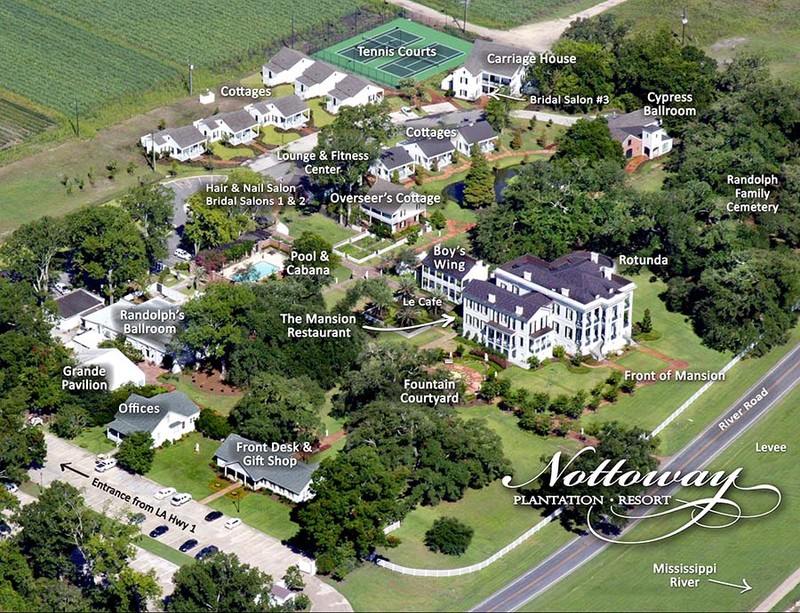 Backstory and Context
Completed in 1859, Nottoway has survived the Civil War, a variety of owners, and years of decline and disrepair to become a favorite destination for visitors the world over.
The construction of Nottoway was commissioned by John Hampden Randolph, a very prestigious sugar planter, to be the ultimate showplace of his wealth; he wanted no expense spared and ordered that it include every extravagance and innovative feature possible. Randolph's father had come from Virginia in 1820 and purchased the area in 1841. Nottoway would be home to John, his wife, Emily Jane Randolph, and their 11 children.
When Randolph was ready to build his house, he went to New Orleans and asked various architects to submit designs, and chose Henry Howard's. Nottoway survived the Civil War, however damage occurred when a Union gunboat on the Mississippi River attempted to destroy the magnificent house until the gunboat officer realized he had once been a guest there and decided to spare Nottoway The Randolphs held onto the house through the Civil War and Reconstruction until 1889, when Mrs. Randolph sold the mansion following her husband's death.
In 1860 Nottoway Plantation encompassed 6,200 acres and Randolph, the builder and owner of the property during that time, owned 155 African-Americans that worked his sugarcane plantation as slaves.
Nottoway sits about 200 feet behind the Mississippi River Levee surrounded by oaks, magnolias, pecan trees, and sweet olives. Nottoway House is distinctive for being an essentially Italianate Style plantation house built in an era dominated by Greek Revival architecture. Nottoway contains an elegant, half-round portico as the side gallery follows the curve of the large ballroom bay window. Nottoway's thin Italianate pillars stretch vertically to touch all of its three levels, extending from the house's one-story brick base to the paramount height of the third-story made of wooden frame. From the front gallery the Mississippi River is in view. The interior of Nottoway is white in color, including Corinthian columnns, lace curtains, carved marble mantels and even the floor, creating an elegant environment.
The plantation museum showcases artifacts and articles dating back to the days and lives of the Randolph family. Copies of photographs and historic documents, such as the pardon for John Randolph after the Civil War, help to further tell the story of plantation life in the 1800s. The ground level of the castle was transformed into The Mansion Restaurant, a casual and fine dining venue serving fresh and local Louisiana cuisine seven days a week. Three elegantly appointed bridal dressing rooms were constructed, along with another lavish ballroom that accommodates banquets and meetings for up to 125, as well as an open-air pavilion with heating and air conditioning. Resort amenities now include on-site Salon & Spa, tennis and basketball courts, and a plush lounge, business center and fitness room.

Where the restaurant, lounge, and museum are located today used to be home to the Randolph children's' private bowling alley.

*Fun fact: Nottoway provided the inspiration to the animators for the house in the Disney movie The Princess and the Frog.
Sources
The History of Nottoway. Nottoway. Accessed March 25, 2018. https://www.nottoway.com/html/nottoway-plantation-history.htm.

Nottoway Plantation Blog. Wordpress. Accessed March 25, 2018. https://nottowayplantation.wordpress.com/.

Nottoway Plantation and Resort. Historic Hotels of America. . Accessed March 25, 2018. http://www.historichotels.org/hotels-resorts/nottoway-plantation-and-resort/?.

Nottoway Plantation House. National Park Service. . Accessed March 25, 2018. https://www.nps.gov/nr/travel/louisiana/not.htm.

Additional Information