Tuna Canyon Detention Station
Introduction
The Tuna Canyon Detention Station was a prison camp that held Japanese American men from Southern California. The men were Japanese immigrants who had been classified as enemy aliens and detained by the FBI shortly after the attack by Japan at Pearl Harbor. The camp also held German and Italian internees and Japanese Peruvians. Prisoners were held in Tuna Canyon before being transferred to permanent prison camps in other parts of the country. The property—a former Civilian Conservation Corps camp that later became part of the Verdugo Hills golf course—is currently slated for residential development.
Images
Tuna Canyon Detention Station, circa 1942. Source: Little Landers Historical Society.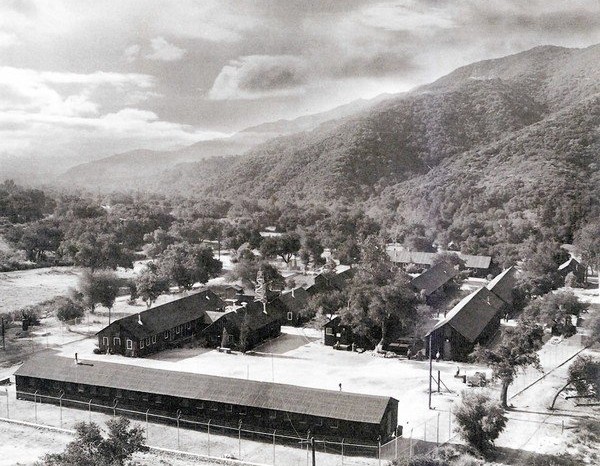 The location of the former Tuna Canyon Detention Station (Verdugo Hills Golf Course). Source: M. Urashima, 2015.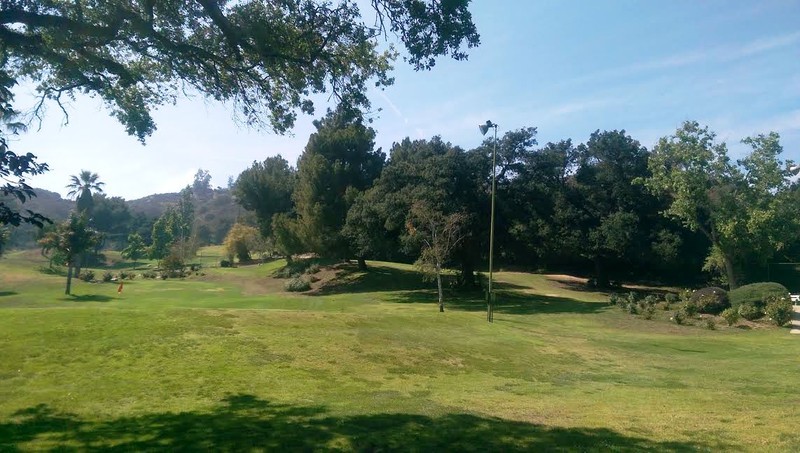 Excerpt from a questionnaire about the experiences of Kango Takamura, a Japanese-American citizen who was detained at Tuna Canyon before being imprisoned at Santa Fe, New Mexico. Full item in the links below.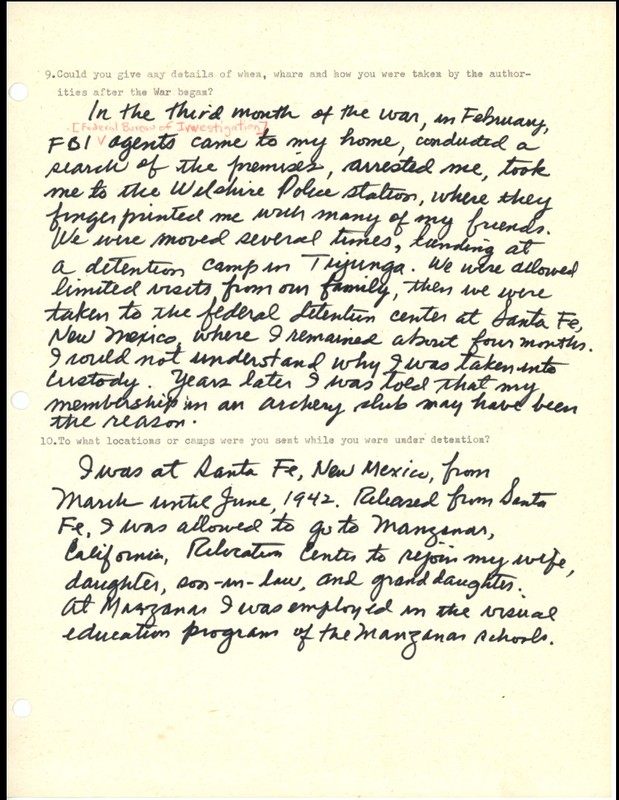 Watchtowers overlook the Tuna Canyon Detention Center and the Japanese-Americans detained within (courtesy Nancy Oda via Crescenta Valley Weekly; link below).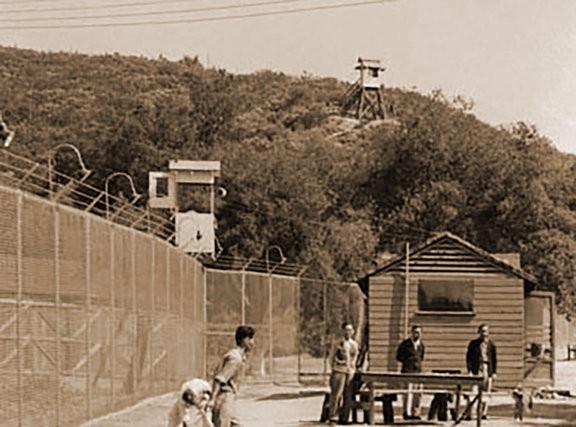 Backstory and Context
Tuna Canyon, or Tujunga, was once the land of one of California's first peoples, the Tongva-Gabrielinos. The name is derived from the Tongva word,Tuhuunga, meaning the "place of the old woman." Father Junipero Serra established two of the first nine missions near Tujunga: the San Fernando and San Gabriel missions. Francisco and Pedro Lopez, who owned the land as a result of a Mexican land grant, called it Rancho Tujunga.

A Civilian Conservation Corps camp named La Tuna Camp opened on the former Rancho Tujunga in May, 1933. The camp was taken over by the U.S. Department of Justice, Immigration and Naturalization Service on December 8, 1941.

Tuna Canyon Detention Station began receiving Japanese Americans taken into custody by the FBI on December 16, 1941. Those arrested were classified as enemy aliens because they were not citizens of the United States. Because they were first generation immigrants from Japan, by law they had not been allowed to pursue citizenship. Many had lived in the United States for decades.

Tuna Canyon Detention Station operated as a clearing-house for those arrested in Southern California until May 25, 1942, Almost 1,500 men of Japanese ancestry passed through the camp before being transferred to prison camps in Fort Missoula, Montana, Fort Lincoln, North Dakota, Santa Fe, New Mexico, and Lordsburg, New Mexico.

The population was diverse in Tuna Canyon Detention Station: there were Japanese, Germans, Italians, and later, Japanese Peruvians. Tuna Canyon included seven barracks, an infirmary, a mess hall, and office buildings. The prison had a capacity for 300 prisoners.

One of the notable internees held at Tuna Canyon was Toraichi Kono, Charlie Chaplin's chauffeur and personal secretary until 1934. Kono was picked up before and after the attack of Pearl Harbor and was accused of being a spy for the Japanese military. On his second arrest he was sent to Tuna Canyon Detention Station on December 19, 1941.

Another detainee at Tuna Canyon Detention Station was Charles Mitsuji Furuta, owner of the Furuta Gold Fish Farm in Wintersburg Village, in Orange County, California. He was among a number of men taken to Tuna Canyon from Orange County, who were civic leaders, teachers, clergy, and elders of the Wintersburg Japanese Mission. The farm of Charles Furuta is designated a National Treasure historic place representing the pioneer and civil rights history of Japanese Americans.

After World War II, the Tuna Canyon Detention Station became a probation school for boys. In 1960, a group of doctors purchased the land and built the Verdugo Hills Golf Course and all remaining facilities of the prison camp were demolished. Much of the history of the property remained unknown to the general public. The Verdugo Hills Golf Course was purchased in 2004 by a developer who plans residential development on the property.

The Tuna Canyon Detention Station Coalition and Little Landers Historical Society succeeded in achieving designation of the Tuna Canyon Detention Station site by the City of Los Angeles as Historic Cultural Monument Number 1039 in 2013. The designation recognizes the important context of the landscape and mature oak trees as the sole remaining features of the prison camp.

As of 2018, the residential developer, Snowball West Investments, has initiated a lawsuit against the City of Los Angeles alleging illegal historic-cultural monument status and is attempting to move the Historic Cultural Monument to an unrelated property.



Sources
Tuna Canyon Detention Station Coalition. . Accessed March 25, 2018. http://www.tunacanyon.org/. Mission Statement To preserve stories of the Japanese, German, and Italian immigrants, and Japanese taken from Peru, and others, at the Tuna Canyon Detention Station which was operated by the Department of Justice during World War II in the City of Los Angeles.

"City Council Unanimously Declares Grove at Tuna Canyon Site a Historic-Cultural Monument." The Rafu Shimpo(Los Angeles)June 26, 2013. . http://www.rafu.com/2013/06/city-council-unanimously-declares-grove-at-tuna-canyon-site-a-historic-c...

Only the Oaks Remain: The Story of Tuna Canyon Detention Station. Japanese American National Museum. . Accessed March 25, 2018. http://www.janm.org/exhibits/tuna-canyon/.

Munro, Pamela. Topanga, Cahuenga and Tujunga — sounds from a rediscovered local language. UCLA News Room. October 28, 2014. Accessed March 25, 2018. http://newsroom.ucla.edu/stories/topanga-cahuenga-and-tujunga-sounds-from-a-rediscovered-local-langu.... UCLA linguist Pamela Munro writes about trying to revive the Tongva language for descendants of Southern California's Gabrielino-Tongva Indians.

Tuna Canyon. Densho Encyclopedia. . Accessed March 25, 2018. http://encyclopedia.densho.org/Tuna%20Canyon%20(detention%20facility)/. Densho Encyclopedia is a free and publicly accessible website that provides concise, accurate, and balanced information on many aspects of the Japanese American story during World War II.

Laden, Tanja. "This L.A. Golf Course Was an Internment Camp. Should It Get Historic Monument Status?." LA Weekly(Los Angeles)April 24, 2013. . http://www.laweekly.com/arts/this-la-golf-course-was-an-internment-camp-should-it-get-historic-monum...



Additional Information