James Weldon Johnson Auditorium, Coppin State University
Introduction
Constructed in 1972, this auditorium is named in honor of author, poet, and early civil rights leader James Weldon Johnson. Johnson became the first African American to lead the NAACP. The building is one of the oldest on the uniquely modern campus of Coppin State University, an institution of learning that was founded as a high school for African Americans in 1900 and named in honor of former slave and pioneering educator Fanny Jackson Coppin. Like many other campus buildings, this structure was completed in the 1970s and was part of the expansion of the college that led to university status in 2004. The auditorium holds 975 and is the only large assembly space on campus other than the college's intercollegiate athletic facilities.
Images
Fanny Jackson Coppin was a teacher, a principal and a missionary. She along with her husband the Rev. Levi Jackson Coppin founded Bethel Institute a missionary school in South Africa. Coppin State Unversity was named in her honor.
The Rev. Levi Jenkins Coppin the husband of Fanny Jackson Coppin. Together in 1902 they founded the Bethel Institute missionary school in South Africa.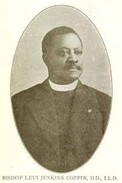 Coppin State University was founded in 1900 as Coppin. The school was primarily a school for the education of teachers. In 1950 the school was granted Bachelor of Science degree. Presently the university offers 53 degrees.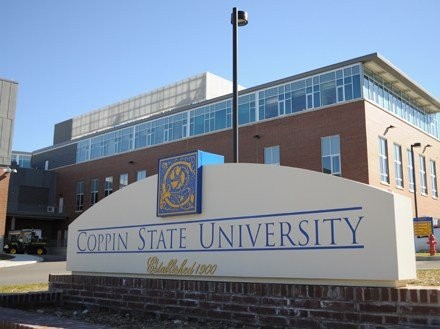 James Weldon Johnson Auditorium was completed in 1972 and is one of the oldest buildings on campus.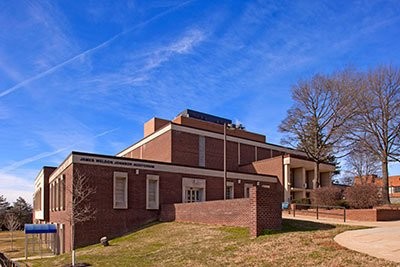 Backstory and Context
The school's original name was Colored High School and this was later changed to Douglass High School in honor of abolitionist and 19th century leader Fredrick Douglass. At the time this school was established, African American teachers were only required to complete a year of training before they were able to teach in the city. The existence of this school allowed for higher standards and in 1902 the requirement was expanded to the completion of a two-year teaching certificate. As the school expanded, the school expanded and offered both a high school and a "Normal Department" that trained teachers. In 1926, that department became the Fanny Jackson Normal School.

Fanny Jackson was born a slave on October 15, 1837 and at the age of twelve, her aunt purchased her freedom. After working for several years as a servant, young Fanny was able to enrolled in Ohio's Oberlin College in 1860. She became the first African American accepted to the college preparatory department and was also a member of the Young Ladies Literary Society. While at Oberlin, Jackson established a night school to teach former slaves after the Civil War ended. She became a high school teacher after her graduation at the Institute for Colored Youth in 1865 and became the principal four years later, the first African American woman to obtain this position/ Jackson served as the principal for the next thirty-seven years.
Fanny Jackson educated African American youth she also founded homes for poor and working woman. While doing missionary work she met and married the Rev. Levi Jenkins Coppin on December 21, 1881. In 1902 Fanny and her husband traveled to Africa to do missionary work. The founded the Missionary school named Bethel Institute. After doing missionary work for a decade Her worsening health caused her to return to Philadelphia where she passed away on January 21, 1913.

The school's name changed again in 1938 to Coppin Teachers College-a name that reflected the expansion to a four-ear curriculum with a Bachelors of Science Degree. In 1950, the Coppin Teachers College joined the higher education system of the State of the Department of Education in Maryland. In July of 1952 Coppin Teachers College moved to its present location on West North Ave seated on 38 acres.
The Brown versus Board decision in 1954 opened the Coppin Teachers College to all students but it remained an all-Black school led by a predominately white board of directors for many years. Coppin State Teachers College continued to expand despite being underfunded and the school was granted authority to offer a Bachelor of Arts degree in English in 1965 and degrees in social sciences two years later. In 1967 the school's name was changes to Coppin State College and the first Bachelor of Arts degree was awarded.
On April 13, 2004 Coppin State College achieved university statues and was officially renamed Coppin State University. The University has accredited undergraduate and graduate programs, and the National Council for the Accreditation of Teacher Education recognizing Coppin State University's teaching program. The school is made of five colleges including Health Professions, College of Arts, Business, Behavioral and Social Sciences, Education and Graduate Studies. There is practically 4,000 students attending the University with many being from different ethnic groups and social backgrounds Presently Coppin State University offers fifty-three types of degrees.
Sources
CSU History | Coppin State University
Coppin State University
https://www.coppin.edu/info/200737/csu_history
Coppin, Fannie Jackson (1837-1913) | The Black Past: Remembered and Reclaimed
http://www.Blackpast.org/aah/coppin-fannie-jackson-1837-1913
Coppin State University [Baltimore] (1900-- ) | The Black Past: Remembered and Reclaimed
http://www.Blackpast.org/aah/coppin-state-university-1900
Additional Information