Wilson Bruce Evans House
Introduction
Constructed in 1854 by Wilson Bruce Evans, an African American carpenter who was born free in an era of chattel slavery, this home housed Evans and his family after he and his brother, Henry (also born free), settled in Oberlin. The family migrated to Ohio from North Carolina in the 1850s and both brothers participated in the infamous 1858 Oberlin-Wellington Rescue wherein residents of Oberlin rescued and protected runaway slave John Price from the slave catchers who attempted to return Price to his master under the terms of the Fugitive Slave Act of 1850. With the help of Wilson and Henry Evans, abolitionists and other concerned citizens were able to rescue Price from returning to his former life as the property of another.
Images
Additional photo of Wilson Bruce Evans House.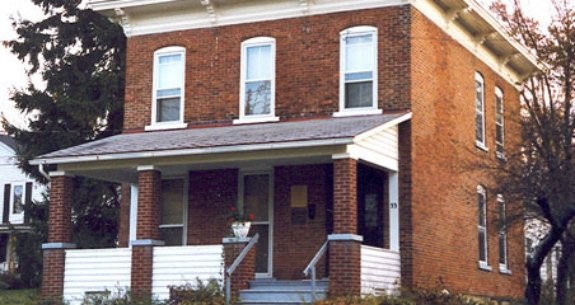 Drawing of John Price being captured.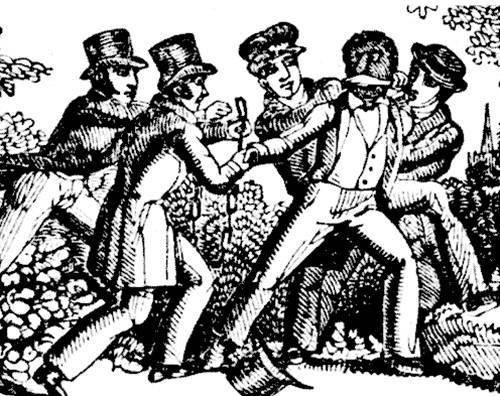 Participants in the Oberlin-Wellington Rescue, 1859. (Image Courtesy of the Ohio Historical Society)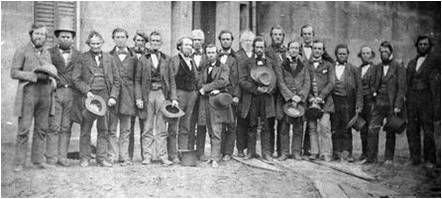 Newspaper editorial calling for a public celebration of the return of those arrested during the Oberlin-Wellington Rescue.
Backstory and Context
Born free in North Carolina, Wilson Bruce Evans and his brother Henry, moved to the community of Oberlin owing to its reputation as a fair-minded northern community. The two men arrived with their wives (Sarah Jane and Henrietta) in 1854. Being a carpenter and furniture maker, Wilson constructed their family home which still stands on Vine Street in Oberlin to this day. The Evans family were part of a growing African American community in Oberlin that accounted for twenty percent of the total population of Oberlin by the start of the Civil War.

The Oberlin-Wellington Rescue of 1858 occurred due to the capture of escaped slave, John Price who had been living in Oberlin. On September 13, 1858, a federal arrested John Price for attempting to flee his master. The Fugitive Slave Act of 1850 required any federal or state official to assist slaveholders should they or their representatives present evidence that a person of African descent was their property. The law included trials presided by specially-appointed judges who were paid double their fee if they sided with the slave catchers and also barred the accused from testifying on their own behalf. Given the town's reputation as hostile to both slavery and the 1850 law, the marshal attempted to arrest Price as discreetly as possible and hoped to quietly move him to the nearby town of Wellington. The marshall took Price to a local hotel which was then known as the Wadsworth House.

Upon learning about the arrest of Price, a person familiar to many Oberlin residents, a large posse formed that included both Wilson and Henry Evens. This biracial group of Oberlin residents were determined to rescue Price from his captors despite the law. At first, peaceful negotiation was attempted, but when that failed, the mob of anti-slavery men forced their way into the Wadsworth House and found John in the attic. These men took Price to Oberlin and hid them in the home of the president of Oberlin College before helping him escape to Canada.

For their violation of federal law, 37 people (including the Evans brothers) were indicted by the federal courts. Still defiant to the terms of the Fugitive Slave Act, local Ohio officials arrested the men who captured Price. Eventually, charges against all but two of the 37 accused of violating the Fugitive Slave Act were dismissed and the state of Ohio also dismissed their charge against those who attempted to capture Price. Only two men faced trial for assisting Price and both Simeon Bushnell (white) and Charles Langston, an future African American leader were put on trial. Bother were found guilty in federal court in April 1859 with Bushnell receiving a sentence of sixty days for his actions while Langston was given twenty days.

Had it not been for individuals like Wilson and Henry Evans who, John Price would have lost his freedom and been sent back to Kentucky to face the wrath of his owner. The actions of these individuals became national news and inspired many others to defy the Fugitive Slave Act. Both this law, which violated the principle of states rights, and the actions of Northerners like the Evans family which angered Southerners led to the political conflict over slavery and its extension that led to the Civil War. The Wilson Bruce Evans house in Oberlin Ohio remains within the Evans family and is a National Historical Landmark.

Sources
Oberlin-Wellington Rescue Case. Ohio History Central. . Accessed March 20, 2018. http://www.ohiohistorycentral.org/w/Oberlin-Wellington_Rescue_Case.

Wilson Bruce Evans House. Electronic Oberlin Group: Oberlin Throughout History. . Accessed March 19, 2018. http://www2.oberlin.edu/external/EOG/EvansHouse/EvansHouse.html.


Additional Information